Apple Music Has Launched A New Analytics Platform For Artists
Apple Music Launched a New Analytics Platform for Artists
Here's what you need to know about Apple Music's analytics platform available in Apple Music For Artists.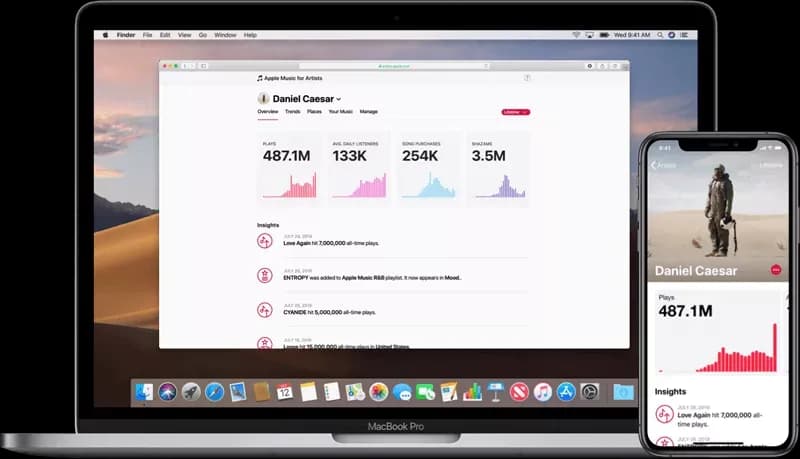 Music streaming service Apple Music has opened the doors to its new analytics tool for artists.
After spending the last year (2018) in beta mode, Apple Music For Artists is now available for artists on both desktop and via a mobile app on all iOs devices. 
The service offers artists access to metrics such as listener demographics, trends & milestones, sales data, and helps them discover which songs are getting shazamed or purchased the most and which playlists are delivering the most plays. Artists can also see a basic breakdown of their daily streams by song and city in over 100 countries.
Apple Music For Artists also lets music makers manage their artist profile by adding guest users (like label reps and managers), and update their profile with an artist image that expresses their personality and "shows fans who [they] really are".  
Apple Music hopes the tool will help all artists feel the experience of having "your own data scientist on call", while helping them make informed decisions about their career. 
"Being artist friendly and making it easy for artists to have full control and overview of their music and releases is key for us at Amuse," says Theodora Nordqvist, Label Director Sweden at Amuse. "That's why we're so happy about the announcement of the Apple Music For Artists initiative. This also means that [Apple Music] wants to work in a more transparent manner and create closer relationships with artists and we are proud to be a part of their progression." 
You can find out more about Apple Music For Artists or download it here.