Facebook Launches Audio Tab In The Search Feature On Instagram
Facebook Launches 'Audio' Tab in the Global Search Feature on Instagram
Facebook recently launched its Audio tab in the global search feature on Instagram. Here's the breakdown of what this new feature means for independent artists.
Instagram is adding an allocated music tab for finding music on Reels. 
Facebook recently launched its 'Audio' tab in the global search feature on Instagram. This means you can now search for audio to use in Reels directly from the explore tab on Instagram, making it easier for users to search for songs on the platform. This new feature also makes it easier for artists to find their own songs and the Reels being created by fans and users. 
Facebook's Head of Instagram, Adam Mosseri, commented on the future of the app. Mosseri explained its shift away from being predominantly a photo-sharing platform to becoming a key player in the short-form video sharing space (alongside TikTok). 
"People are looking to Instagram to be entertained, there's stiff competition and there's more to do. Then we have to embrace that. And that means change," Mosseri said.
The new tab will make it easier to search for audio within the Instagram app. When you search on Instagram, you can select the new 'Audio' tab to search for music. You can tap on a track to see a list of Reels that have sampled the song.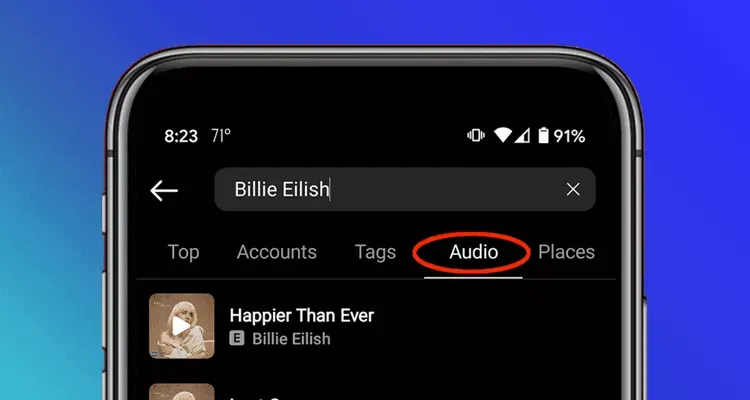 How to use Instagram tab search:
Open Instagram app

Go to the explore tab

Tap on the search bar to open Instagram search

Tap on the audio tab to access search results

Tapping on results will take you to the song's audio page where you will see Reels that use it
As an artist, you will now be able to see who uses your song in their Reel (epic). Instagram is turning music into a social experience. Facebook and Instagram are hoping there will be similar viral moments like the ones we have seen on TikTok, like Bella Poarch's "M to the B" video that launched her into TikTok fame which has now set up her flourishing music career. Facebook and Instagram hope that moments like this will now happen on Reels and not only TikTok.
Pro Tip (): Don't be afraid to put yourself out there. Create a new trend using the catchiest part of your new release and make short-form videos that other users can relate to while promoting your music. Since Reels is still in its early years, there hasn't been a better time for artists to share their music in a short-form video experience to connect with users on the platform and with a chance of going viral. Go make some () Reels! 
If you are having trouble seeing this update in-app, make sure you have the most recent version of the Instagram app on your mobile device. If you still don't see it after updating, wait a few days for the new feature to roll out to the entire Instagram community.