How To Best Promote Your Music On Instagram
How to Best Promote Your Music on Instagram
From how to reach new fans to building your brand on Instagram, we've got you covered in this full guide.
Instagram has around 2 billion active monthly users (), so it's safe to say, as an independent artist it's a platform filled with endless opportunities to build a strong fanbase, promote yourself and share your music to a massive audience. In this guide, we'll break down how you can reach new potential fans while engaging with your current audience, and build your brand while promoting your music by using Instagram's (epic) features.
Before we dive in — we caught up with singer-songwriter Kara Koser, to get her tips on how she approaches Instagram to promote her music.
Instagram 101: The Basics
Before we get into it, here are some helpful tips to make sure your Instagram profile really captures who you are as an artist: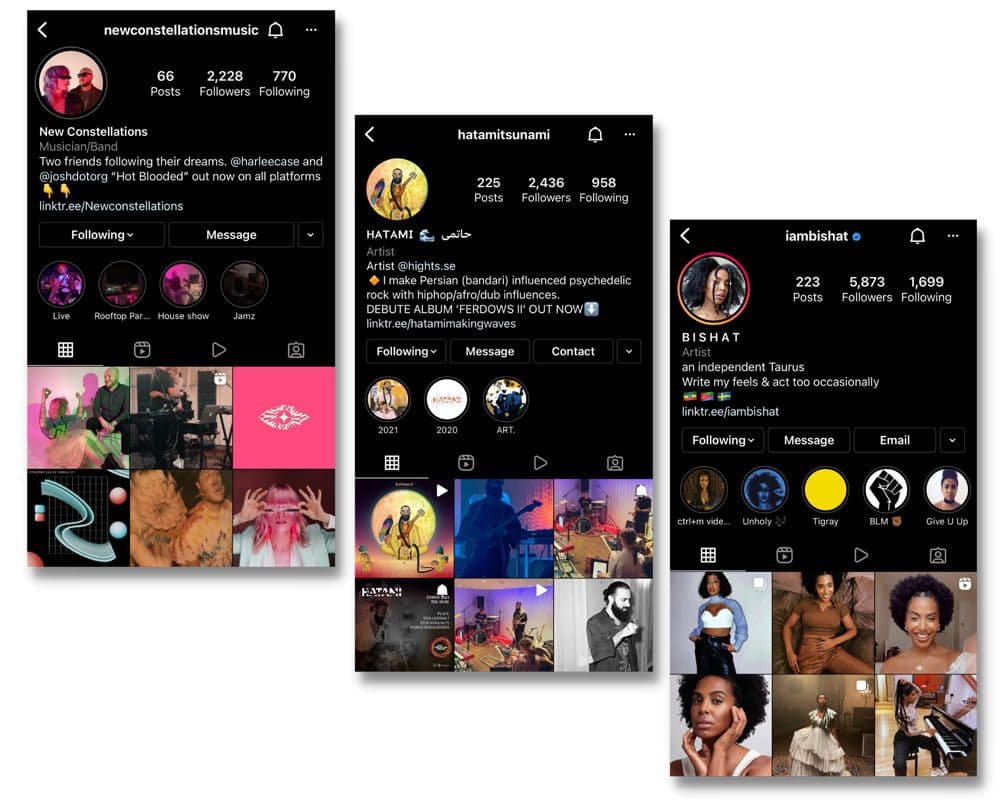 Profile picture
Make sure your profile picture is of high quality, has the right aesthetic, and is the right size (ensure that whatever you want to show is within the image you upload can be seen from profile view). This could be a headshot, band photo, logo, or unique graphic.
Bio
You have 150 characters to introduce yourself to potential new fans. As you're building your audience, it's best to use all these characters in the most unique way that you can. Example: use emojis as bullet points and describe who you are as a person and artist. Another important part of your bio arguable is including a "link in bio", which through a third-party site like linktree you can list your latest release, pre-save links, up and coming shows, your website, your other social media accounts, and anything else you want your fans to have direct access to.
Photo: @kosermusic
Post quality content
This depends on your audience, or the audience you would like to build. You can post photos, videos, backstage visual content, unseen content, clips from your live performances, memes you relate to, promotional graphics, inspiring quotes, or maybe just photos of your family and friends.
The main point here is to open up your life both artistically and personally to your audience so they feel like they get to know you from the content you post. Build a relationship with your fans, the engagement will speak for itself if you're consistent with sharing your growth with your followers. Remember: always export your photos or videos in the highest quality possible! Put in the effort to make this look as professional as possible. Uploading a reel? Look up guides on how you should set up and edit your video so it meets Instagram's safe areas. Get help if you need help from your designer friends. 
Use Hashtags
Hashtags are still an effective way to reach new fans in 2023. A lot of everyday users on Instagram actually use hashtags to find like-minded people or to find accounts that they feel they want to follow. Currently, you can use 30 hashtags, but that can be a bit excessive. Generally, we would advise using hashtags that have usage of 10k or below, another that has between 10k to 100k, and one that has 100k to 1million plus. It's a good tactic to use a variant of all three groups so your content can be seen on a variety (size) of hashtag pages. 
Instagram recommends using between 3-5 hashtags on one post. Your time is better spent researching and using a handful of super-effective hashtags rather than stockpiling a ton of tags per post.
Pro Tip(): Don't spam with hashtags (it can look spammy and overwhelm your audience). Using too many hashtags will push potential new followers to your page and the same goes for existing followers. A big tip from us is posting your hashtags in the comments section of your post, it'll be just as effective as having it in your caption!
Here are some examples of hashtags:
Nearby locations (city or local live music venue)

Similar sounding artists

Your genre of music

+ Anything else that is related to what you are posting
If you are struggling to come up with hashtags use an online tool like Ingramer that will help you auto-generate hashtags by simply typing one thing that relates to your post and it'll give you a full list of hashtags to choose from.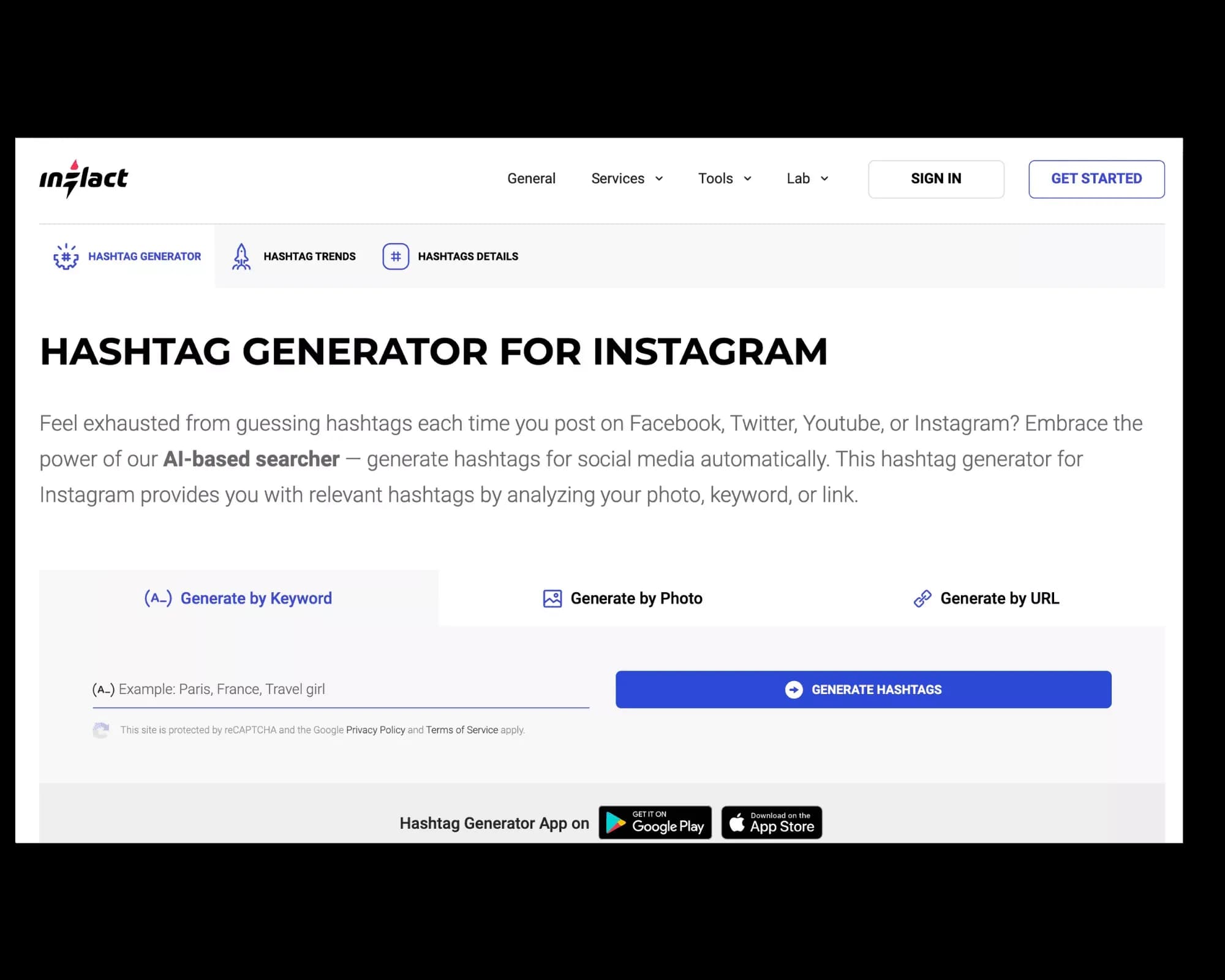 Photo: Ingramer.com
Use Instagram Stories: for everything!
Instagram Stories is a great way to connect with your audience to show them exactly what is going on in your life and career as it's happening. You can promote anything and everything on Stories, from your latest music video to your upcoming release. 
Making your music available on Stories will help your friends and fans share and interact with your releases. The release will also be linked on screen, making it easy for followers to keep listening to your track and save it to their streaming library.
Once you submit your release via amuse, for example, your track will be live on Instagram within one week from your chosen release date. Users can then search for your artist name or song via the music sticker on Instagram Stories (available for amuse Boost and Pro users).
How to publish your track to your Instagram Stories:
VIDEO
Open the Instagram app

Click on the camera for Instagram Stories

Take or choose a picture or video

Click the square face icon

Tap "MUSIC"

Search for your song name or artist name 

Scroll down until you find the track you want to add

... you're set!
How to Add Your Lyrics to Instagram Stories
Instagram lets you create Stories that feature your lyrics. MusixMatch is the partner service that delivers data to Instagram, so your lyrics can be paired with your music. Artists like Dua Lipa, Taylor Swift, and A$AP Rocky all use MusixMatch — so it's the real deal. The service also gets your lyrics on Shazam, Apple Music, and Google, so you can take care of all the major platforms in one go. 
Here's how it works:
Once your lyrics have been approved and added to Instagram, here's how to find them in Stories:
 Once in "Story" mode, add lyrics by selecting the 'music' sticker from the sticker tray after taking your photo or video.
Choose your song and use the scrubber tool to select the part of the song that best captures the moment you're sharing. The scrubber will also enable you to find the lyrics of the exact part of the song you want.

Pick between different lyrics, animations, font designs and colors. Move, resize and rotate the lyrics to share your story.

Fans that watch your story will see the lyrics pop up as the music plays. When they tap on the lyrics, they'll see a sticker with the song title and artist name that links back to your Instagram profile. 
Explore Instagram Reels
Instagram has made Reels a key part in how they want users to interact with each other going forward. 
There are really so many ways you can grab the attention of new fans with Reels, meanwhile maintaining the interest of your existing audience and defining your brand as an artist. You can do anything on Reels from captions to effects, to putting your music as the sound over the visual and sharing behind-the-scenes clips from the studio while making your next big hit.
Here are some quick tips to help you get started with creating Reels: 
Stick to short videos: you have 15-90 seconds to engage your audience, always keep this in mind when creating your videos.

Set thumbnails: To keep your profile feed clean, when uploading a Reel make sure to have a visual thumbnail in mind that will fit the 9:16 Reel format that at the same time (when centered) fits into the square feed format. This could be an image of you, relative to the video, or a visual graphic you've created specifically for the video. 

Pick the right cover: If you don't want to use a thumbnail, make sure you choose the best frame in your video that reflects what the video is going to be about. 

Make sure your branding is consistent: whether that is you always showing your face or using consistent colors; think about your branding when creating your videos and thumbnails/covers.

Use captions: Instagram users can easily keep the platform muted and sometimes it's easily forgotten while scrolling (endlessly). So make sure you use text and captions if it works with your video to put an additional layer of communication with your audience. In those captions, you could simply write "turn on sound now" or something similar if it's important that your audience hears the sound while watching your video.
When promoting your music on Reels, think about ways you can help your audience feel a connection to your song. Choose the hook of your song or the best part of the chorus and upload that as a sound. Stay tuned for our full guide on how to create engaging Reels to grow your audience.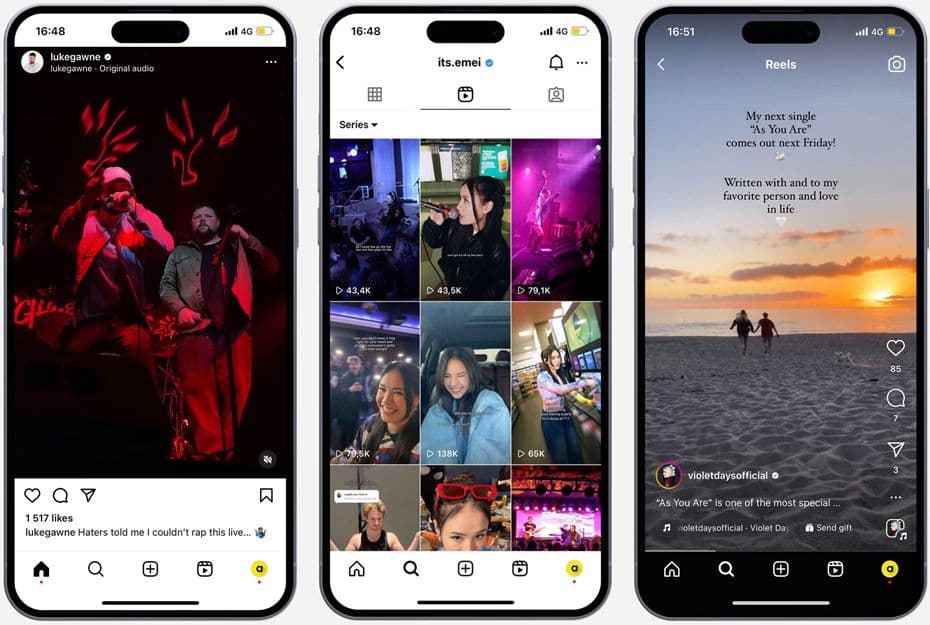 Photo: Instagram
Run Competitions 
Running an Instagram competition is an easy way to engage your fans, help boost engagement and get your content noticed by the Instagram algorithm. You can give away things like merch, tour passes, or backstage meet-and-greets. 
Next, think about your goals for the particular promotion and consider what type of content makes the most sense for your art project. Do you want to expose your profile to new potential fans? Get more followers? Build a library of fan-generated content to post later? 
Like/comment to win: This is one of the most common Instagram contest ideas, and one of the easiest for your fans to enter. Ask them to comment on something related to a track, or a photo, or ask for their help naming your new release. 

Photo caption contest: People love to show off their wit and humor, and even more so — fans love to show off their loyalty and how much they know about your music. Post a photo to your Instagram feed and ask fans to post their caption in the comments. 

Tag-a-friend: This type of contest is a good way to expose your artist project to people that share similar interests and music tastes with your fans. The concept is simple: ask your followers to tag their friends in the comments of your post for a chance to win. Each person tagged will get a notification that they've been tagged by a friend, and chances are they'll click through, check out your profile, and maybe even listen to some of your music. 

Skill-based contest: These contests bring in a lot of artist love, as fans respond to questions and show how much they know about your music. Followers who don't know a lot about your music may end up researching the answer and listening to your music in the process. 

User-generated contest: This is an easy way to collect content from fans that you can bank and use as social media material in the future. Ask fans to show themselves wearing your merch, or attending one of your shows. Make sure it's clear in your contest rules that you might share the photos that people submit.
Before you kick off your Instagram competition, there are a few things you need to keep in mind:
Follow the law: It sounds obvious, but most artists don't follow the law when they run Instagram competitions (and we've seen some get in serious trouble). Make sure you understand the laws and regulations in your city. You might want to ask an entertainment lawyer to help draft some contest rules. 

Publish terms and conditions: Every Instagram contest needs to have a set of rules, and you need to publish them on your website. Include a link to the T&C in your Instagram bio for the duration of the comp, or post the link in the comments section. No matter where you post your Instagram contest rules, they must include a statement that releases Instagram from any responsibility for the contest (details here).

Disclose any partnerships: If you work with influencers or other artists on an Instagram giveaway (eg. if you give them some merch in exchange for asking them to promote your content to their followers), make sure you follow the appropriate disclosure rules. 
Ready to get started? Sign up for amuse here and release your track to Instagram, TikTok, Spotify, and all other major streaming platforms.