How To Build A Studio At Home
How to Build a Music Studio at Home
From creating a space suitable for recording your next hit to choosing the right equipment, we break down how to build a pro-level music studio at home.
If you're serious about pursuing a career in music, building a studio in your home space is the perfect way to further your skills and make music in a flexible environment. Instead of spending money on studio time, you can invest in equipment at home to give you unlimited access to creating music full-time.
To successfully set up a studio at home, you will first need to make sure the location is right and invest in some quality equipment that will enable you to produce your next hit! Let's dive in.
Location is key 
The first major consideration when building a home studio is the location; is there room for soundproofing? Will noise escape? Is the room big enough to give you enough space between your monitor speakers and the walls? And all equipment needed? A well-designed space can be the difference between smooth sailing and total frustration. Ideally choose a room with high ceilings, symmetrical walls, and irregular surfaces – a rectangular-shaped room is best.
Clear out the space 
Once you've chosen your studio location, it's time to prepare the space for recording. Clear the floor space, take everything off the walls, and remove anything that vibrates. Begin with an empty room and position your gear where it sounds best (not where it looks best).
While there's (expensive) sound equipment available to test the sound in your space, if you're on a budget, you can test it yourself with the help of a friend. Ask your friend to hold one of your monitors while playing a track. Get them to circle around you (standing 6-9 ft away) while you stand in the center of the room. Listen for the place in the room that best supports the 'sound-field' (the bass is most commonly the area where you'll hear the greatest difference depending on where you're standing).
Once you've found a few potential spots for your speakers, find the position where the speaker seems to sound closest at a further distance. Look for thick, bassy sounds and position your monitors there.
If the space sounds like it has too much echo, add sound absorbers like foam panels to cover the walls.
Foam panels don't just help you soundproof the room for an outside listener, their real purpose is to absorb sound reflections inside the studio. Without these, you risk those reflections being recorded. With acoustic absorption panels, the only sounds being recorded are the ones directly coming from the instrument or microphone. You can find them on Amazon or at your local music store.
Essential Equipment for Your Home Studio
Once you've chosen the right space for your home studio set up, it's time to invest in proper recording equipment to fill the room. Here are the essential pieces of equipment you'll need to start making music.
Computer
Picking a reliable computer is crucial, it's the backbone of your studio setup. Look for something that's fast, with decent storage, and has the ability to process the audio you will be recording. You can either go the desktop route or like many creatives, get a laptop that checks all the boxes mentioned above so you can easily record a track on the go if needed. 
Here are some examples of computers that are great for making music:
If you're on a budget, it doesn't need to be the latest MacBook Pro with all the fancy add-ons, but we do recommend a newer model of either (if you're going with Apple) Macbook Pro (portable) or iMac (stationary). If you're really trying to save some cash, there are plenty of second-hand options through eBay, Facebook Marketplace, or Amazon Renewed.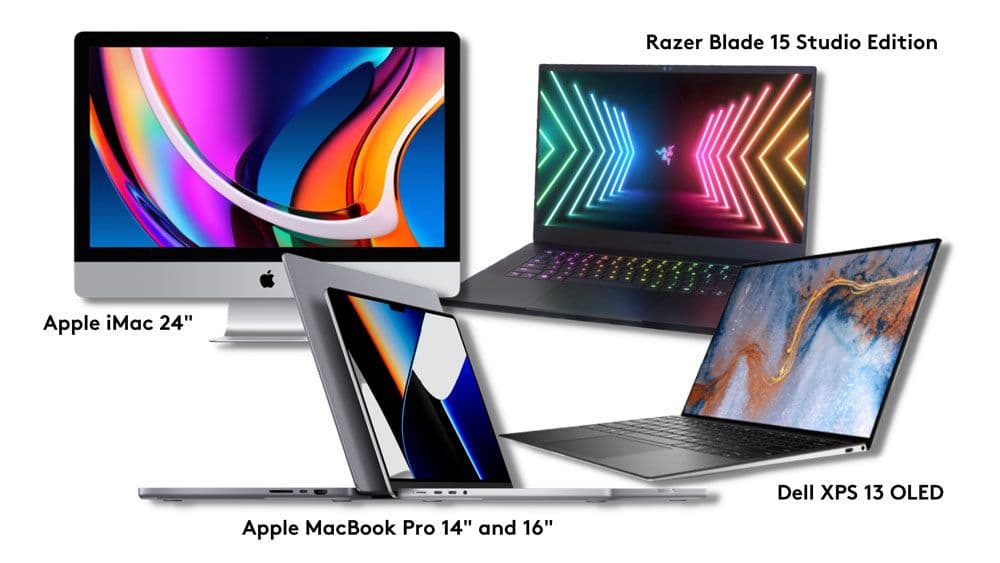 Digital Audio Workstation (DAW)
To record and mix you'll need to purchase a DAW. What's a DAW? It's an abbreviation of the digital audio workstation which is an electronic device or application software used for recording, editing, and producing audio files (music). Avid's Pro Tools is the industry standard, but you can also explore Logic Pro or Ableton Live. 
Before you choose, ask yourself how familiar you are with production software. Different DAWs have different target audiences depending on your level of knowledge and some are just easier to use than others.
To help you find the best fit for you, here's a breakdown of each:
The industry-standard pro mixing and editing tool that professionals use around the world.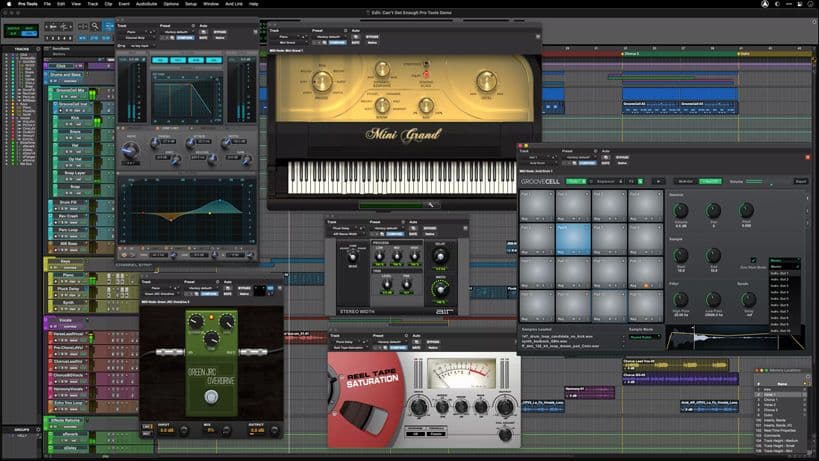 Pros
Industry-standard DAW

The great recording quality and features

Unmatched editing capabilities

Great for mixing and mastering
Cons
Not beginner-friendly

Not good for writing music digitally

Very outdated interface
This DAW suits you if you want to work as a professional audio engineer, recording, editing, and mixing with other people.
Logic Pro is a complete collection of sophisticated creative tools for professional songwriting, beat making, editing, and mixing, built around a modern interface that's designed to get results quickly and also deliver more power whenever it's needed. 
Logic Pro includes a massive collection of instruments, effects, loops, and samples, providing a complete toolkit to create amazing-sounding music.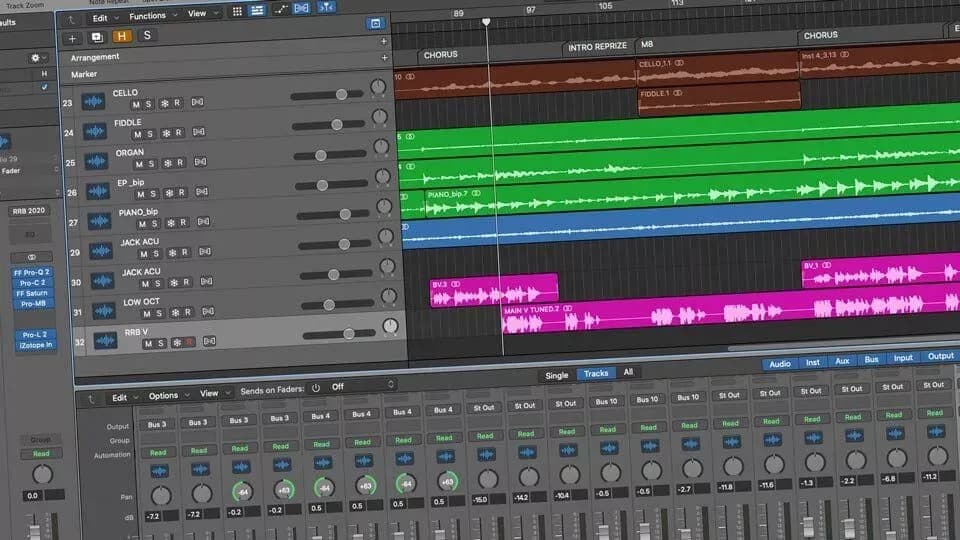 Pros 
Beginner-friendly

User-friendly interface

Great for writing music

Extremely versatile

Great for recording, mixing, and mastering music
Cons
Audio editing isn't as powerful as other DAWs
This DAW suits you if you want a creative DAW that's great for writing, recording, and mixing.
Ableton Live is designed to be an instrument for live performances as well as a tool for composing, recording, arranging, mixing, and mastering.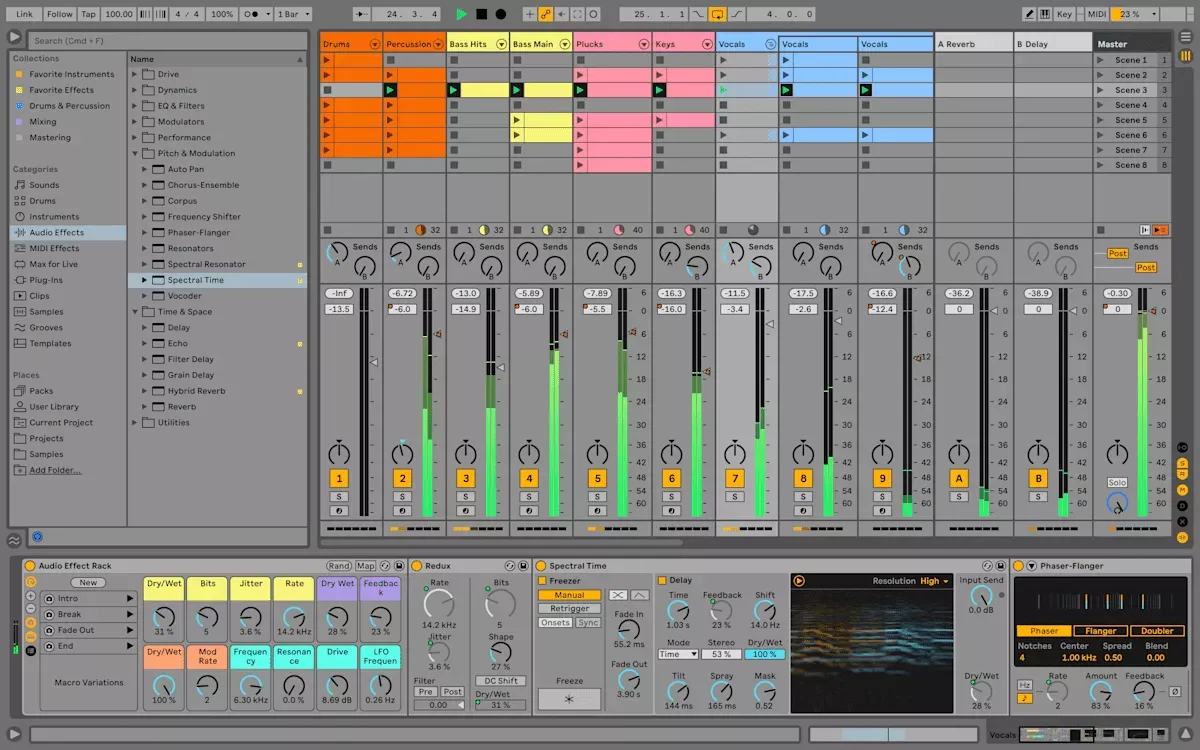 Pros
Beginner-friendly

MIDI and automation features

Session view makes writing fun and fast

Great stocks plugins
Cons
Audio editing isn't as extensive as in other DAWs
This DAW suits you if you're a live DJ, electronic music producer, or want to be able to write music non-linearly.
FL Studio features a graphical user interface with a pattern-based music sequencer. The program is available in four different editions for Microsoft Windows and macOS.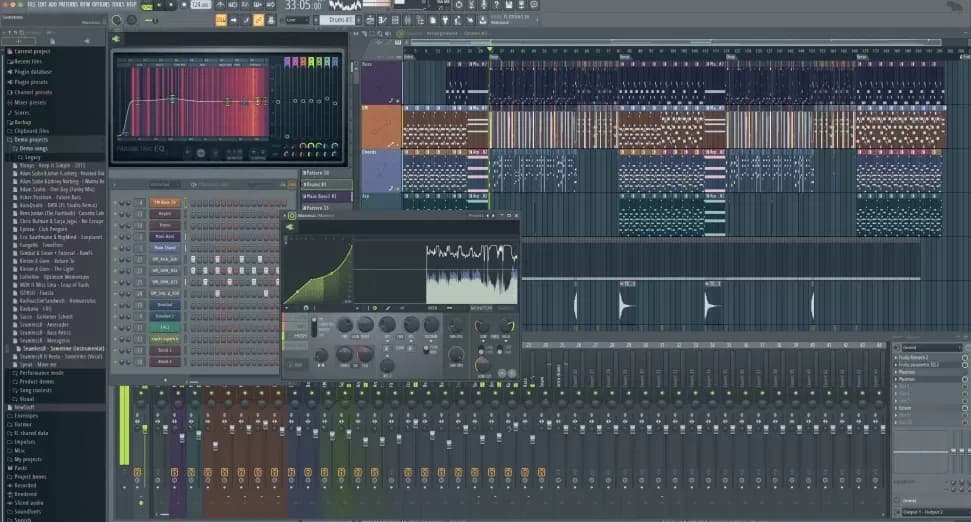 Pros
Beginner-friendly 

MIDI and automation features

Unmatched piano roll for writing music digitally 

FL's patterns make it easy to write and arrange songs
Cons
Some production techniques require workarounds

Redundant features, which can make it more confusing to use
This DAW suits you if you're primarily an electronic or hip-hop producer.
Audio Interface
If you're planning to use vocals or live instruments in your production, you'll need an Audio Interface. Our two favorites are the Scarlett 2i2 and Universal Audio Apollo Twin.
The Focusrite Scarlett 2i2 is a USB audio interface, used and loved by complete beginners and industry professionals. It's affordable and makes it simple to record, mix, and monitor live audio. For a more in-depth review with a setup walkthrough, check out the video below:
Apollo Twin is a high-resolution professional audio interface with superior sound quality and real-time UAD Processing onboard. This means that processing audio is offloaded by the Apollo Twin, freeing up your computer to do other things like mixing audio or running samples.
The Apollo Twin has been used by many renowned producers like Louis Bell (Post Malone, Cardi B, DJ Snake) and to record landmark albums by Kendrick Lamar, Chris Stapleton, Arcade Fire, and more.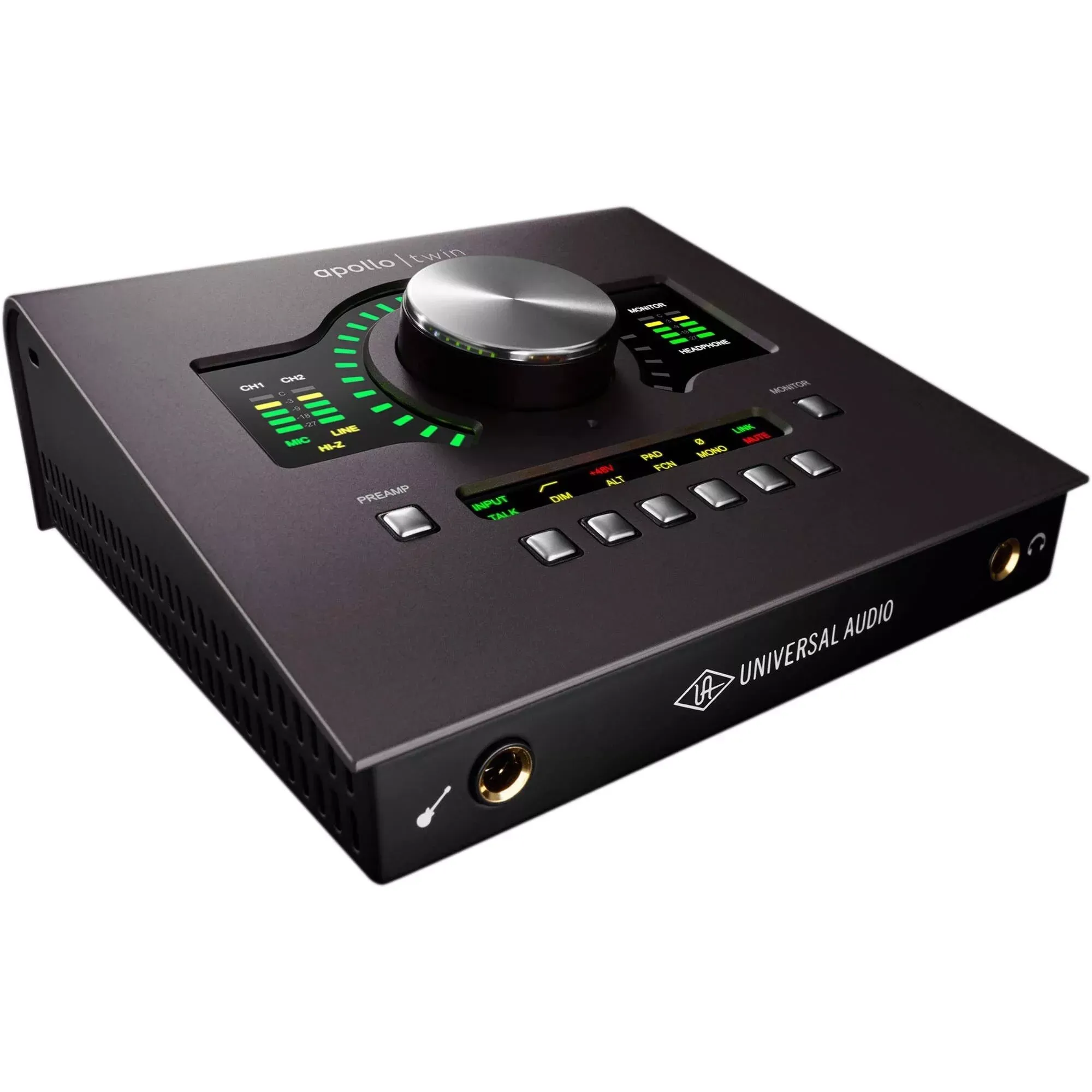 Microphone
There are several quality microphones for any budget that you can use for recording vocals in your home studio. We recommend the Rode NT1A, Aston Origin, and if you're on a budget, Audio Technica AT 2035.
Price: $215
The NT1 is the go-to microphone for recording a wide range of vocalists. It offers the sound of classic studio microphones with low noise, perfect for recording pop, rock, and hip-hop.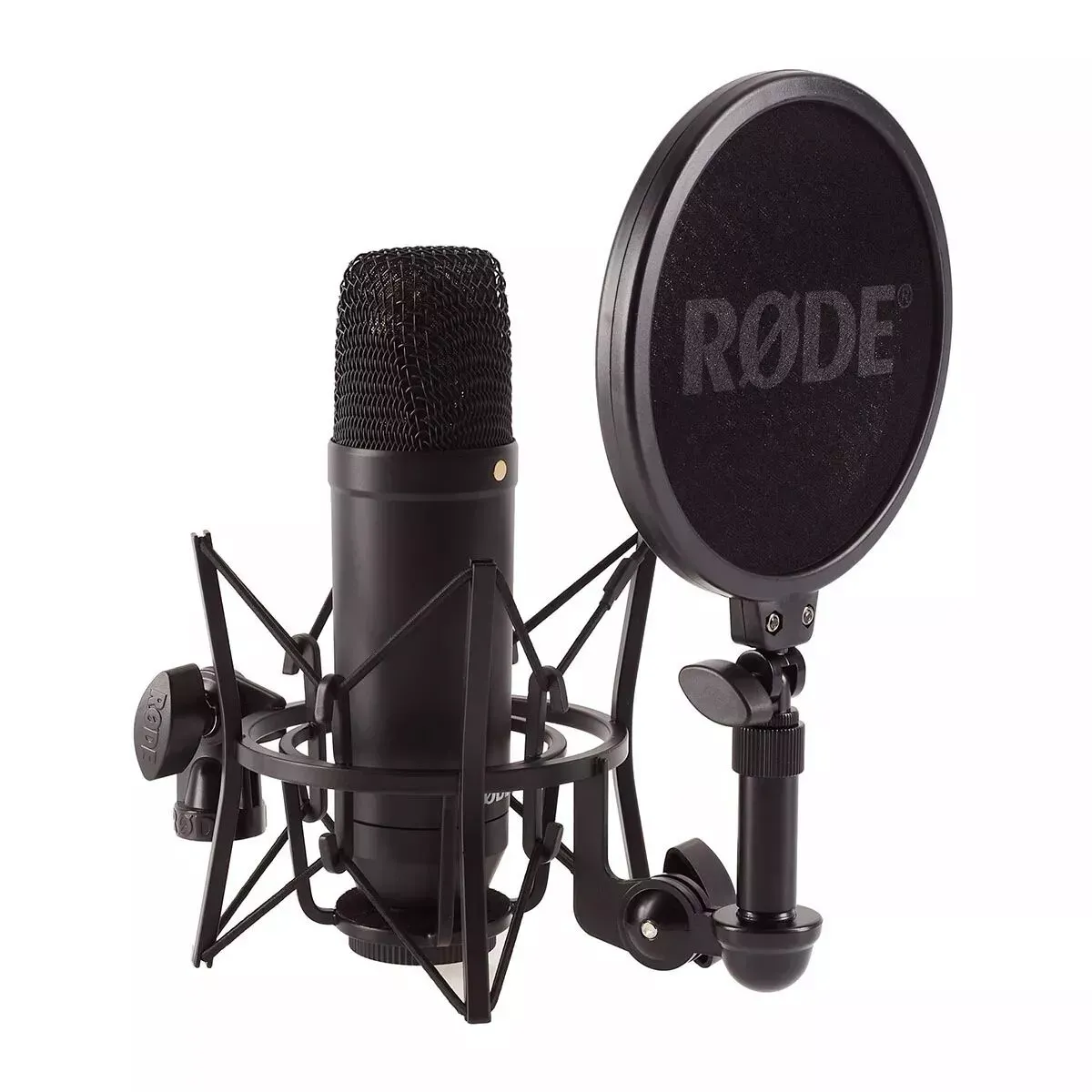 Features
Large-diaphragm (1-inch)

Flat frequency response for many vocal ranges

Extended 10-year warranty when bought through an authorized seller

Versatile. Great for vocals and instrumentals

Flat, smooth frequency response that reproduces what you record

Steady shock mount
The Aston Origin is versatile enough to use with any instrument and specifically excels in vocals. Aston Microphones describes it as, "...designed to deliver direct, smooth and intimate sounds for supremely natural and transparent recording".
Features
Affordable and high quality

Offers warmth, clarity, and detail

Versatile. Great for vocals and instrumentals

Large-diaphragm (1-inch)
Price: $149
If you're on a budget and trying to save on your microphone purchase, Audio Technica is a great option. It's excellent for not only vocals but on a variety of instruments like acoustic and electric guitars.
Features
Balanced sound across a range of input

Works well with other instruments

Comes with a pop filter and 10ft XLR cable

Large-diaphragm (1-inch)
Keep in mind that with the price of this mic, you will experience that it picks up any outside noise. You'll need a quiet recording environment, so tell your friends to keep it down while you're in a session! But with that being said, the Audio Technica will serve its main purpose at a great price.
Studio monitor
Studio monitors are loudspeakers designed for professional audio production where accurate audio representation is make or break.
Investing in a quality studio monitor for your studio setup is a necessity. They help produce clear and dynamic sound mixes, making it easier for you to identify any flaws in the audio quality to correct. Below are some of our favorite studio monitors.
Price: $498
The RP7 monitors offer a punchy delivery with an abundance of EQ tweaking options, meaning that they will capture an accurate vibe of a session. They are well-built, and there are several options for tweaking the setup so the sonics are optimized for the room in which you've built your studio in.
Features
Excellent performance

Plenty of range in the EQ

Isolation and mounting pad are integrated

Front port lets you position them close to the wall
For a more in-depth review, click here.
Price: $899
With the Focal Shape 65, you really get what you pay for. When it comes to frequency balance it's super impressive, especially in the mid-range. The highs are detailed and the mids are a direct reflection of the source, which really helps you with nailing your mix. This studio monitor is one of the best-sounding and most effective speakers in this price range.
Features
Makes mix decisions easier (and better)

Super-accurate transient details

Easy-to-tweak EQ

Passive radiators offer flexibility
For a more detailed review, click here.
Price: $798
These are big monitors so in a small to mid-range space they will give out a loud, quality robust sound. The bass is distinguished and there is an overall width to the output from these monitors. If you do have a smaller space, they might be too powerful for the space but for you that has a mid-size to the larger studio — the Kali Audio In-8 is the perfect investment.
Features
Bid, wide and spacious sound

Easy to set up with flexible dip switch operation

Great value considering the quality of the sound
For a more detailed review, click here.
Price: $100
These monitor speakers are a great fit for you if you're on a budget. Considering the low price range, they still give you a good feel about what you are mixing especially at a close range. They are designed for smaller spaces, so take that into consideration when choosing which monitor speaker will work best for your home studio.
Features
Fantastic value

Good detailed sound

Ideal desktop choice
For a more detailed review, click here.
Headphones
Price: $299 
These studio headphones are ideal for getting clarity and accuracy when listening back to your mix. The lower mids and bass are specifically tight and rich, giving you a reproduction of the song you're building.
Features
Sturdy and comfortable fit

Solid sound reproduction at low volumes
For a more detailed review, click here.
Price: $239
The sound quality of these headphones is great, with clear and forward mids. On the bottom-end frequencies, you'll experience that they extend the sound down without any peaky resonances. A great fit for mixing specifically electronic tracks.
Features
Great value

Excellent sound quality

Honest sound
For a more detailed review, click here.
Price: $99 
If you're looking for great quality, inexpensive solution for tracking and mixing, these headphones' neutral sound and accurate response will be a good fit.
Features
Lightweight and comfortable

Well-balanced

Precise sound
For a more detailed review, click here.
Pro Tip: Test your tracks at the same volume they will be listened to.
Headphones don't accurately reflect how your audio will sound when played through speakers. So while they might help you keep the peace with your neighbors or roommates, you need to test your sound through your monitor speakers. Listen to your track at the same volume it will be played at, before turning the volume down to check the intricacies and detail.
Congrats (), now that you know all the necessary steps to set up your first home studio or make improvements to your current one — it's time to record your next banger!