How To Choose The Best Music Artist Name Amuse
How to Choose the Best Music Artist Name
We broke down the most important steps to choosing an artist name that will stick for the longevity of your career.
Written by Evie Bloom, amuse
Are you preparing to release your first song and struggling to decide on your artist name? Maybe you're a seasoned musician looking to rebrand. Whatever stage you're at in your career, choosing the best artist name to suit your brand can feel challenging, to say the least. 
Taking the time to brainstorm the right name can help you avoid a lot of potential headaches down the road, so we broke down the most important steps when choosing the best artist name that will stick for the longevity of your career. 
Know your brand
Before starting the creative brainstorming process, it's important to think about your brand and how you want to be seen as an artist among the industry and your fans. How do you look, talk and sound on social media? What's your visual identity? Finding your own voice, building your own brand identity, and matching this with your artist name, is a great way to help music fans distinguish you from other artists and understand your unique story.
Need more inspiration? Check out our guide on "How to Brand Yourself as an Artist".
What is an "artist name"?
An artist name, also commonly referred to as a stage name, or pseudonym is a professional name that an entertainer embraces to be known by publicly. An artist's name can be a version of a person's legal name or an entirely different name together. The purpose of artists adopting a stage name can range from honoring someone that inspires them to differentiate themselves from other artists.
There are many different reasons artists adopt a stage name, such as:
To avoid confusion with other artists that have a similar name.

To embrace a name that strengthens their stage persona.

To simplify a complicated legal name that will be hard for fans to remember. Take an artist like Snoop Dogg. Legally his name is Calvin Cordozar Broadus, Jr. Now, Broadus might have worked but Snoop Dogg is a lot more memorable.

To avoid being stereotyped based on their legal name.

To pay respects to a favorite character, author, or artist. An example is Jacques Webster who we know as Travis Scott. His stage name comes from him paying homage to his favorite uncle Travis who had the nickname, Scott. 
How to choose your artist name
Now to the fun part, finding your stage name. Use a pen and a piece of paper to write down some potential name ideas as we go through some different forms of inspiration.
Rearrange your real name
If you have a first, middle, or last name that is catchy you can play around with keeping it as is or rearranging the lettering to make it more unique.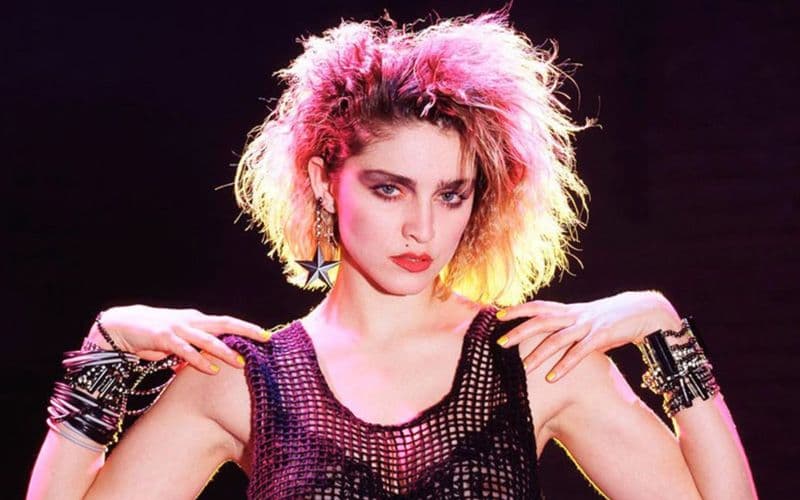 For example, Madonna, born Madonna Louise Ciccone, dropped her middle and last name but uses her unique first name Madonna as her professional stage name.
Use a childhood nickname as inspo
If your friends or family called you by a nickname when you were younger (that you liked), you could use that or try a variation of it.
For example, Lizzo was born Melissa Viviane Jefferson but when she was 14 years old formed a rap group with her friends and was supposed to be called Lissa. But since Jay-Z's song "Izzo" was trending at the time, she felt inspired to adopt the name Lizzo and hasn't changed it since.
Pick a word that embodies your style
Your stage name is meant to be a representation of your particular image and there might be a word that embodies that.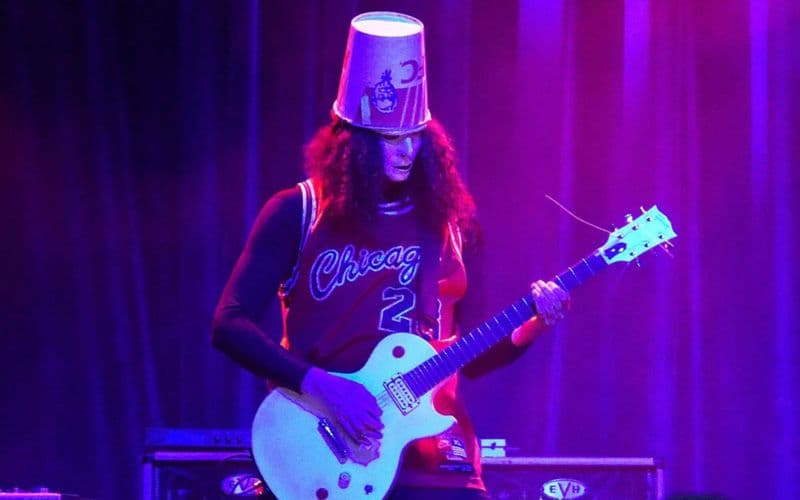 Take guitarist Buckethead from Guns'N'Roses, whose birth name is Brian Patrick Carroll, known for wearing a bucket on his head when on stage. Talk about embodying your image!
Think about artists or movie characters that inspire you
Turn to movie characters, artists, or important figures in your life that you feel inspired by. Do they have a unique name that you could take as your stage name to pay homage to?
Did you know David Bowie was inspired by Jim Bowie, a character in the 1960 film 'The Alamo'? His birth name was David Jones, with another artist Davy Jones was in the spotlight at the time — David Jones became David Bowie.
Use a name randomizer
To get your ideas flowing you can try to use an online name generator.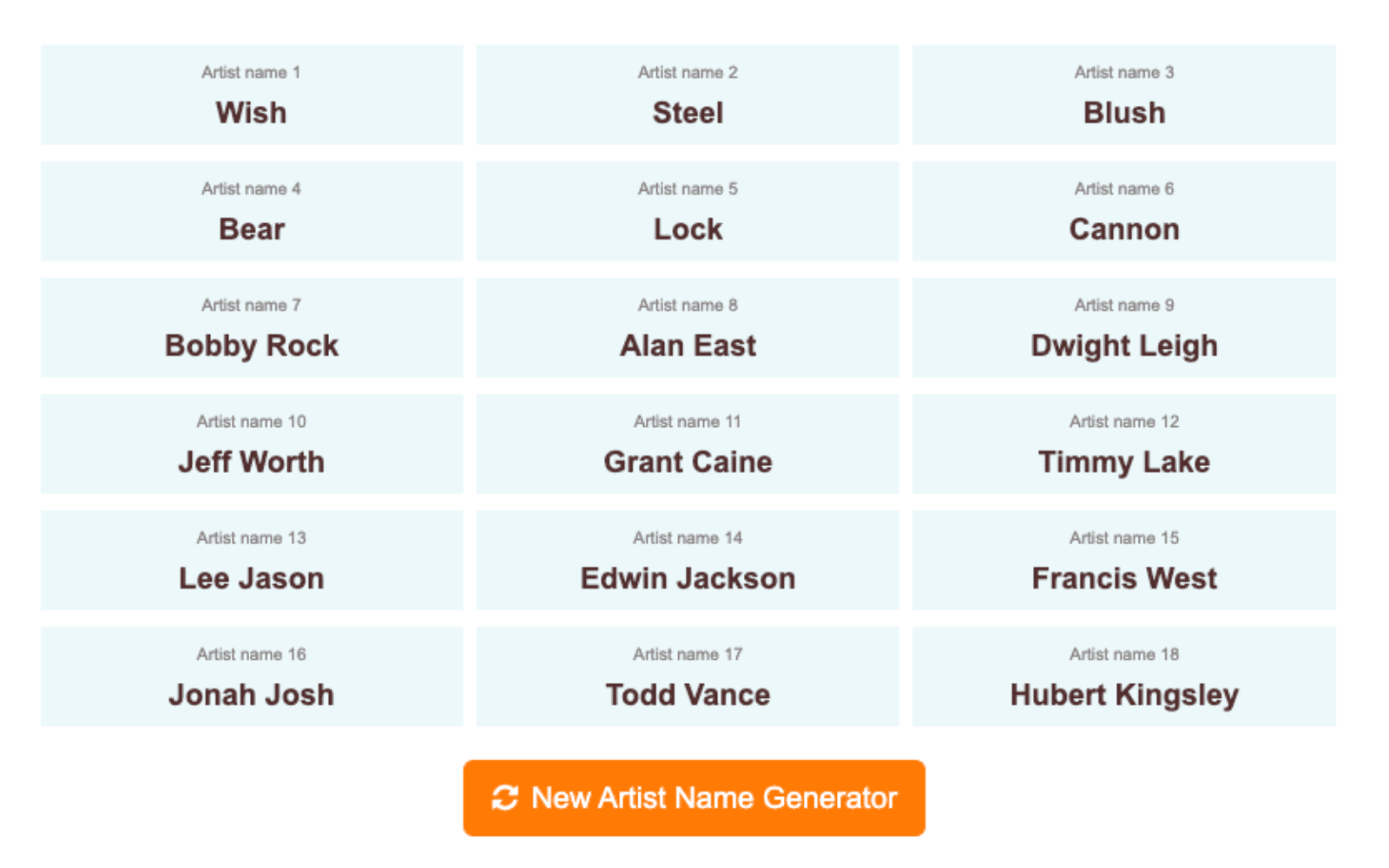 Some require keywords while others like this one, list a variety of options that you can use as inspiration to come up with something unique that suits you.
Brainstorm different ideas
Now that you have an idea of where to get inspiration from, write some options down! Make a list of your favorite potential names and make sure to let yourself brainstorm for a while since this is a name that you will want to keep for the longevity of your music career. The more options you have, the better. 
Questions to ask yourself
When you've brainstormed a couple of names that you feel would stick as your stage name, ask yourself the following questions to narrow down your list to one that suits you best.
So, you've gone through all the steps and found your artist's name. Nice! Now it's time to test the name with your friends, family, label, and industry peers. Put the name into search engines and social media. What do you find? Is the website domain name available? Is Google confusing your name with another artist?
Next, ask for people's feedback and their first impressions. How do they interpret your name? If you've already built up a fan base as an established artist, and are considering a rebrand, DM some of your biggest fans and ask for their feedback. They'll love that you've included them in your journey. 
For more music career advice and tips, check out our blog and stay updated on everything Amuse by following our Instagram.