How To Create A Successful Electronic Press Kit
How To Create A Successful Electronic Press Kit
We asked singer-songwriter, Noni Rene, for her tips on building an EPK that stands out from the rest.
Whether you're trying to get your music onto playlists or booked for a festival, having a solid EPK (Electronic Press Kit) will set you up for success. We caught up with singer-songwriter Noni Rene to get her to take on what's needed for your EPK to look fierce.
What's an EPK? 
An EPK is a press kit that, as an artist, you can share electronically as a website or one-sheet that gives a look into who you are as a creative. Typically an EPK will capture your story, branding, and music, all in one place. Think of it as your marketing portfolio, designed to get the attention of record labels, promoters, agents, venues, and the media. 
Remember that promoters potentially receive hundreds of emails per day with artists' EPK links, so it's key that you present yourself clearly and professionally.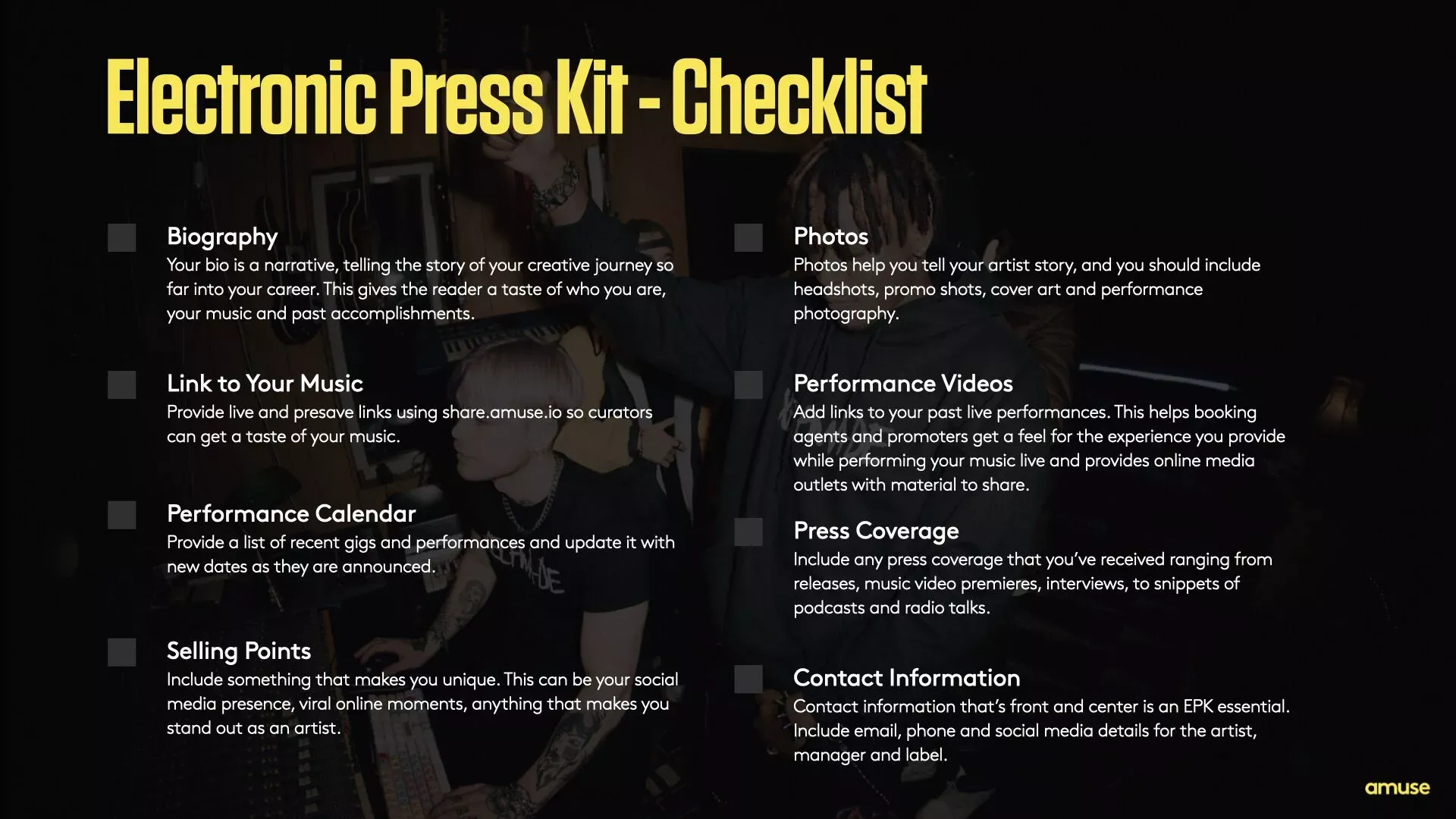 Your EPK should include: 
Bio: Your bio is a narrative, telling the story of your creative journey so far into your career. This gives the reader a taste of who you are, your music, and your past accomplishments. 
Professional photos: Photos help you tell your artist story, and you should include headshots, promo shots, cover art, and performance photography.
Contact information: Contact information that's front and center is an EPK essential. Include email, phone, and social media details for the artist, manager, and label.
Links to your music: Provide links to your music online and for unreleased music, you can share a Soundcloud link. If you distribute through amuse, you can search for your artist name on share.amuse.io to get a shareable link to add to your EPK. Provide live and preserve links using share.amuse.io so curators can get a taste of your music. 
Selling points: Include something that makes you unique. This can be your social media presence, viral online moments, or anything that makes you stand out as an artist. 
Notable performances: Add links to your past live performances (YouTube) or embed the videos on your website. This helps booking agents and promoters get a feel for the experience you provide while performing your music live and provides online media outlets with material to share. 
Press coverage: Include any press coverage that you've received ranging from releases, music video premieres, and interviews, to snippets of podcasts and radio talks.
Upcoming performances: Include a list of recent and upcoming gigs and performances. This is a great way to show that you're actively getting booked, and if a promoter wants to see you perform live before booking you – they will know where to catch go.
Download our checklist for creating an EPK here.
Website vs one-pager
Website
The significant part of using a website as your EPK is that you won't need to send an email with a big attachment (one-pager PDF) and instead only provide a direct link to your website.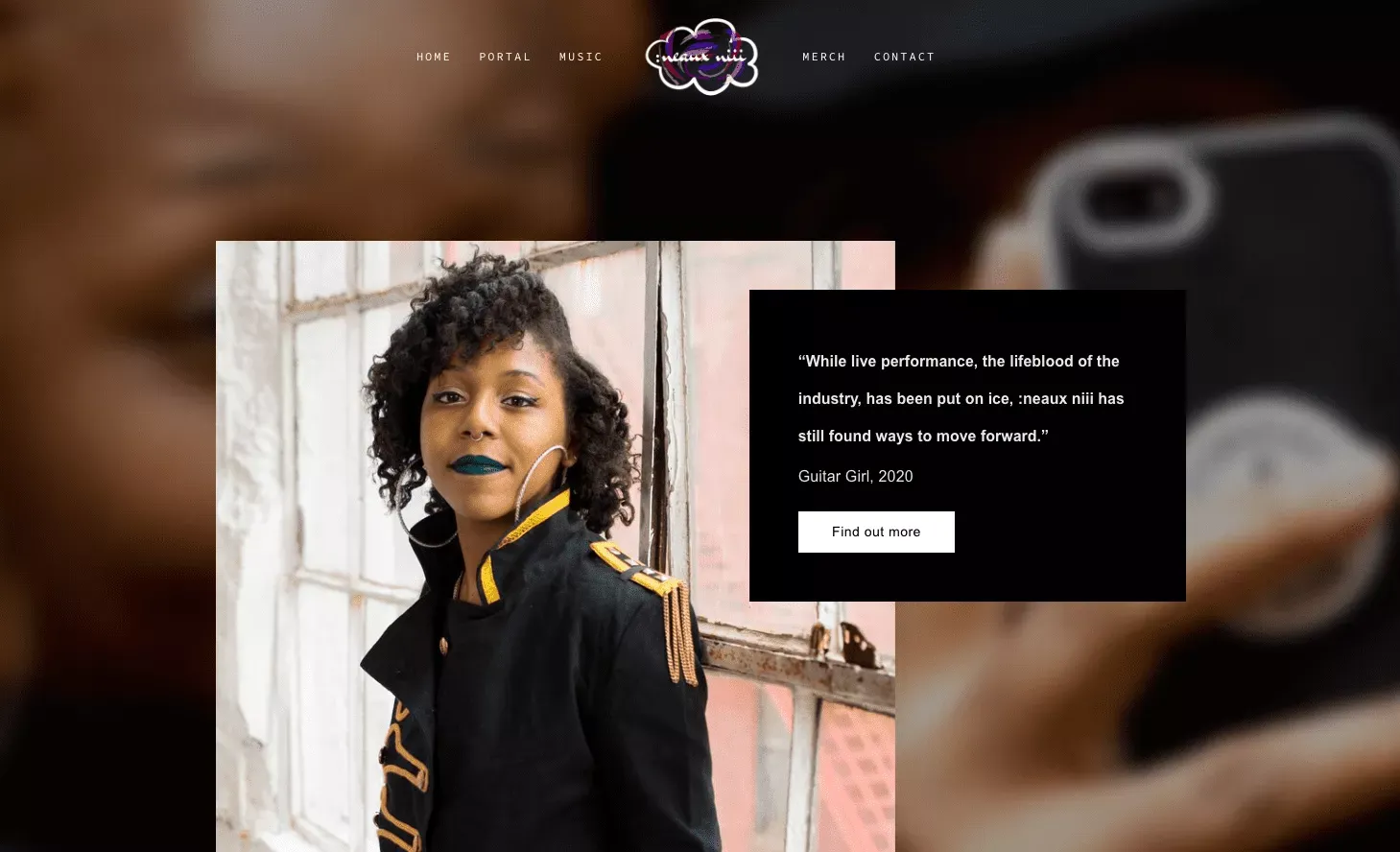 To create your EPK you can use a website like Wix, ReverbNation, and Squarespace, which have great templates where you just need to fill in your information in blank sections to go live.
Noni's main tip for creating a stand-out EPK is, "Know who you are. Take your time and know yourself. Know the message that you want to relay, because you want the message to be consistent."
To make sure you don't forget anything when putting together your EPK website, here is our downloadable checklist for you to follow. 
One-sheet
A one-sheet is exactly what it sounds like – a one-page overview of who you are as an artist. Most often a one-sheet is created for an upcoming album, EP, or single release while a website incorporates all of your past and future work. When making a one-sheet you want it to stand out and look good aesthetically. We recommend using a template through a service like Canva or Visme to get a professional look to your one-sheet, so you can focus on filling out the information rather than the design.
You can use your one-sheet to try to secure a radio or podcast interview, get your music playlisted, and book venues/gigs.