How To Get Your Music On Soundtrack by Twitch
Here's how to make your music available to Twitch creators.
Want to get your music available for streaming on Twitch? A soundtrack is a new tool made specifically for Twitch creators to feature licensed music within their live streams while also creating a new way for musicians to be discovered by the Twitch community. 
From chilled-out lofi beats to electronic and dance, the Soundtrack library has a huge range of artists and genres to stream with, and is curated by a team of specialist music editors. All songs are cleared for worldwide listening on every Twitch channel. 
Music is separated into its own audio channel meaning creators can play tracks without being worried about muting or receiving strikes against their channel. Previously, if copyrighted audio was detected in a creator's stream, Twitch automatically would mute that section of the video. If it happened multiple times, creators could get a DMCA strike against their channel, meaning they could be blocked or banned from Twitch. 
Creators can also choose music by theme or genre from a set of stations and playlists curated by Twitch editors, by theme or genre — like "just chilling" or "Lofi Hip Hop/Beats" or "Rap," for example.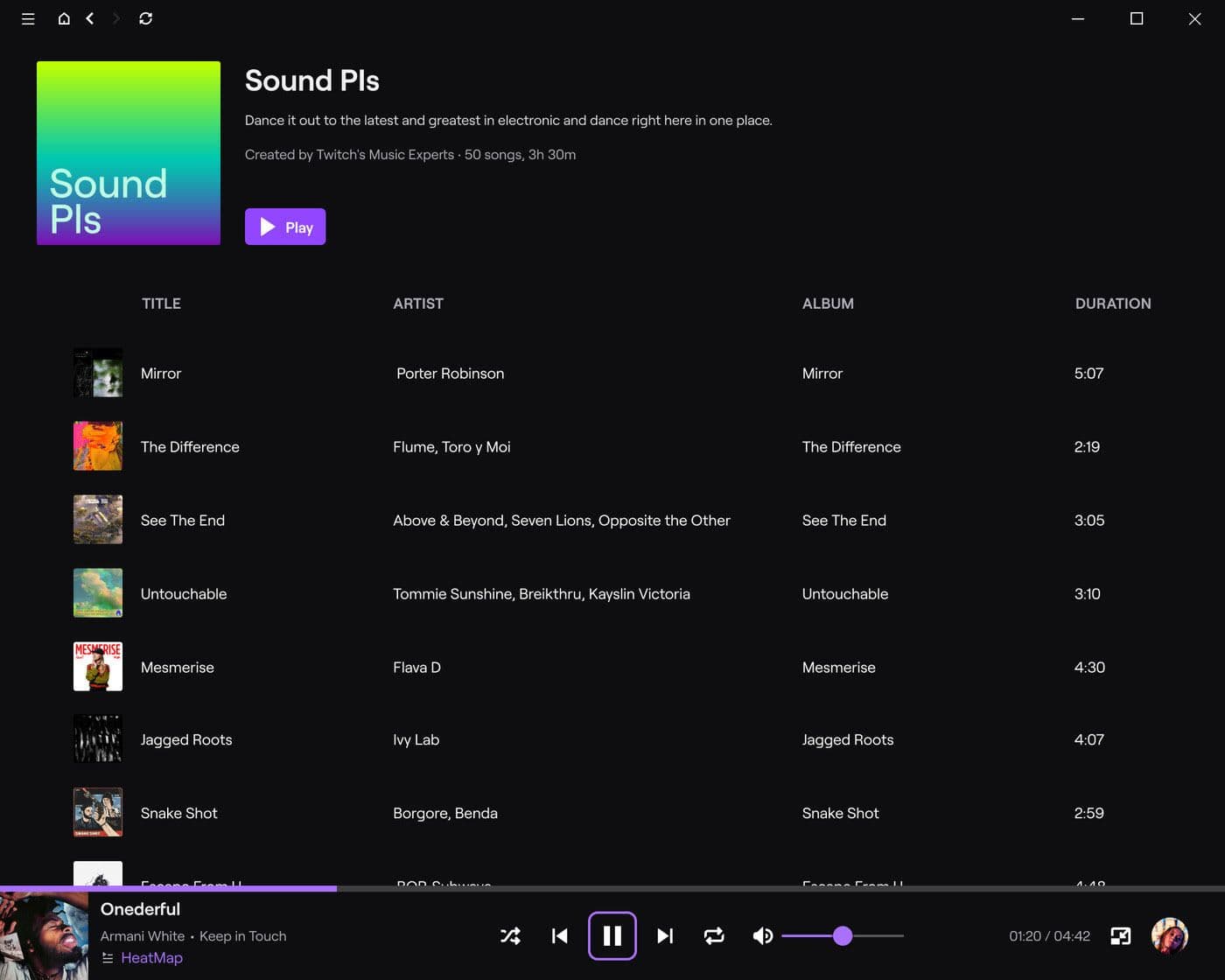 Photo: Soundtrack by Twitch
What is Twitch?
For those that aren't already familiar with Twitch, it's a live-streaming video platform for creators that supports building communities around shared interests — like gaming, music, sport, and food. The biggest difference between Twitch and other social media platforms is that people aren't just scrolling past your content, they're actively hanging out with you live, sometimes for hours.
How to submit your music to Soundtrack by Twitch 
Independent artists can submit their music to Soundtrack with an Amuse Pro or Boost account. Upload your release using our mobile or web app, and choose Soundtrack by Twitch as one of the streaming services you want us to distribute the release to (you can choose from all major music streaming services like Spotify, Apple Music, Facebook, Instagram, and TikTok).  
FYI: Music on Soundtrack by Twitch is curated by a team of editors, which means that submitting a track does not guarantee that it will be added. 
To improve the chance of your track being selected, make sure to follow these guidelines:
Make sure your music is original and written by you (cover songs are not approved). 

Ensure the recording is of high quality (with professional mixing/mastering).

Upload your track with worldwide distribution (no excluded countries).
To discover some of our favorite online sound tools, check out our article covering the "Best Sound, Mixing & Mastering Tools for Independent Artists".

How to set up Soundtrack and use music in your live streams 
First, you need to download and install Soundtrack here (currently available on PC and compatible with OBS* and Streamlabs OBS).

Once Soundtrack is installed, running OBS will reveal a new source: VOD* Audio for Soundtrack by Twitch is available. Once added to your sources, this source and the OBS Plugin that Soundtrack installs for you will seamlessly route Soundtrack's music to your live channel while preventing it from being recorded to your Stream Archives and Clips. This allows you to use Soundtrack worry free and makes your recorded material safe for later viewing or use on other services.

Soundtrack must be started before you begin your stream in order for the audio from Soundtrack to not be included in your VOD. If Soundtrack is started after your stream has begun, audio from Soundtrack will appear in your VOD and may be muted by Audible Magic, which is not the intended operation.
*Open Broadcaster Software (OBS) is a free, open-source video recording and streaming application that's ideal for streaming on Twitch.
*Video On Demand (VOD) VOD stands for "video on demand." In the video streaming space, VOD refers to content that is uploaded to a library for viewers to access at their leisure.
Before you get started as a creator on Twitch, read our "Artist's Guide to Twitch".