How To Grow 1000 Superfans With Tribe Friday
How to Grow 1000 Superfans With Tribe Friday
We caught up with indie band Tribe Friday to get their advice on building and maintaining a devoted fanbase.
In theory, an artist or band only really needs 1000 loyal fans to build a long, prosperous music career. 
We caught up with "guitar slinging indie kids" Tribe Friday, made up of Noah Deutschmann (singer), Isak Gunnarsson (guitar), and Robin Hanberger-Pérez (bass), to get their take on how to grow and maintain a strong relationship with your fans.
Hey Tribe Friday! Tell us a bit about your story – how did you meet?
Noah: Hey! Nice to meet ya. I originally started the band as an after-school thing when I was in high school. I grew up in a small town in the north of Sweden, and most of my friendships revolved around music, so it felt like the natural thing to do. The project has evolved a lot since then - I first met Isak at a wine-fueled after-show party where he ended up tattooing my leg. He moved on to join the band in late 2019 after I called him saying I needed a guitarist for an upcoming US tour.
Isak: I didn't even play guitar at the time…
Robin: I got to know Noah from hanging around the same music scene in Örebro, and seeing them at parties with mutual friends. At one of those parties Noah came up from behind and whispered "hey, wanna join my band?". The rest is history.

Noah: I actually recorded Robin's previous band in the studio. That's how I found out how good of a bass player he is. I guess I kinda stole him from that band.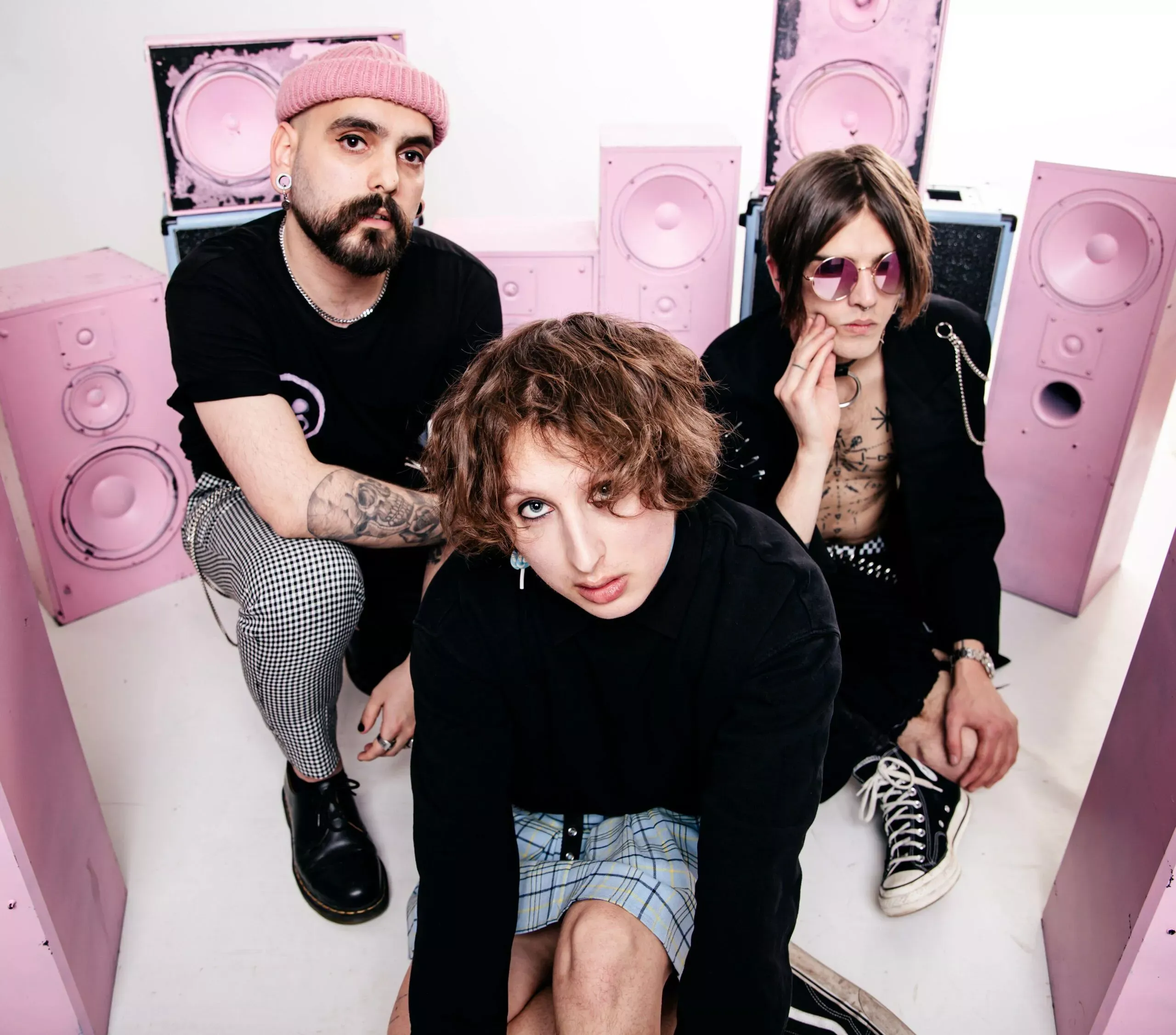 Photo: Robin (left), Noah (middle), Isak (right).
How did you connect with new potential fans early on in your career?
Noah: When we were first starting out, we played live as much as we could, and made sure to invite all our friends so the shows were packed and fun to attend. I think that's how the word spread about us initially - we were just a fun band to come see live on a night out. And honestly, up until very recently we never used the word "fans" at all - we just called them relationships, or friends, because at the beginning that's very much what it is. A two-way relationship. I don't think you can expect people to care deeply about your music in the beginning. You have to nurture a connection for that to happen. So we still try to answer every DM and talk to everyone at our shows. It's the least we can do thanks to the people who care about us.
Your "Tribe" fans are now very loyal. How do you come up with ideas to maintain your connection with them?
Noah: Hahaha yeah, they really are - which is so cool to us.
Isak: The general idea is just to do whatever would get us excited.
Noah: Yeah, that's pretty much it. We all grew up in alternative scenes and were super invested in the bands we listened to, so we know firsthand what that feels like and how much that sense of community can mean to someone. So we just try to do whatever would get our teen selves mega excited. That's how we came up with the "street cult", which is the group of supporters who are helping us put up posters and promote the record. In return, they get free merch and stuff like that. It's turned out to be a really cool thing - the fans are linking up and going out together, posting pictures on the Discord, etc. Plus it's way more fun to spend our marketing budget on the people who actually care about us as opposed to Facebook ads and that sort of thing.
Isak: Another example is the trading card project. We're all board game nerds and love MtG, so we just used that excitement to make our own thing. I think all artists have an obsession like that to draw from somewhere.
Noah: To clarify, we made our own set of trading cards with illustrations of the band and flavor text on the card backs. We're rewarding people for holding specific cards - sending them snippets of unreleased music, for example. It's a lot of fun!
Photo: Tribe Friday trading cards - buy them here
How would you describe your relationship right now with your fans?
Noah: It's very intimate. We have a Discord community where we speak to the fans, and host game nights from time to time, and it's where a lot of the fans connect with each other. We try not to be too distant or act "cool" at all because that's not who we are. We just consider them our friends. I honestly love the Tribe Friday community.
You recently launched the Tribe Friday zine, can you break down the idea and meaning behind this project? 
Noah: Sure! The zine also stems from that same idea of "what would get me excited as a music fan?". Growing up I read a lot of alternative music mags - Alt Press, Rock Sound, Kerrang!, etc. I noticed fans don't really seem to do that anymore so, since I have a passion for design and layout, I made my own just to see what would happen. We're currently on the second edition, which includes listening tips, some of our favorite posts from the community, and a bunch more. I try to listen to what the fans are suggesting as much as possible so it becomes a collective thing for all of us, as opposed to the band just trying to market an album or a tour. If anyone reading this has any ideas or thinks their music would be a good fit for our fans, just reach out and I might include you in the next edition!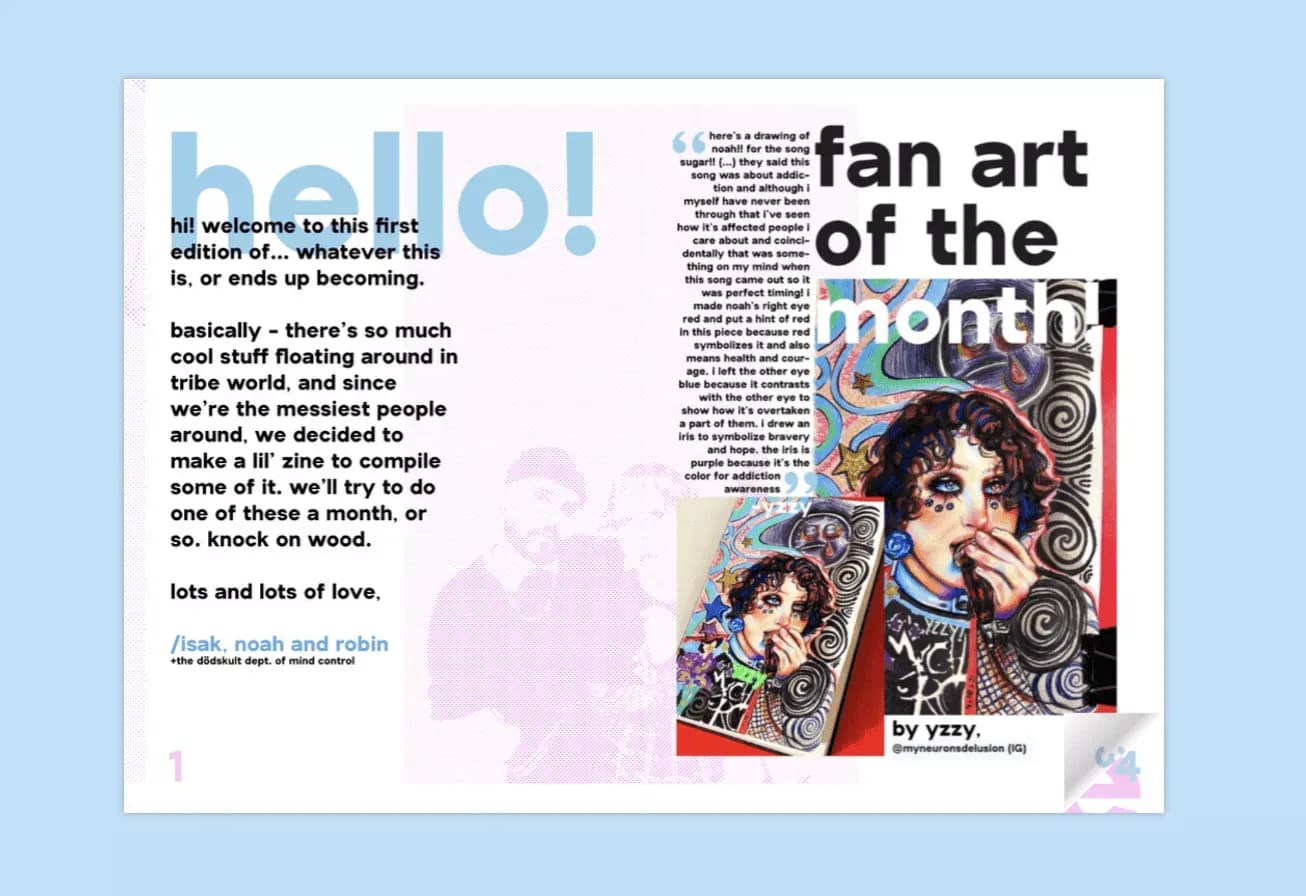 Photo: Tribe Friday zine issue #1.
Your debut album bubblegum emo dropped on June 3rd and we've heard you hosted a release party! What did you plan for your fans who attended the event?
Robin: Yes! Our debut record! Finally!
Noah: Yeah, we hosted a pre-release the day before the album release. We listened and talked about the record before anyone else got the chance, played a few songs unplugged, had a Tribe Friday photo wall set up, and a few other surprises. It was awesome.
Do you have any quick tips for aspiring artists on how to grow and maintain their fanbase?
Noah: Just do you. There are so many music "gurus" around saying you need to do this or do that, but if you're not passionate about what you're putting out into the world you're either going to half-ass it or get burnt out. Find your niche, find what gets you going, and go for it. Are you a sports fan? Host football games with your fans before shows! Are you into VR? Make a virtual space for your friends and fans to hang out! There's an audience for everything these days. You just have to keep making stuff to find it.
Photo: Tribe Friday at their bubblegum emo LP launch party (with their superfans).
Listen to Tribe Friday's new bubblegum emo LP here and stay updated by following their Instagram.
Ready for more music career tips? Click here