How To Grow Your Artist Career With Music Insights
How to Grow Your Artist Career with Music Insights
To celebrate the launch of our new Music Insights features, we asked our product team to break down how artists can use it to their advantage to grow their music careers.
If you haven't seen it already, our Music Insights features have gotten a complete makeover! 
Some of our favorite new features include: 
TikTok Creations
Artists can see when TikTok creators use their music in their content.

The cumulative number of views over time and for a selected period of time is visible in this section.
YouTube Content ID
Artists can see the number of YouTube videos that are using their music. 

The cumulative number of views (for all videos which contain the artist's track) over time and for a selected period is visible.
Pre-save Link
Artists can see the conversion rate of their pre-save link campaign.

Visibility of which platforms (Spotify, Apple Music, etc) fans are pre-saving.
To give you a better understanding of why we've made these changes, we sat down with Justine Reverdell, Product Manager at Amuse, who has worked closely in bringing these features to life.
Why did the Insights tab need an update?
"Through asking our artists what was missing for them, we learned that many rely solely on Spotify for Artists to track their music's performance. There was general discontent with the quality of our Insights page, wanting more tools for better-detailed analytics when tracking music performance. 
We realized that the root of it all was the limitation of accessing insights only through the mobile app and not desktop as well. The same goes for the actual data visible in the app, being restricted to data for Spotify and Apple Music. So thanks to our artists' feedback, we were able to completely transform the Insights data and experience!"
How does the Insights tab help artists?
1. Compare performances across all stores… (not only Spotify and Apple Music )
"We wanted to determine what insights were most valuable for independent artists that can't be seen through Spotify for Artists. A common frustration from artists was the constant need to switch between apps or keep multiple tabs open to compare music performance across platforms.
Track what streaming platforms your audience is listening to your music from.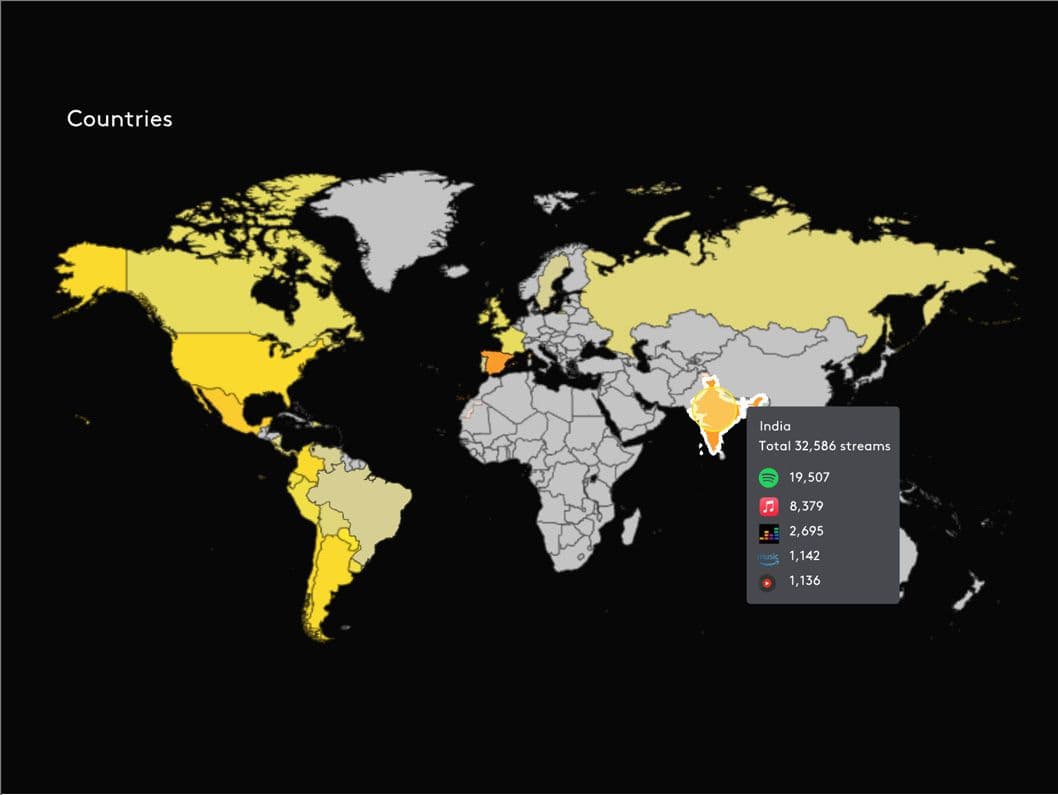 Locate where your audience is located and what streaming platforms they're most engaged on.
We needed to build an insights page combining data across the different stores... Now, artists can visually locate where their audience is on a map, and see how their music is performing in specific and local markets while discovering new opportunities. For example, an artist can now discover that they have a larger fan base on Deezer in France despite their popularity on Spotify in the US, crafting a promotional plan based on these findings. The opportunities are endless!"
2. Trackable pre-save campaigns
"Amuse is one of the few distributors that offer an in-house pre-save tool that lets artists promote their releases on Spotify and Apple Music. Pre-saves are a crucial component of an artist's marketing strategy but we saw a massive fault in the inability to access performance data from these campaigns.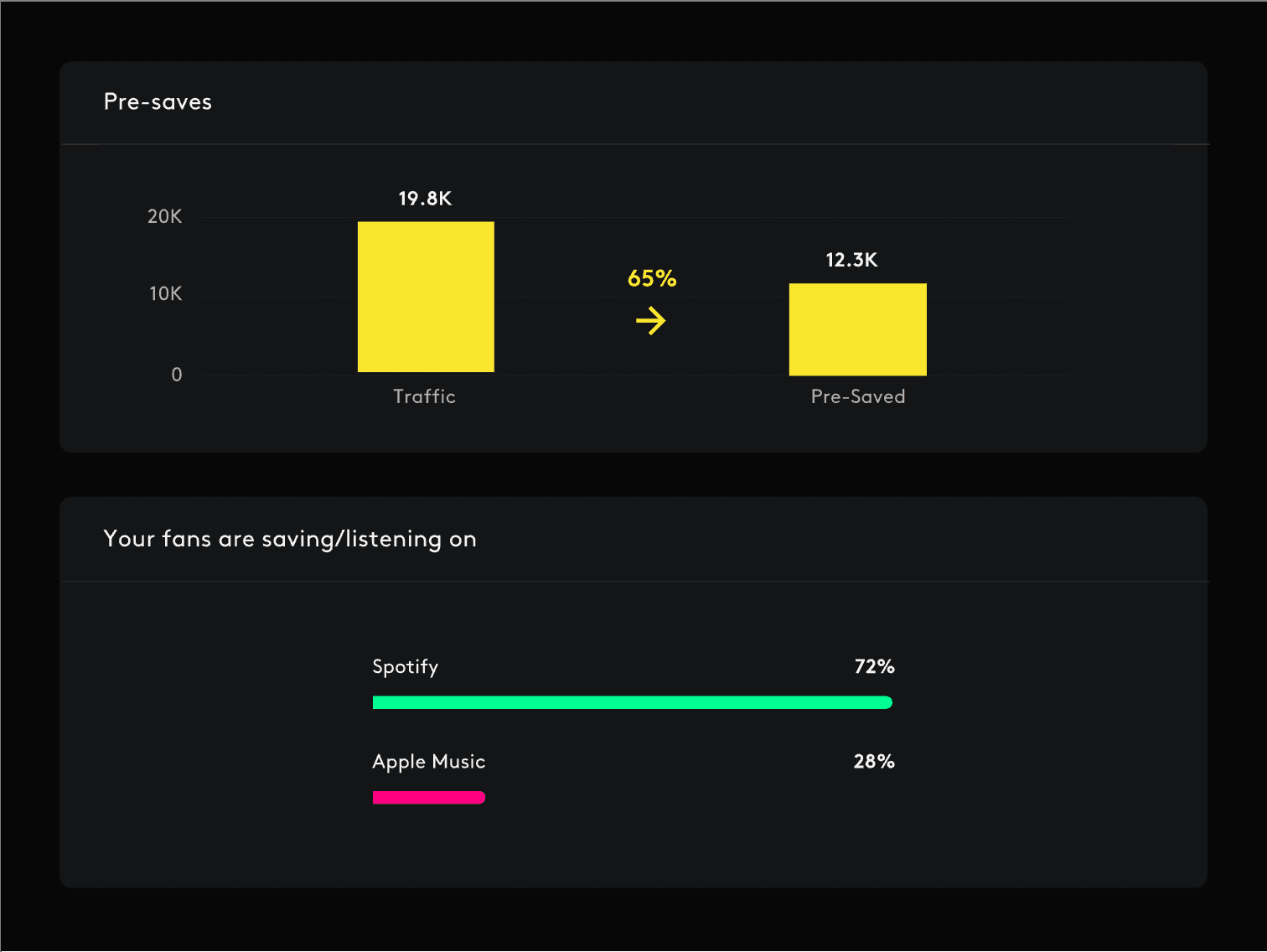 View the traffic that your pre-save campaign is bringing in and which store it's coming from.
So, cue our new pre-save insights data! Now artists can track the number of listeners who have pre-saved their release and on exactly which store. We have also introduced the ability for artists to see where their fans are located who are pre-saving their music. This can help artists identify where their fans are engaging with their campaign whether it's social media, forums, or search engines."
3. Monitor the discovery progress through TikTok and YouTube
"Now artists will be able to have a comprehensive overview of how their music is being used in content by which creator on both TikTok and YouTube. This will allow them to monitor their discovery progress on a daily basis, being able to monitor trends in their music on TikTok and YouTube.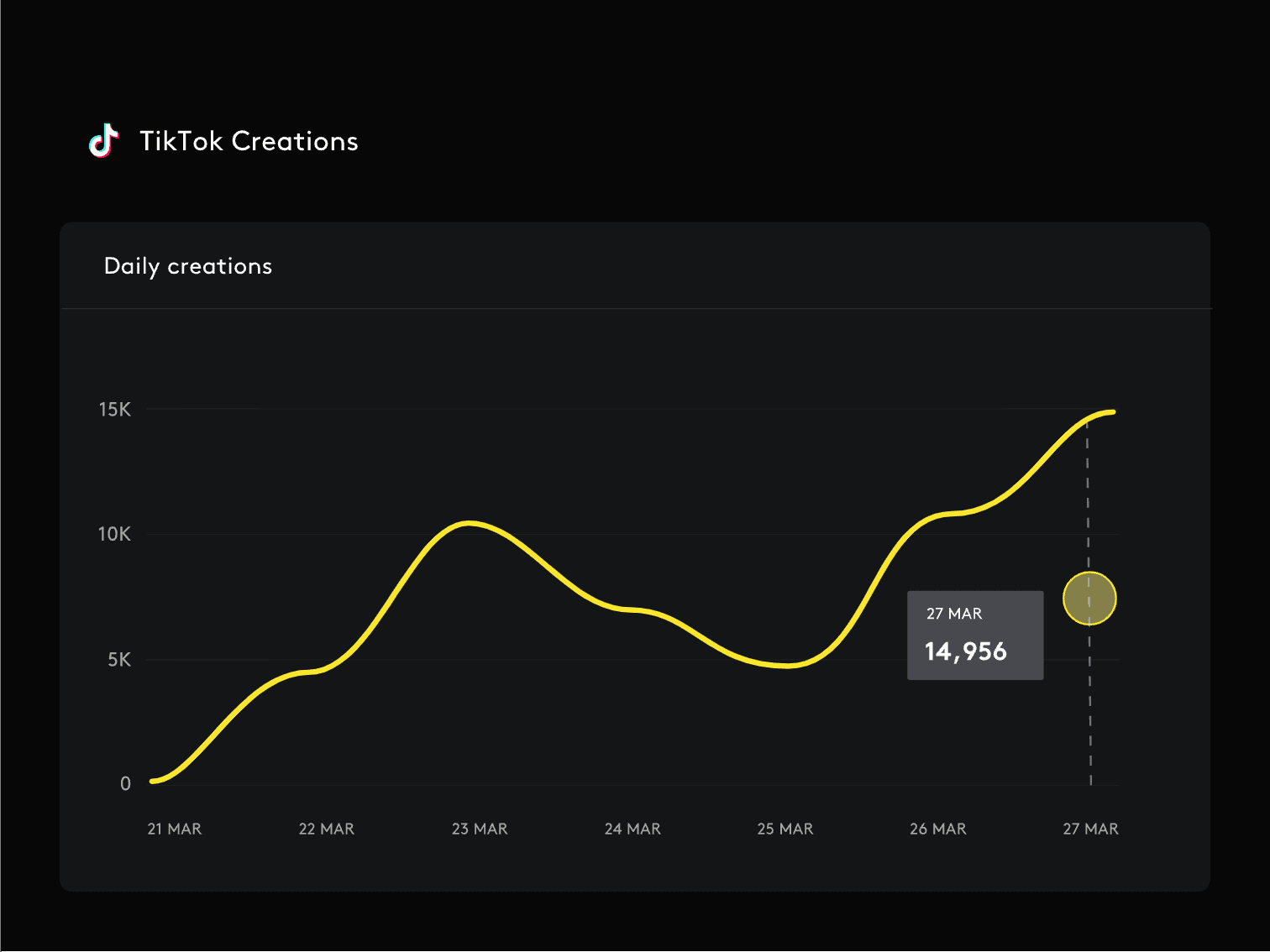 Stay ahead of the viral curve by tracking how many creators are using your music on TikTok.
I'm very excited personally for artists to start using these new insights features as tools to better their marketing strategy and ultimately reach their career goals, independently!"
Are there more features we can expect soon?
"We see the current insights tab as an ever-evolving part of our distribution platform. So of course! We are planning to add more platforms in the near future to simplify how artists can track their music's performance across the board."
When you've checked your insights and feel ready to start strategizing for your next release, check out our blog for our best promotional tips, and follow us on Instagram to stay up to date on everything Amuse.