How To Make Merch For Artists
How to Make Merch for Artists
From designing to selling, we caught up with Mars Parker (Neo Wolf) to get his tips on producing unforgettable merch.
Whether it's t-shirts, vinyl, hoodies, or bracelets, selling merch is a good way to maintain an income stream and keep up a strong relationship with your fans.
We asked multi-genre musician and founder of Stay Pressed Studios, Mars Parker (aka Neo Wolf), why he thinks making merch is important for independent artists and his approach to it. 
When asked what stand-out merch can do for a musician, Parker said, "Exposure, relationship with fans, and additional income." 
"Additional income - if you have the right product, you can almost, like, pay for your lifestyle. That's a key point in being a self-sufficient artist."
Develop Your Brand Identity 
Before you get started designing or selling your merch, make sure your artist project has a strong brand identity and its own unique way of identifying with fans. 
"For me personally, I like to build these concepts around these worlds that I'm creating. Whatever I'm producing [sonically] must reflect in the merchandise," says Mars Parker. 
Processes for developing brand identities can vary from artist to artist, but there are a few steps that are helpful to get you on your way to uncovering what your approach to making merch will look like. To get started, read our guide on "How to Brand Yourself as an Artist".
When brainstorming merch concepts around your brand identity, think about:
What are you trying to communicate through your merch?

What do you want people to remember about it?

How do you want your fans to feel when wearing it?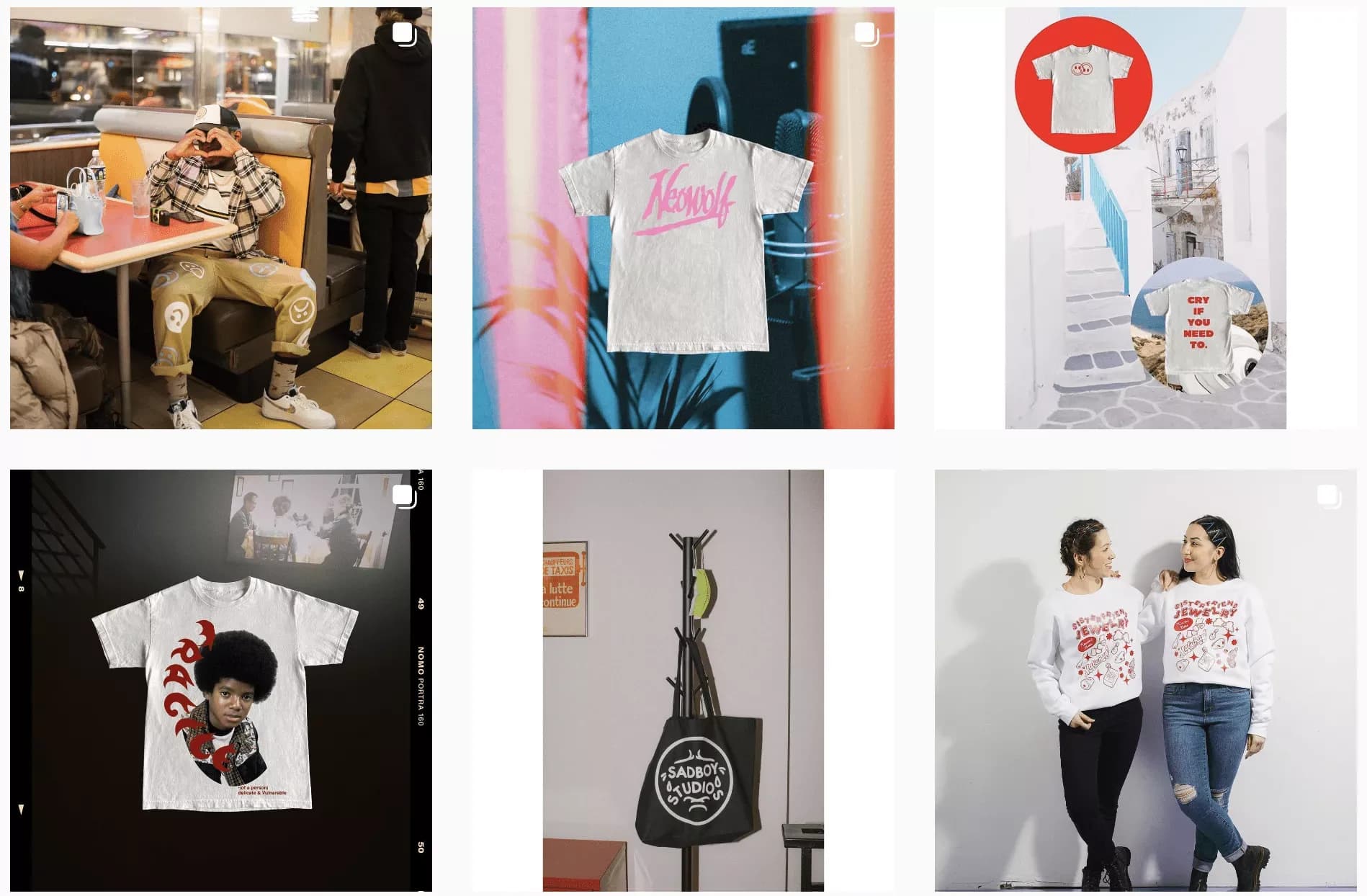 Photo: Stay Pressed Studios
High-quality content
"You really want to make sure [that] your photos, your designs, and your marketing is all up to date and put out in the best way possible," says Mars Parker. 
High-quality photos:
Need professional photos of your merch for your website but don't have a good camera set up? Ask your merch company for some high-quality photos of the items and use these on your site. It's important to make your merch look as high-quality and professional-looking as you can.
Designs:
There are many companies that help artists design, print, and ship merch. Two of our favorites are Hello Merch and Printful — an on-demand service, meaning they only produce what your fans order. You only pay when you have orders, so you don't need to worry about your inventory going to waste. They also print and ship everything under your artist brand with custom labels, pack-ins, and other branding options. 
Marketing:
Once you've designed and ordered your merch, it's time to start thinking about creative ways to market it and sell it to fans. Some ways to market your merch include releasing limited-edition drops and hosting pop-up shops. Freebies are also a good way to promote your wider merch collection, like bracelets, guitar picks, and stickers.
Think outside the box and look at other artists for inspiration on how they plug their merchandise to their audience. It's important that you set up shop the right way, making your merch accessible to your fans — more on this later. 
& Don't stop being creative
Merch doesn't need to start and end with tees and hoodies. It's important to remember just how wide-ranging, inventive, and strategic your approach to merch can be. Lady Gaga is selling a jockstrap. The Jonas Brothers have a face mask and wine tote. And US alt-rock band Guster made granola and mustard called Gustard. Here are some great merch ideas to get your ideas rolling in.
Stay culturally relevant 
While tote bags and hoodies might work for some fan demographics, they might not work for others. Find out what kind of merch your fans want by doing a quick Instagram poll or looking at your social media statistics.
It's not all about profit.
Like Mars Parker says, "You really want to study your audience and make sure you're producing things that are relevant to them."
Ask yourself: 
Who follows me?

Who engages with me the most?

Who shows up at my shows?

How old are they?

Where do they live?

What do they care about (aka what are they posting about? 
Think about your audience demographics, from gender to location and interests, and make sure you're making merchandise that they will find useful. 
Co-founder of Merchbar Ed Aten told Spotify, "Artists are using their platforms not only to speak out but also raise money for causes, donating portions of proceeds or creating products specifically for causes they think are important."
Find ways in which you can build trust with your fans, support relative causes through the sale of your merch to show that you're not just doing it all for the money. Build a deeper experience within your brand to create longevity.
Set up shop
"You really want to figure out how you're going to sell your merch and where. So for me personally, I sell things from my website, I sell things at my shows, and I have it linked on my Spotify," says Mars Parker.
Set up a merch site:
Choose an eCommerce platform that suits your niche, and build your merch store. We recommend Shopify, Artist Shops or our friends at Hello Merch. 
Link your store to your social media:
Have you connected your store to your artist page on Instagram? Instagram Shopping connects the products that you have in Shopify to your Instagram business profile. You can also make a Facebook product catalog by setting up Facebook Shop. Read how to set them up here. 
Link your merch on your Spotify profile:
Did you know that artists on Spotify can sell merchandise to fans directly via the platform? Whether it's a limited edition vinyl, or a classic band tee, using Spotify for Artists and Merchbar, you can make your Spotify profile a digital merch table.
Here's how to do it:
Want more tips to build your music career? Check out our blog here.