How To Nail Social Media For Artists
How to Nail Social Media for Artists
We break down 5 tips for creating a successful social media strategy to grow your music career.
Whether you're new to making music or more routined as an artist, showing up on social media has become an essential part of getting your music discovered. Forming and maintaining a connection with your fans directly online is the way to most effectively promote your music, get noticed by labels, and ultimately grow your network of supporters who believe in your brand and music.
There's no straight formula to nailing social media as an artist, but there are some essential steps that you can follow to make sure you're setting yourself up for success. Here are our top tips on how to tackle social media as an independent artist.
1. Develop your brand 
Your online brand is your online persona — how you present yourself to the public. This is how you set yourself apart from everyone else. It can be expressed through how you write, what you wear, your views on specific topics, and of course through your music. 
But if you're new to the world of social media or struggling with your online presence, here are some tips to help you figure out how to communicate your personal brand on social media.
What makes you unique?
Every successful creator on social media has established their unique offering. Whether you're a hip-hop artist, producer, or singer — you have to think of what specifically makes you, you. The secret to figuring out your personal "brand" is understanding the why of what you're doing. 
A fun exercise you can do (right now) to figure out you're why is asking yourself these questions in order and writing down your answers:
What is it that pushed you to make music and share it with others?

How does the music you're making reflect this — why?

How would you describe the music you make?
When you have written down your answers, ask yourself how you would like to communicate this on social media when you're on stage performing live, or through the album artwork, you choose for your next big release. It all ties together.
An example of an artist that knows exactly how to be himself online is none other than Jack Harlow. The rapper rose to fame after dropping his track "WHATS POPPIN" in 2020, but it wasn't just his music that captured the attention of his Gen Z audience around the world. His fans thrived off the glimpses of his personality that radiated through social media clips that made their rounds online. 
Harlow's able to show off his persona through interviews, like his chicken shop date with Amelia Dimoldenberg that gained over 10 million views and left his fans completely stricken by his confidence, energy, personality, and his music.
Harlow has unlocked how to show off his charismatic attributes, embodying how infatuated the internet is with him. Of course, every artist has qualities that they don't let the public in on, and that's part of distinguishing how you want to be perceived online by your fans. Get inspiration from genuine traits that you possess like if you're funny, thoughtful, charming or adventurous – find ways to share those sides of you with your audience.
2. Pick your key platform
Before getting into branding and strategy, you need to choose one platform that will act as the main place you communicate with your audience. Choose one platform to focus your energy first, before being active across the board. 
TikTok
TikTok is still in its early years but has already helped launch the careers of several independent artists. Songs that trend on TikTok often end up charting on the Billboard 100 or Spotify Viral 50. And 67% of the app's users are more likely to seek out songs on music streaming services after hearing them on TikTok, according to Business Insider. 
The app has around 1 billion monthly users all over the world: 75% of TikTok visitors say they discover artists there, 63% say it's a source for finding music they've never heard of, and 72% associate specific songs with the app, according to new studies by MRC Data. TikTok has become a hub for music sharing and discovery — opening new doors for independent artists that have been closed before.
So what is TikTok? The platform is originally built on short-form videos ranging from 15 seconds to 30 seconds. They've now extended the maximum length to 10 minutes, but TikTok has admitted its users have short attention spans. About 50% of TikTok users surveyed by the social media firm said they found videos longer than one minute to be "stressful," while one in four of TikTok's highest-performing videos falls within the app's recommended optimal video length of 21-to-34 seconds, WIRED reported. Initially, the platform was recognized for its comedic short-form videos and the (refreshing) authenticity of creators sharing the real, unfiltered versions of themselves. 
With the main user base ranging from 18 to 24 in age, it's become a great platform for emerging artists to reach the younger generation and build a loyal fanbase.
By now you've probably heard of the singer and songwriter Olivia Rodrigo who topped Billboard charts with her debut album "Sour" in 2021. This wouldn't have been possible without TikTok! 
The backstory: in January of 2021, a love song by a not-so-known Disney star began trending on TikTok, with creators and fans digging into the love triangle at the core of it, posting memes and singing along to its powerful bridge. Fast forward eleven months, Olivia Rodrigo enters 2022 with billions of streams on her debut album "Sour", receives seven Grammy nominations, and is named TIME Magazine's 2021 Entertainer of the Year. 
So how did TikTok play its part? The song splintered into various trends: intentionally bad covers, physical transformations, love-triangle theory videos, all sharing an obsession with the story of the heartbroken teen.
So now that you have a better understanding of the world of TikTok and its newfound power in the music industry — here are some content ideas to get your creative posting flow going:
Post covers: make videos leveraging songs that are already fan favorites, by singing your own cover version. This will organically draw listeners to your page who love the original song, and if they like your cover, they'll be interested in hearing your music. Make sure to hashtag #coversong and the name of the song you're singing for more users to find your video. 

Respond to trends: trends fuel the TikTok algorithm. Whether it's lip-syncing challenges, seamless transitions, photo challenges, or making TikTok's with your friends in the studio, trends are the way to grow a larger audience on the app. You could even start a trend yourself using your own song, get creative with it, and share it with your followers!

Duet & Collaborate: you can duet any video that's posted on TikTok, meaning that you can potentially reach an untapped fanbase with half the video already made when you hit record. The duet function is a way for you to respond to other creators' videos, giving you an opportunity to catch the attention of the original creator. 

Reply to comments with a video: record a video reply to a user's comment. If someone leaves a comment on one of your uploaded videos, a great way to invite your followers to give you content inspo.

Share your unreleased music: experiment with your music and share the process with your followers! You could post unreleased versions of a song you're working on and let your fans decide which one you should finish releasing.

Vlog your days: Breaking up your music-related posts with personal content is a solid way to create a deeper connection with your followers. You can experiment with TikTok's stitch option, where you can add short clips from your day and put them together into a 30-second video. 

Share your music & playlists: you probably have some fire playlists that you've put together. Sharing what you're listening to right now is a great way to connect with other creators that have a similar taste in music as you, which could later lead them to listen to your own tracks (new fan alert)! 
For more tips on specifically promoting your music on TikTok read this article.
Instagram
Instagram is popular due to its versatility. Built on being able to share photos, you are now able to also post short-form and long-form videos (just like TikTok). The platform really caters to everyone of all age groups and interests, perfect for artists who want to share a mixture of photos and videos. Since the app started integrating music into their content (Reels, Stories), creators have been able to upload original sounds to their videos, jump on trends and discover new music through vibing to videos that turn up on their feed.
One major difference between Instagram and TikTok is how (generally) carefully curated the content is on the platform compared to TikTok, which leans more into just posting authentic content. Instagram is evolving, however, in that users respond better to creators that are not over-using filters and instead are sharing un-filtered content.
Tate McRae, who rose to fame after dropping her single "You Broke Me First" in 2020, actively shares teasers for her upcoming work on Instagram in creative ways that get her fans (really) excited.
To get your ideas flowing on how to approach Instagram, here are some of our top tips for getting more engagement on your profile:
Post quality content: make sure you have good lighting when taking photos or videos yourself. It can be worthwhile investing in a ring light so your content turns out looking .

Interactive content: add a call to action to your posts. Ask your followers what they think about your new song, or what they want to hear and see. Phrase your captions in a way that encourages your followers to comment and share their opinions or tag their friends. 

Longer captions: by putting some more time into your captions, and really adding your voice to your post — your followers will spend more time on your post and are more likely to engage (like, comment, share).

Use the right hashtags: you can use up to 30 hashtags on Instagram but studies show that using 5-11 will give you the best results. Post the hashtags as the first comment on your post, to avoid your caption looking over cluttered. To get inspiration for hashtags, search for keywords in-app that relate to your post and see which ones are most popular. 

Host a giveaway: host a giveaway leading up to your next release! Give out exclusive merch, limited edition vinyl of your single/album, or perhaps a unique greeting video that you send to one lucky winner. Get creative with it and encourage your followers through the giveaway rules to tag a friend in the comments to enter — to bring in more potential fans!

Follow accounts similar to yours: interacting with other creatives on the app is key to tapping into new audiences. If there is a musician that is already on their Instagram game, you can comment and like their posts to potentially get the attention of their fans.

Post regularly on stories: to stay relevant and top of mind you need to be uploading at least one story per day. If you can, share updates from your day multiple times to your story. Even if it's just you in the studio, what you're eating, who you are collaborating with, or a song recommendation — building a real fanbase online, means sharing your life with them consistently.
For more tips on promoting your music on Instagram click here.
Twitter
Twitter is also high up in the ranking as one of the best platforms to promote your music on social media. The app is where people generally go to stay updated on everything trending or interesting – if it's being spoken about you'll find it on Twitter. 
Considering most of the trending or favorited topics on Twitter are centered around music, it makes a great outlet for musicians to get their voices and music heard in multiple ways. Favorited topics refer to subjects that users can follow that they are most interested in. This could range from people searching for new music, genres, specific artists, and news, with generally everything being discussed openly on Twitter.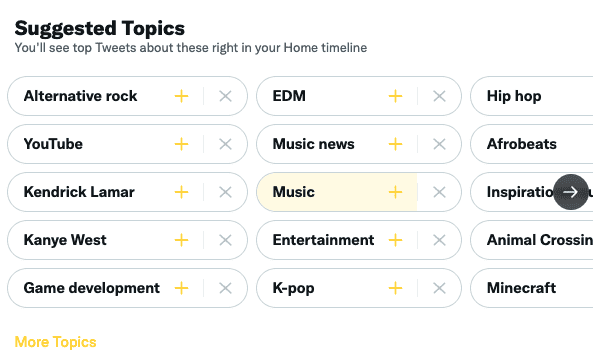 Twitter is a platform where you as an artist can share your voice, and music – giving your fans a look into your personality. Another benefit of the platform is its high SEO ranking, meaning Twitter ranks higher than other social media platforms on Google search. So if you have a Twitter account and someone searches for your name, your Twitter profile will generally receive a high ranking and appear above any other social media profile. 
Before breaking down some tips for how to approach Twitter, here's a general guide to content supported on the platform: 
Captions/Tweets: 280 characters or less
Images: 1080 x 1080 or 1920 x 1080
Videos: 1080 x 1080 or 1920 x 1080 (no longer than 2.4 minutes)
Now that you have a better understanding of the content requirements on Twitter, here are some tips on what you could start to fill your Twitter feed with: 
Complete your profile: like on other social media platforms, having a complete profile is a fundamental part of getting positive first impressions from potential followers. 

Profile picture: make sure you have a profile picture that shows who you are, we recommend getting a press shot or headshot that is recent and recognizable to how you currently look. 

Banner image: add a banner image to your profile, using an image from your latest project, music video, photoshoot - anything relevant to what you're working on. 

Bio: writing a short description of who you are as an artist and person using 160 characters or less will help people who visit your profile get an idea of what you're all about. We recommend adding a link at the end of your bio to your most recent work or creating a link in your bio through an online service where all your latest projects are easily accessible (more on that later).

Post-Twitter-friendly content: short-form is king on Twitter. So if you for example want to promote your recently released music video that lives on YouTube, share a trailer, or gif with a link to the video, or embed the video in a tweet and pin it to the top of your profile. Think of ways that you can share your content from other channels in a Twitter-tailored way.

Add links to your bio: add any relevant links (to your music, upcoming events, website) in your bio. Using links on Twitter is the way to promote an upcoming release with a pre-save link, event, creative project, or any other work that doesn't need to be directly marketed through tweets (posts). 

Add links to your tweets: when posting a tweet you have two options for how it should appear to your followers. You can choose that it shows as-is meaning that the full link is displayed and if you would like it to be shortened, we recommend using Bitly (an online tool used to generate shortened links). The second option when plugging links into your tweets is creating a Twitter Card using the URL of the link. Twitter Cards will appear below the tweet caption and are customizable with the option to change out the thumbnail for your fans to preview the content of the link.

Be active: post regularly and engage with your followers! Like, reply, and retweet content that you find interesting enough to share with your audience. Announce upcoming gigs, share a playlist you're loving, random thoughts on different topics, and anything else that shows off your unique voice.
Lil Nas X is a great example of an artist who has found his own unique way to approach Twitter, using comedy and internet humor to get his fans excited every time he posts.
During the release week of his song "Montero (Call Me by Your Name)", Lil Nas X used Twitter to encourage his followers to share tweets promoting the song and music video, creating (absolute) internet chaos. How? He used humor and the Twitter Intent Feature (pre-written tweet). This feature allows users to generate custom tweets using a URL, that when clicked, will auto-populate a new tweet that's being shared with that user's audience. Learn more about the Intent Tweet Feature here.
Pro tip (): When you've gotten the hang of one platform and you want to be present on other social media apps, remember to optimize your profiles. Keep your name and bio consistent across all platforms. If you're a band, maybe you want to just feature a tagline and each member's social media account. The key is to show up on each platform consistently so your fans know how to find you and what they'll get from following you.
3. Stay active
The biggest obstacle to overcome on social media is knowing what content to post, and feeling confident in what you're putting out there. To help you figure out what content you should be making (outside of your music) that fits in with your personality, we put together a short exercise that will help you get an idea of what you want to post. 
Write down the following questions and answer them to the best of your ability: 
What are some of the strengths that you can bring to social media?

What are your weaknesses? (Being vulnerable with your audience will only make them feel more connected to you and appreciative of your openness). 

Do you have special knowledge or skills that you can share with your followers?
Becoming confident and comfortable with yourself is key to sharing your life with your fans authentically. Authenticity is really the most important part of it all! Every artist has attributes that make them unique and interesting beyond their music but those who are really successful on social media are those that take risks and aren't afraid to let their fans into their day-to-day lives. Find what works for you and remember, it takes time to show different sides of your personality to complete strangers. 
By establishing how you can share your most authentic self on social media, your followers will feel a deeper connection with you and your music (creating loyal fans that will support your work).  
For your fans to trust that you continue to show up — you need to get into the routine of actively sharing your life and upcoming projects with them. 
Lo-fi artist, Snøw, keeps his Instagram active by sharing photos from the studio, posting his comic book purchases to his story, and engaging with his followers over his new music.
Pro Tip (): Create a link in your bio through an online service.
Having a link in your bio will help your audience connect with you across other platforms you're active on and easily access all your online activity. Instead of being restricted to just sharing your Spotify profile link, you can use a "link in bio" service to direct your followers to a page where they can find all your latest work.
We recommend a service called Linktree, they are a "launchpad to your latest video, article, tour, store, website, everywhere you are online". Here's how it works:
Here's how to set up Linktree on your Instagram profile:
For TikTok:
If you just want to share your music as a link in your bio and you distribute through amuse, you're in luck! Go to share.amuse.io, type in your artist name, track, or album to find your unique shareable link, and add it to your bio. Have Boost or Pro? You can even set up a pre-save link to your upcoming release.
4. Connect with other creatives
Social media is the perfect place to connect with other creatives with the potential for collaborating on an upcoming project. If you discover a like-minded musician on your explore page or through a hashtag search, message them and ask if they would be interested in collaborating on a song. Share the journey with your followers and tap into the other artist's audience by exploring the platform's features.
For Instagram, you can share collaborative posts of you both working on a project together in the studio and it will show up on both of your feeds, allowing you to tap into their fanbase. Learn more about Instagram's collab post feature here.
Here's a visual example of a collab post that we did with one of our signed artists, Brooksie. After he accepted the invitation for the collab post, the content also appeared on his Instagram feed.
5. Build & engage with your community
As an independent artist, you should not look at social media as a way to solely promote yourself and your music, but more as a resource to regularly connect with your online community – giving them a strong incentive to genuinely care and engage with your work.
Instead of blasting your story with links, and videos and pushing your fans to listen to your album — engage in a way that results in feedback and authentic interaction. 
When sharing your music, ask what your audience thinks about it and engage back.

Share your opinion on things happening in the music industry (news) and engage in open conversations with your audience.

Think outside the box. Instead of repeatedly sharing links to your latest song, think of other ways you can involve your fans in the process. Offer an exclusive look into the behind-the-scenes of that final product, share clips of you working in the studio, a voice recording of a verse, and ask your fans to give their feedback.

Talk about and show your hobbies outside of music, and make them feel part of your life.

Give your fans more incentive to follow you: give them exclusive access to upcoming merch drops, invite them to your live gigs, and host giveaways! 
Besides interacting with your fans on your profile, make sure you check in on theirs too once in a while and engage with them over the content they're sharing. Make them feel heard and seen! 
For our top five tips for sharing your music click here.