How To Pitch A Track To Amazon Music For Artists
How to Pitch a Track to Amazon Music for Artists
Amazon Music for Artists recently released their 'New Release Pitch Tool' for artists to submit their upcoming releases to popular playlists and stations on the growing music platform.
Apart from pitching to get featured on a popular playlist or station, Amazon Music for Artists allows Amazon to gather metadata that can surface your track in favorable ways like  Amazon Music activity feed, push notifications, Alexa alerts and prompts, genre-based browsing and more. With over 48 million monthly listeners on the platform, getting your music noticed by new potential fans is a great way to continue growing your audience. 
Here's a breakdown of the process for pitching your upcoming track to Amazon Music for Artists and getting your music in front of more potential fans.
Claim your artist profile 
To get access to the Amazon Music for Artists pitching tools, you'll first need to claim your artist profile. 
Click "Get Started".

Log into your Amazon account. If you don't already have one, create one! Tip: use the same email address that you use for your amuse account and other streaming platforms like Spotify to keep everything aligned and in sync.

Click on the "Claim an Artist" button in the upper right or upper left corner, and search your artist name.

Select "Connect Via Distributor", and link your amuse account. 

Done!
Main features that are accessible after claiming your artist profile: 
Access to success metrics like streaming statistics and how your music is performing with Alexa, including insights into voice requests by artists, album, songs, and lyrics. 

Fan insights tab that provides a breakdown of your most engaged listeners. This helps artists (like you) know where your top listeners are based, their age, and more. 

Custom date filter that allows you to check performance data on specific dates and how well your releases are performing over time.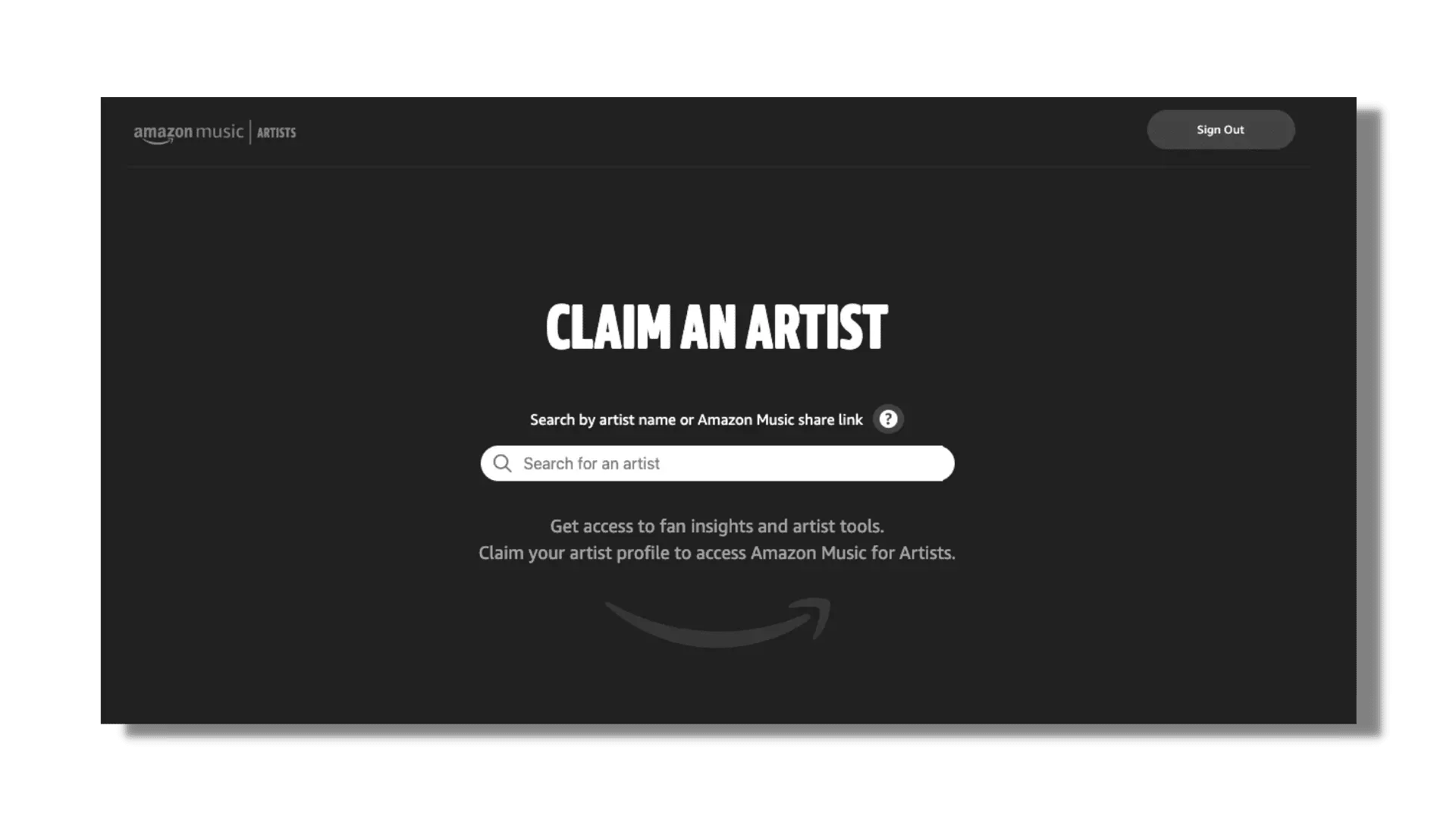 Photo: Amazon Music for Artists
To claim your profile click here. 

Pitch your upcoming release 
Before you can dive into the pitching process, make sure you time your submission with your upcoming release. You can pitch your track either before your release date or (unique to Amazon Music) up to 14 days after your release date. We recommend being proactive and submitting your track before your release is live, preferably at least 7 days before for your pitch to be aligned with your release date.
1. Start here 
Open the Amazon Music for Artists app and select "New Releases".
2. Choose a track  
You can pitch one per new release. Amazon Music recommends your lead single or a song you think new listeners will love.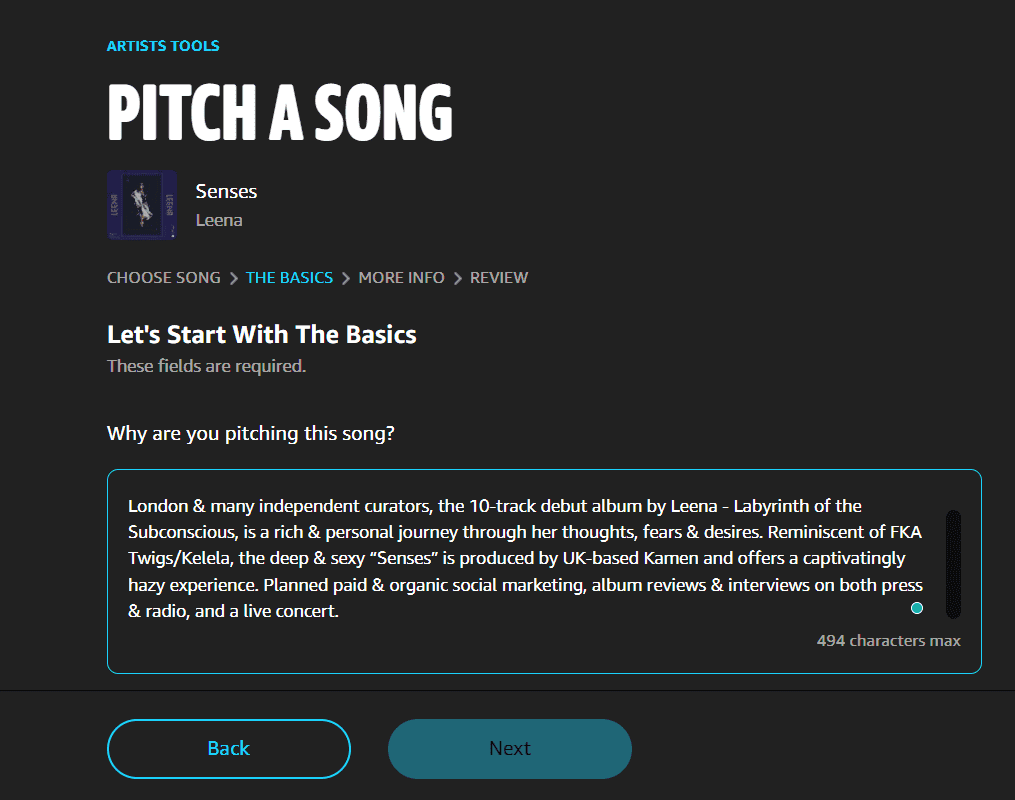 Photo: Amazon Music for Artists
You're eligible if: 
Your song must meet the following criteria for you to successfully pitch to Amazon Music.
New (never released before) music.

One track per release (single, EP, or album).

Delivered to Amazon Music with streaming rights.

Up to 14 days after street date.
What's not:
More than one track per release.

Multiple versions of the same title.

Re-releases (pre-release single on an album, remastered work, etc.).

15 days or more after the release date.
3. Make your pitch! 
When submitting your song, Amazon Music will ask you to provide some details about your track! We recommend you fill out both the required and optional fields.
Required:
Tell Amazon Music for Artists why new listeners will love your song and how you plan to promote it to fans. A good pitch will tell the story of your planned promo, fan engagement, and marketing strategy (social, radio, tour, PR) — in 1,000 characters or less.

What's the genre? Choose up to 3.

Does your song include lyrics? If the answer is 'yes' Amazon Music will ask for the primary language to better target new listeners. 
Optional:
Which artists would you name-drop when describing this track's sound? Pick up to 3. Amazon Music will offer suggestions based on known fan overlap.

Where is your biggest fan base today? Amazon Music has its own data to go off of, but they're interested to know how you see it.

What is the song's vibe? Pick up to 3 moods, i.e. Dark, Romantic, Mellow.

How would you categorize your track? Pick up to 3 activity labels, i.e. Chilling Out & Lounging.
4. Review & submit 
Review your information and click submit.
And that's it! Have you been working on a fire track that you're ready to distribute to all major stores? Login to your amuse account here and release your new music to the world. After that, log in to your Amazon Music for Artists account here and pitch your next release to reach even more fans.