How To Promote A Song On Tiktok
How To Promote A Song On TikTok
Want to get your music going viral on TikTok? Read our tips for unleashing your music into the world's biggest social media platform.
TikTok is currently the leading social media platform with over 120 million monthly active users. For artists, it's not just another social media platform, it can turn a song into a global hit and make an independent artist become a star overnight, making the platform a new music marketing sensation.
What is TikTok?
TikTok is a mobile app formerly known as Musica.ly that allows users to upload short-form videos from 15-seconds to 1-minute in length, using music from the app's library. TikTok really rose to fame at the end of 2019 and since then has been growing steadily becoming the biggest social media platform as of 2021. The app is for creating, sharing, and discovering short-form videos with its users expressing themselves through singing, dancing, comedy, lip-syncing, and allowing other users to create and share their videos across a community.
Be Authentic
Authenticity is one of the most important pillars of any social media platform strategy, but the TikTok community will hold you to an even higher standard. If you're going to get something going on the platform, you need to be super clear about what you stand for and uncompromising in your convictions. There needs to be a super high level of authenticity with your content or the community will avoid you. Do not push follows, likes, comments, ticket sales or streams. Push creativity and community. It takes time to build relationships with your audience: be consistent, be honest to your brand values, listen and engage.
Upload your song to TikTok
There are two (best) ways to get your music on TikTok so users on the platform can use your sound in their videos. The first is using a music distributor like Amuse. If you're a Boost or Pro user, any music you upload through Amuse will be available on TikTok for the world to use in their videos! All you have to do is select the exact time you would like your song to start on TikTok (the catchiest part of your song).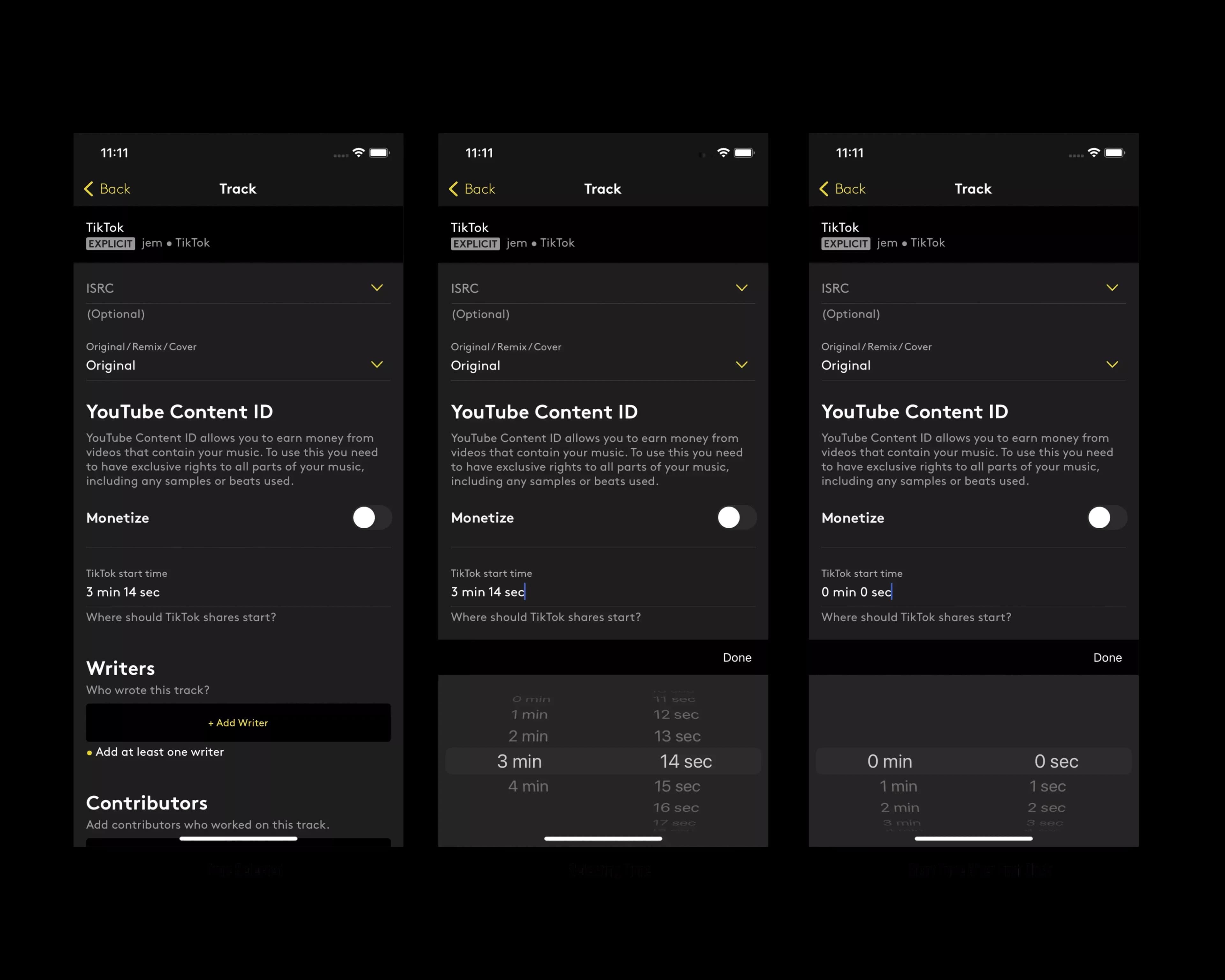 The second way is to upload a sound, such as a teaser of your new song using the chorus or hook to see how it performs on TikTok before you release it. To upload a sound in-app on TikTok, follow these steps: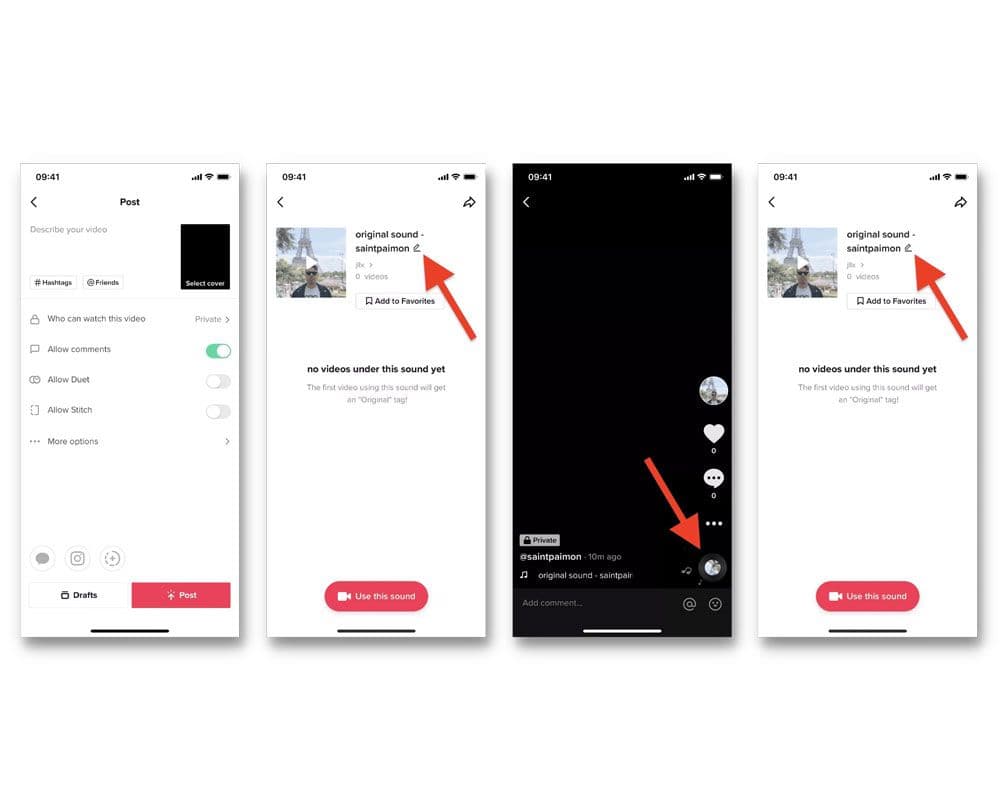 Photo: @saintpaimon
Upload a video with the clip of your track that you want to use.

Click the profile photo in the bottom right-hand corner.

Name your sound with the Track Name - Artist Name so others can easily find it and relate the sound back to your artist profile.
Get your music to go viral
When your music is available on the platform, you need to actively try to get your sound out to TikTok influencers and other users around the world. You don't need a lot of followers or have a big account to do this, there are several users that have under 1000 followers who have been able to go viral by creating an engaging video. Look at TikTok more as a (massive) opportunity for you as an independent artist, to reach people in ways that weren't possible before through traditional marketing.
A great example of this is Flo Milli. She rose to fame at the end of 2019 and gained even more momentum in 2020 thanks to her remix of Playboi Carti and Ethereal's song "Beef", naming the sound "Beef FloMix". The sound became a TikTok staple during the summer of 2019 with Flo Milli's eccentric flow and aggressive lyrics paving the way for creators to show off their glow-up transitions or exude confidence while lip-syncing the lyrics close-up. The sound was catchy, snappy, and fierce, perfect for creators to lip sync and show off their best selves.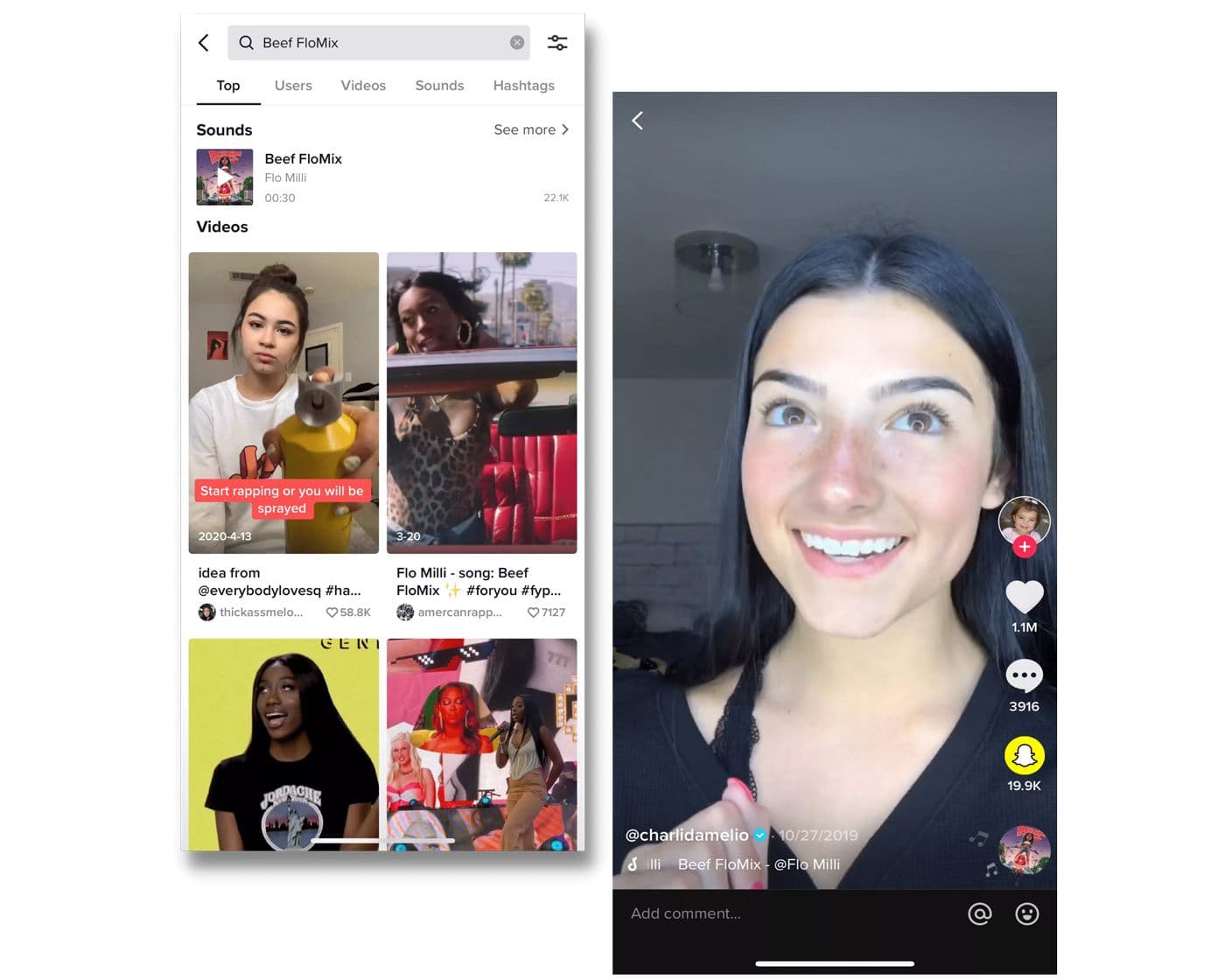 Which song to promote on TikTok
Before starting your promotion plan on TikTok, you need to make sure that the song you choose is TikTok friendly. What do we mean by that? Well, not all styles of music do well and thrive on TikTok, as users seek out sounds that they can create content with like dances, challenges, or lip-sync. The song needs to make sense as a moment away from the context of the whole track.
An example of this is Doja Cat's "Say So", catching the attention of the TikTok-verse after creator @yodelinghaly uploaded a 15-second dance video to the sound (using the bubbly, poppy chorus of the song) in December 2019. For a while, it was difficult to scroll through the FYP (For You Page) and not see the "Say So" dance, adapted by over 12.6 million people on the platform! Doja even used the dance in her "Say So" music video released in February 2020, from her song's viral TikTok moment.
Most of the sounds that do well on TikTok tend to have catchy lyrics or a beat that is memorable and can be brought to life in video form. Remember that videos can be between 15 seconds to 1 minute, but make sure you cater the length of the sound to the best part of the song you're using. Sometimes, the shorter the better. 
Create a Challenge & Use Hashtags
TikTok challenges are one of the most popular music marketing strategies of 2019, with everyone from Lil Nas X, to Jay Sean, Drake, and Megan Thee Stallion (Hot Girl Summer) using them to spread awareness of their latest single or album release. 
In 2019, DJ and producer Alan Walker used a TikTok challenge to promote his song "Different World", asking fans to record themselves doing their part for the environment (like picking up a piece of rubbish) and posting it with the hashtag #DifferentWorld. The creators of the 60 best videos would get a prize. To get the challenge moving, he hooked up contributions by fellow musicians Sofia Carson, Corsak, K-391, and James McVey of The Vamps, who all posted their own videos completing the challenge. In a couple of months, there were over 106 million views on videos with the hashtag #DifferentWorld.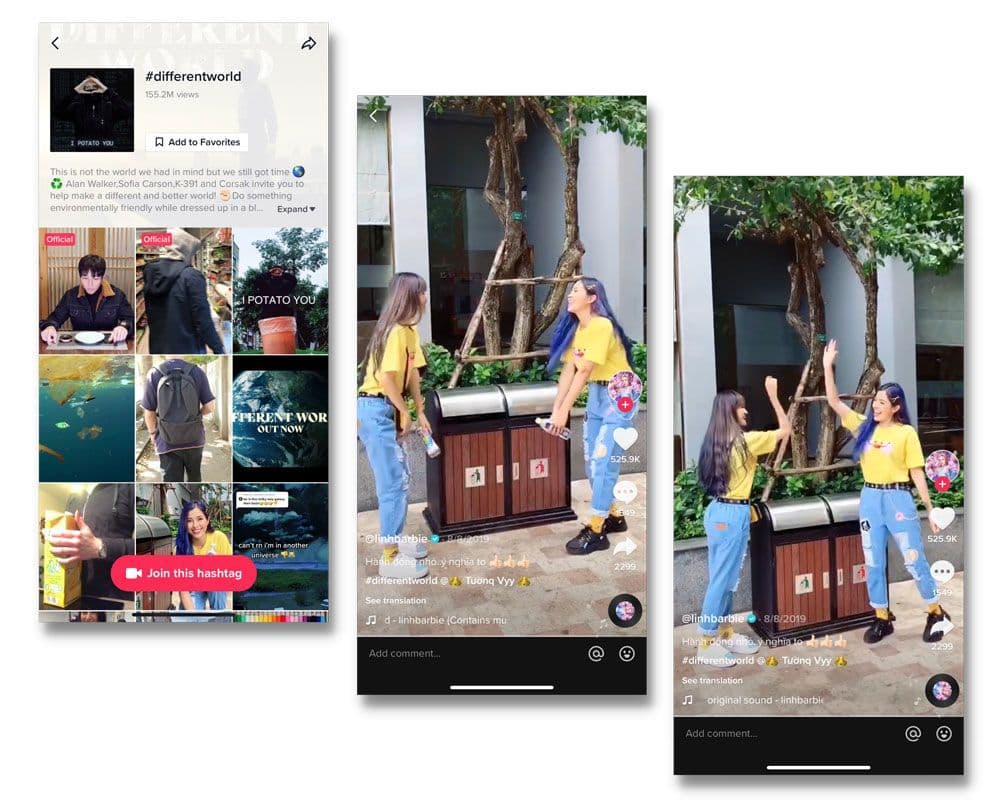 When creating a challenge, make sure there's a good level of difficulty, a set time period for people to enter (sense of urgency), and that you reward people for their effort. Think about giving away a prize, like a backstage pass to one of your upcoming shows, or even a shout-out through your TikTok profile. Our top tip? Develop a concept that lets people show off. Trust us, it works.

Ideas for using TikTok challenges to promote your song
Collaborate with professional dancers on the platform to start a dance challenge using your song as the soundtrack. Don't forget to create an official hashtag for the challenge. Aim for hashtags that haven't been used a lot on the platform, keep it short and simple but make it catchy and unique.

Develop a "social impact" concept around the name of your song (like an environmental challenge or something that helps people "give back"). Create a hashtag using the song's title and let it grow! 
Collaborate with Influencers
As with most other social networks, influencers are rampant on TikTok. And because of the platform's casual approach to content (it doesn't have to be as structured and polished like on Instagram or YouTube), there's a far broader scope of influencers for you to tap into; from fashion and beauty to sports and dance, food and comedy. However, choosing the right influencer is critical — always make sure there's a true connection between your song, the influencer, and the concept. Relevance is more important than reach.
Ideas for using influencer collabs to promote your song on TikTok: 
Get your song used as a soundtrack on their video (with a song credit in the caption) 

Co-create a dance routine for your track. 

Get an influencer to film themselves lip-syncing to your song (make sure you publish your lyrics on Reddit and Genius before it goes live. People will be searching for them!) 

Film a surprise duet with an influencer using TikTok's "duet" feature and publish it from both your channels. 

Get creative and develop a concept for a video meme that plays on your song title/lyrics (like Lil Nas X's #yeehaw meme). Hook up a partnership with some influencers and get them to recreate it on their channels, using your song as the soundtrack.
##duet with @annemarie Always down to sing about mom. ##annemarie ##duetsongs ##songwriter ##finishthelyricsong ##mother ##mothers ##songwritersoftiktok
Depending on the size of the influencer's community, you can either reach out to them directly (contact details can usually be found in their social media bios or after a quick Google search!) or submit a proposal via an influencer marketing agency. 
Build a community
TikTok users are relentless and obsessive in their quest for community. Your strategy should not just be a single challenge or collaboration with an influencer, you should focus on building a genuine presence on the platform and a community around your music. 
Ideas for leveraging your fanbase to promote your song on TikTok: 
Create a user-generated content campaign: ask your fans to record a video of themselves lip-syncing or dancing to your song. Award a prize to the best creators, like a backstage meet and greet, gig tickets, or signed merch. 

Give fans behind-the-scenes access to you and your artist project. Document the creative process behind a new project (like recording your new album, or filming a music video) and be consistent. If your fans feel like they're part of the project, there's a bigger chance they'll support it when it's released. 
Another popular strategy is to team up with other artists in your niche to cross-promote your content on each other's channels. This is an easy way to find new "qualified" audiences for your content, as piggy-backing on another artist's community can potentially help you gain their fanbase as your own. Take advantage of TikTok's "duet" feature, which lets you create content with other users on the platform. Co-create, be persistent, engage with your followers, and create a two-way dialogue with your community.
CHECK MY PROFILE LIPSYNC VIDEO REAL VOICE-@aishofficial22 #foryou #foryoupage #fyp #duet #lipsync
So, what's the first step for promoting a song on TikTok? Start by spending time browsing through videos to see how people in your niche are using the platform. Do your research! Search using hashtags, check out the FYP page and look through the trending sounds page to get inspiration for which part of your song you're going to clip to promote and what kind of video it would suit. 
Get a feel for the app and how your audience uses it. Experiment with some content, get creative, play around, and start to develop your presence on the app. Instead of just pushing a campaign out of nowhere, create a community around your artist project, so you have a base of people to push it to. Be consistent and it will grow organically from there.
Ready to get your music to TikTok? Distribute your music with Amuse.