How To Set Up A Pre Save Link For Your Music
How to Set Up a Pre-Save Link for Your Music
Everything you need to know about setting up a pre-save link through Amuse for your new music release.
Pre-save is available to all Boost and Pro users. Create your link, share it with your fans and make sure your new music is heard when it's out on Spotify. Here's our guide on everything you need to know about pre-save links.
Pre-save links are a key part of any new music campaign, as they allow your fans to "pre-save" your upcoming track or album to music streaming platforms including Spotify, Apple Music, and Deezer. For now, our pre-save link feature will only be for Spotify and Apple Music, with more streaming platforms added soon. 
When a fan clicks on your pre-save link, they're taken to a page that lets them "pre-save" your new release, meaning that on release day it's automatically available in their music library.
On the day your music becomes available, the link will automatically convert over to a released version and you can continue sharing the same smart link to direct fans to your music.
Why is it good to have a pre-save link? 
Pre-save links help you build up hype with your fans before release day, and is the best way to make sure they listen to your music as soon as it drops. They also give your fans one more way to take concrete action ahead of your new music's release.
Pre-save links also count toward the number of "saves" you get on release day, and the more "saves" you get the more likely your track is to end up on one of Spotify's algorithmic or editorial playlists, like "Release Radar" and "Discover Weekly," as pre-save links count towards your first day stream count.  
Where and how do I set up a pre-save link? 
If you distribute your music using Amuse, you can create a pre-save link campaign if you're a Boost or Pro user.
Here is our step-by-step guide to setting up a pre-save link for your next release: 
You will see an opt-in option for creating a pre-save link when uploading your new release (on all platforms).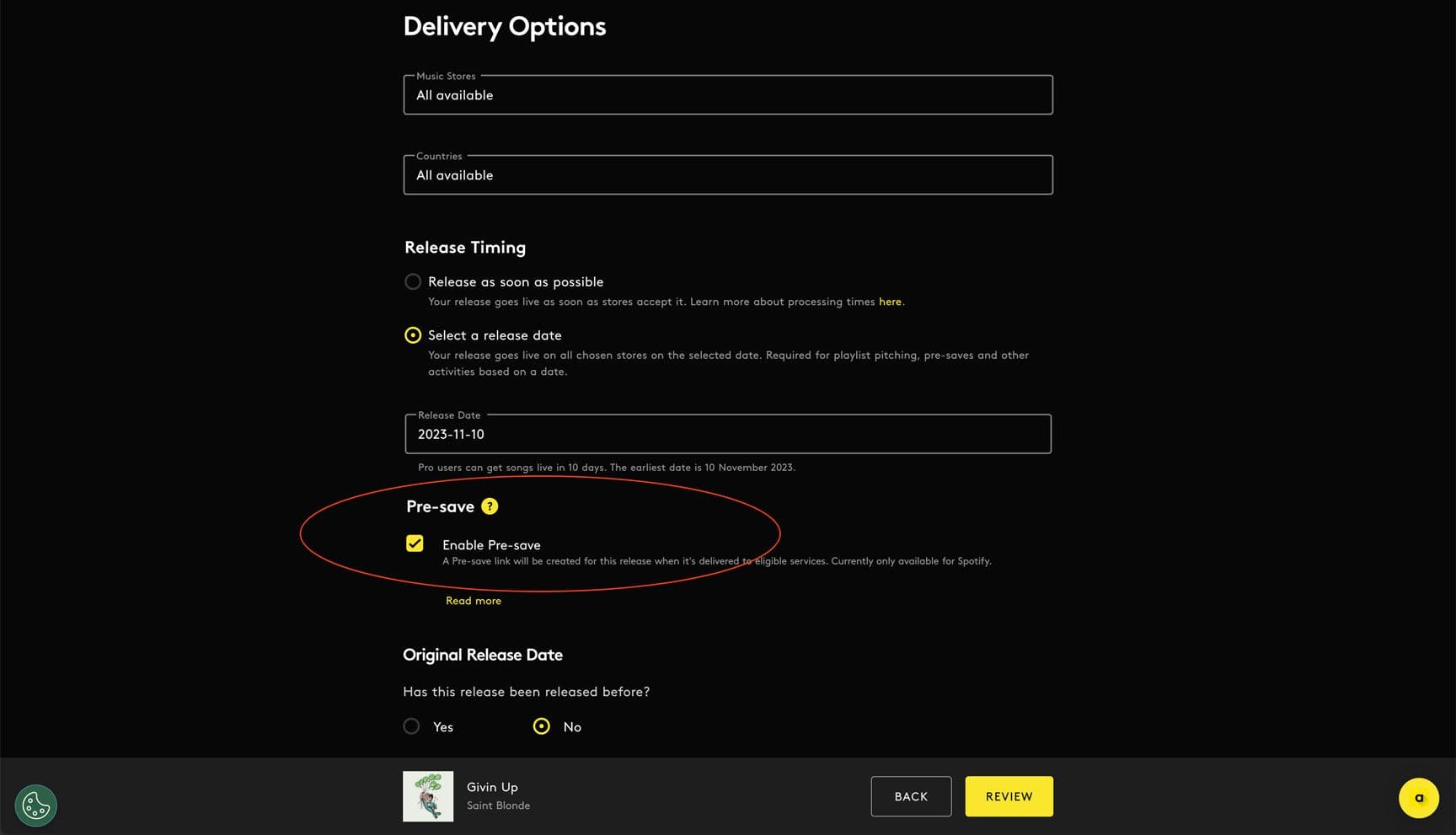 After the release has been uploaded, the pre-save link will not immediately be available. It will only be generated after the release has been approved and delivered, which usually takes 1-2 days.
Users should check back in the app a couple of days later, by which point a pre-save link should now be generated. Copy this and share with your fans!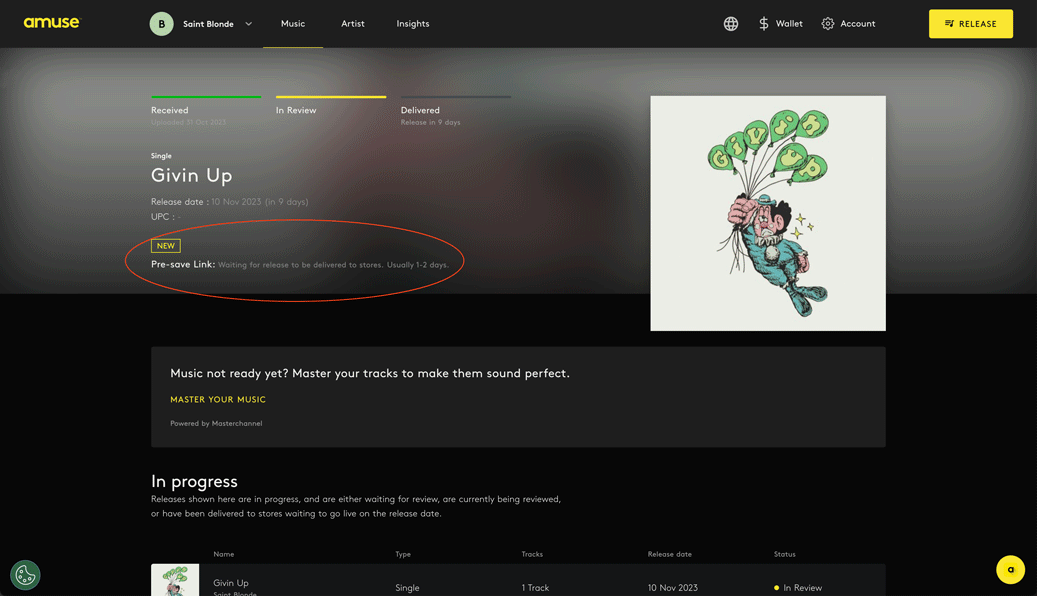 Clicking the pre-save link takes you to the release page on share.amuse.io and from here, you are able to pre-save the release: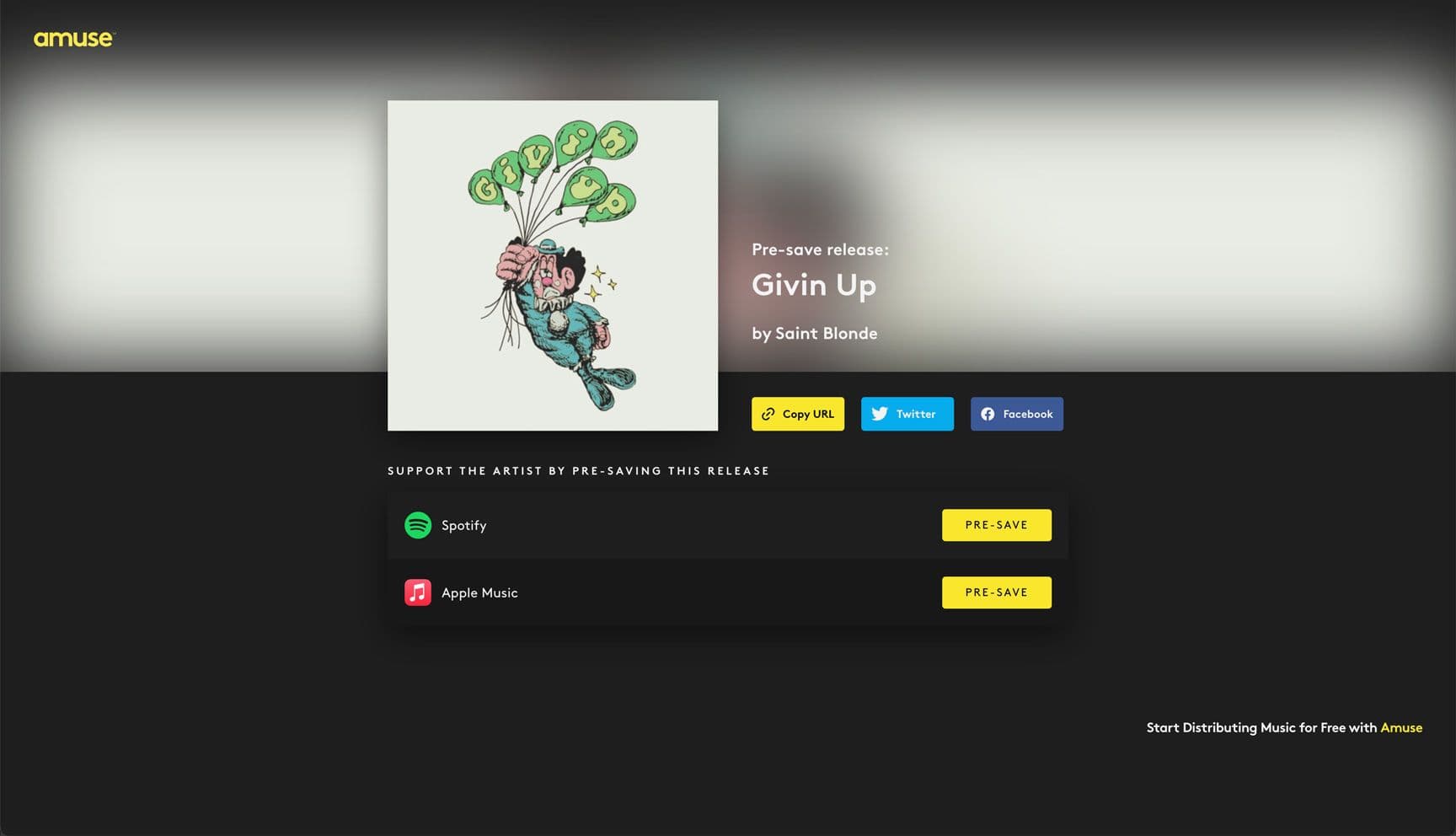 When pre-saving a release, you will be asked to log in to your Spotify account (if not already logged in) and give permission for Amuse to access your Spotify (or Apple Music) library. This is required so that we can save the release on the release date and follow you.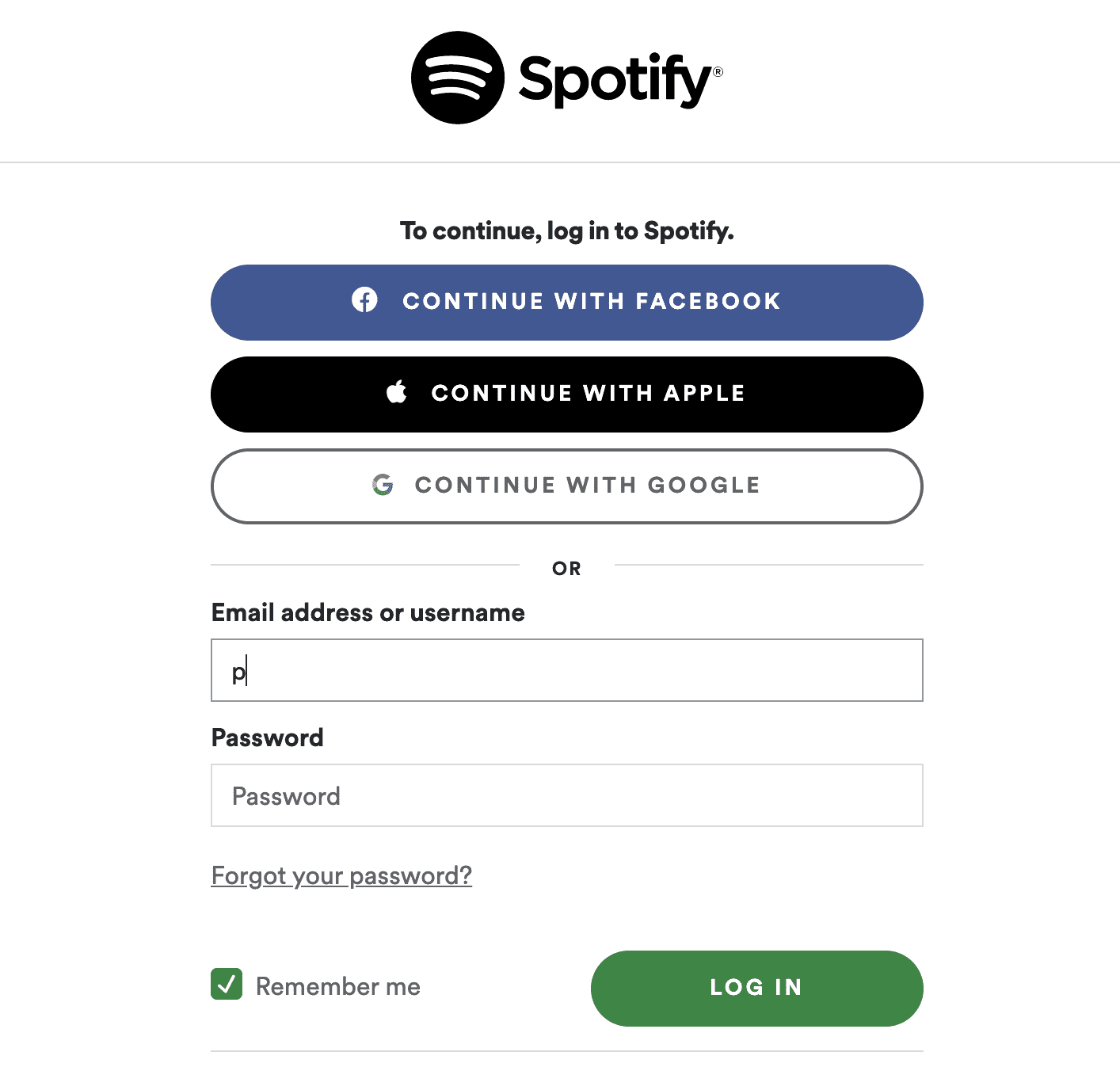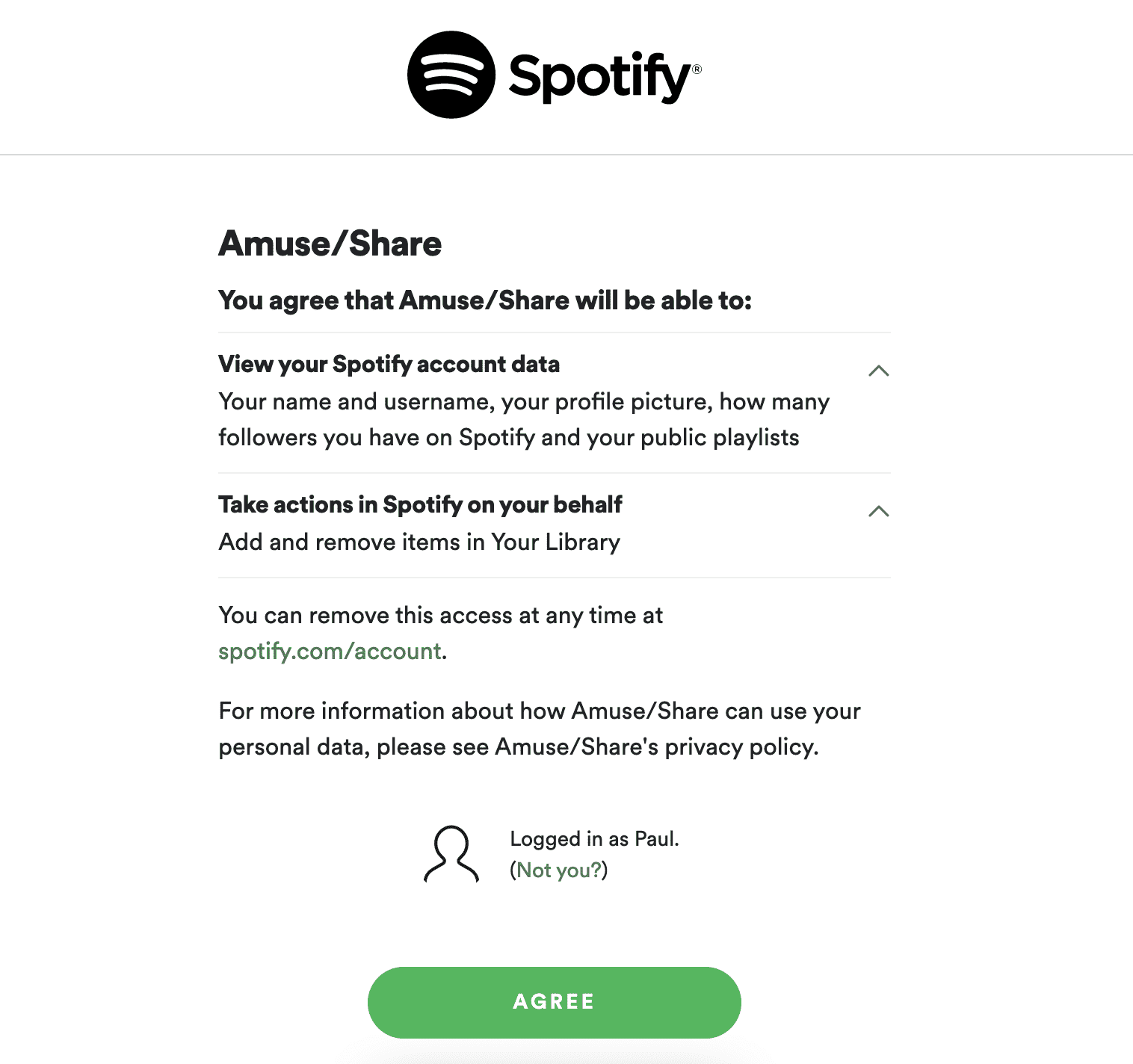 Once permissions have been granted, the release will be successfully pre-saved! On release day, it will be saved to your fans library and you (the artist) will be followed too.

How do I check my pre-save counts?
You can keep track of how your pre-save campaign is performing via the Insights feature.
How should I promote my pre-save link?
Once you've set up your pre-save link, it's time to make some noise. Share your pre-save page link alongside promo teasers and track previews on social or via email to your email list subscribers, so your fans can get a taste of your new release and get hyped to add it to their music libraries in advance. 
FYI: If you have a verified Spotify account and an active account with Amuse, you'll find the URL under your upcoming releases - use this when creating your pre-save link.