Snapchat Releases New Sounds On Snapchat Music Feature
Snapchat Releases New 'Sounds on Snapchat' Music Feature
Snapchat has released a new music-powered feature that allows users to set their Snaps to music.
Written by Leni - November 17, 2020, amuse
Snapchat has finally released its new feature to rival TikTok, Sounds on Snapchat, a new feature that lets users add music to their Snaps. 
The feature lets users add music pre or post-capture, and offers "millions" of tracks from both emerging and established artists.
Users can post the music-powered Snap to their profile or send it directly to another user in DM. Just like Instagram Stories, Snaps with music include a link to "Play This Song" on the users' default streaming platform (they can choose from Spotify, Apple Music or SoundCloud), and can "swipe up" to see the album art, song title, and name of the artist.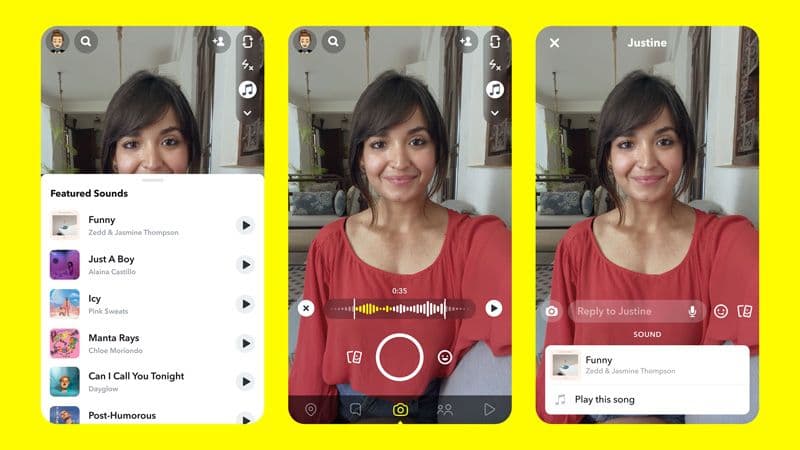 Right now, Snapchat has licensing deals in place with a few major and independent labels, meaning not all music artists can get their tracks available in their music catalogue. 
But Snapchat has revealed that they will roll out a new feature that lets users create and add their own sounds to Snaps in the coming months. Stay tuned for our guide on how to add your tracks to Snapchat when the feature has been released. 
In the meantime, here's how you can add other tracks to your Snaps:
Update your Snapchat to make sure you have the latest version of the app with the Sounds on Snapchat feature 

Open the camera screen and look for the music note icon in the top right corner

Tap the icon to see the Sounds by Snapchat interface, from there you can search for different artists or tracks to add to your videos