Stories For Spotify Everything You Need To Know
Stories For Spotify: Everything You Need To Know
Spotify is testing Snapchat-style Stories alongside some of its playlists.
Written by Leni - December 28, 2020, amuse
Music streaming platform Spotify has begun publicly testing new Snapchat-style Stories, letting creators add video elements to their public playlists.
Looking just like Story features launched by other social media players like Instagram, Snapchat, Facebook and YouTube, the new feature lets users publish and discover short video updates from their favourite music artists. 
Stars like Jennifer Lopez, Meghan Trainor, Gwen Stefani, Kelly Clarkson, Ava Max and Pentatonix have been seen releasing short video clips alongside the Christmas Hits playlist, sharing personal anecdotes about the festive period and their songwriting processes. 
The videos can be accessed from an icon on the top left of each supported playlist, with users able to tap and open the Stories interface. They look just like Instagram Stories and you can tap left or right of the screen to skip through a collection of short clips. 
The new feature is currently testing in a few markets including the US and Sweden, however it's not available to every Spotify user just yet, nor is it available for every artist. 
It isn't the first time that Spotify has tested the waters with a story feature either, back in 2019 they gave artists an opportunity to try it out via an experiment called Storylines. 
No word as yet on if this is just another test or if we'll see this rolled out widely as a new feature, but we'll keep you posted.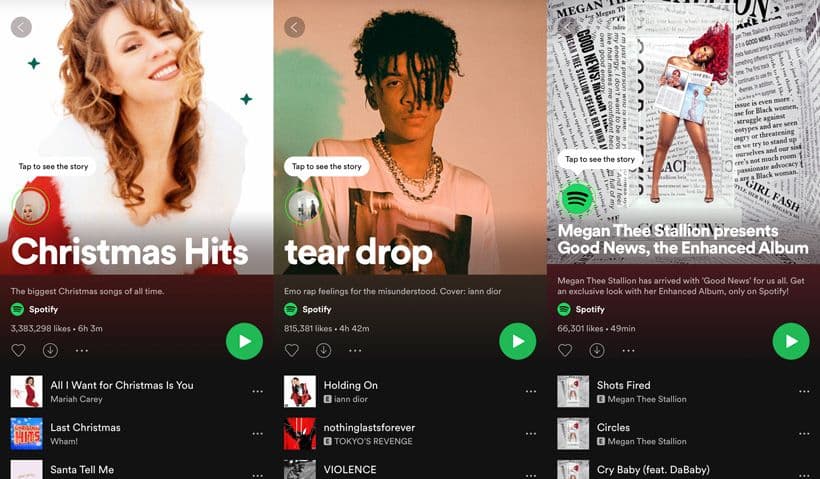 The news comes just weeks after Spotify opened up their new visual feature called Canvas, which lets artists add a short looping visual to their tracks on the streaming platform. 
Need help developing your visual identity? Read our guide to artist branding here.