What Trends Can Music Artists Expect In 2023
What Trends Can Music Artists Expect In 2023?
A new year means new opportunities for independent artists. Here are five music trends the industry thinks will stick through 2023.
Now with 2022 behind us, what can independent artists expect for the year ahead? Last year was largely represented by the revival of the music industry with the pandemic's aftermath finally feeling like a thing of the past. 

In some places, live events and festivals were back in full force. We saw TikTok continue to conquer audience attention and help artists make even bigger waves across global charts. But what other lessons can we take away from 2022 to help us get a peak of what 2023 has in store?
Let's dive in.
"As our world changes and evolves, so does the music", producer, performer, and comedian Oliver Tree tells NME.
Tree's nightcore track 'Miss You' took over dance charts last year thanks to sped-up versions of the original. "Music is a mirror of humanity, so no one should be surprised that sped-up music has become popular when you look at the speed in which we're living."
Online creators are seeking out emotive music to pair with their visual content, with sped-up songs sounding more emotional and exciting — exactly what TikTok's global community wants. Clive Rozario, Global Music Program Manager at TikTok predicts the momentum of sped-up remixes won't be slowing down anytime soon. "We have no doubt that we'll continue to see fan remixes take off into 2023."
Authenticity (always) wins
In 2022 we saw TikTok affirm its place in the world of social media, with raw, unfiltered, quirky content being what users expect from creators on the app. Gen Z's increasingly pushing for more meaningful content and online interactions, choosing platforms that prioritize real over curated content.
WIRED reports "The dominant "legacy" players, like Facebook, Instagram, and Twitter, will give way to platforms that prioritize simplicity and authenticity."
The younger generation moving towards apps like TikTok, BeReal, and Discord to experience more candid content and to form "real" connections online. According to WIRED, in 2023, social media will be redefined by its freshest and youngest users—and by their growing desire for more authenticity in their digital lives.
TikTok will remain key for promoting music
The power short-form videos held on music promotion continued to rock the music industry in 2022 with TikTok marking its place as a hitmaker for new music and old catalog. There are lots of songs that have had big moments on TikTok that then spread to other platforms in the form of Shorts and Reels — creating virality that ultimately set global music charts trends. 
TikTok's global head of music, Ole Obermann, told Musically "Music is such a key part of the creation process on TikTok, and there's really no barrier to entry at this point. Anybody can upload a video, put the right song to it, and maybe end up with 100m views in a short period of time."
When connecting with new music, fans now want the visual elements of a song to enhance their listening experience. Either it's the TikTok savvy artist creating videos to their song or a creator gets excited by a song and helps give it its moment. Either way, TikTok gives you access to a team of millions of promoters working in your favor.
Obermann adds, "[Listeners] want the visual element of the song. I don't think we can put that genie back in the bottle. And the other thing is that they want to put their fingerprints on the song… they want to create a derivative work. They want to slow it down, speed it up, remix it."
Independent music will (continue to) boom
It's no secret that the internet has made it easier for independent artists to build an intimate direct relationships with their fans. With the rise of streaming services, social media, and online educational tools that remove the need for gatekeepers (major labels) — the independent community has more control over their careers and the opportunity to retain a fair share of their earnings than ever before.
MIDia Research found that independent labels and artists on an ownership basis hit an all-time high market share of 43.1% in 2021. This set the tone for the DIY scene with many artists now choosing to go the independent route to maintain creative and financial control throughout their careers instead of seeking help from a major. 
Billboard asked eight indie artists why they choose to stay independent.
Carla Morrison, now with two Latin Grammys to her name, says "In the sense of making money, it's been the best decision I've made. It's allowed me to really take my time to make my music, to take rest time — I don't feel like I work for anyone. I work for myself. Also, owning my masters, writing my own songs."
Country singer and songwriter Austin Burke adds, "Definitely the little victories [while being independent is great]. Often, it's the little things that add up to a big success. So like, getting on a certain playlist — because you know you're beating out not only the labels, but you're beating out everybody. That, to me is huge. It's definitely possible to take your career as far as you want as an independent artist nowadays."
Sync opportunities will expand
A (big) sync success story of 2022 is Kate Bush's 'Running Up That Hill' which topped global charts after being featured in Netflix's hit series 'Stranger Things'. This gave Bush her first number 1 in the UK in 44 years, scoring a number 1 on the Billboard Global 200 chart (not bad for a 38-year-old track).
Music publishing and sync deals, although not the main source of income for all artists, present significant financial opportunities. The use of licensable music is in high demand for various forms of media, such as social media influencers, advertisements, video games, television shows, YouTubers, and Netflix. As technology continues to develop, sync opportunities for artists will closely follow.
Megan Goldstein from BMG told SynchTank, "We are constantly adapting to new technology and requests we receive for new media. In recent years, we've been faced with new licensing challenges including NFTs, influencer campaigns, and the metaverse (among many others). Each comes with a completely new approach on how a song can be synched compared to more traditional usages."
Syncing your music can provide a lucrative income to help you become a full-time musician. Wondering how you can start syncing your music? Learn how to sync licensing works here and earn that extra cash in 2023.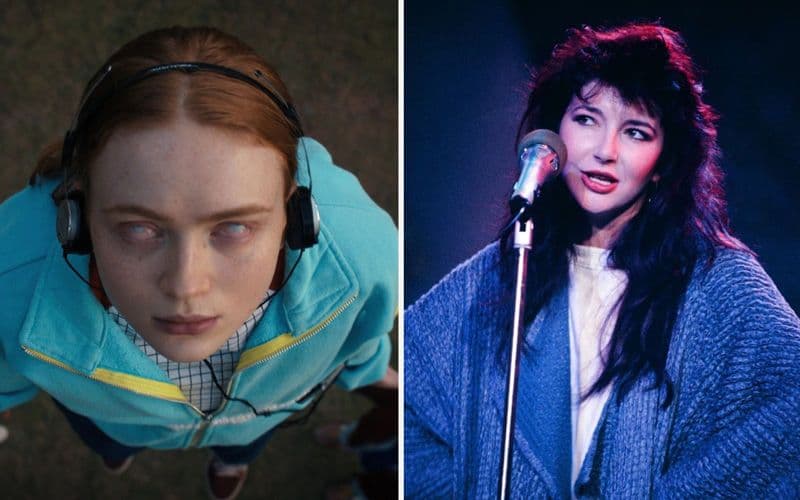 Image: (left) Sadie Sink from Stranger Things listening to Kate Bush's 'Running Up That Hill' , (right) Kate Bush, 1985
As the music industry continues to embrace new technologies and discover new ways of creating, consuming, and sharing music — we expect to see more independent artists rise up. 2023 is looking like another great year to be independent.
Make sure to check out our blog for educational articles, industry news, and much more. In the meantime, let us know on our Instagram your 2023 predictions.