Digital Music Distribution Everything Artists Need To Know
Digital Music Distribution: Everything Artists Need to Know
Trying to get paid for your music? Here's everything you need to know about getting your music heard on all major streaming platforms and earning royalties from your work.
Ready to release that song you've been working on to the world? We break down the ins and outs of music distribution, helping you get your music in front of the right listeners and how to get it ready to be streamed and playlisted worldwide. 
What is music distribution? 
Music distribution is the process of getting your songs available to stream or download on music stores and streaming platforms including Spotify, Apple Music, and Amazon Music, plus social media platforms like Instagram and TikTok. 
It can also refer to physical distribution (like selling your vinyl in record stores) or additional monetization services like YouTube. 
Music distribution is facilitated by third-party music distribution services (like Amuse ), which help artists get their tracks out into the world. Think of them as the "middle man" between an artist and platforms like Spotify.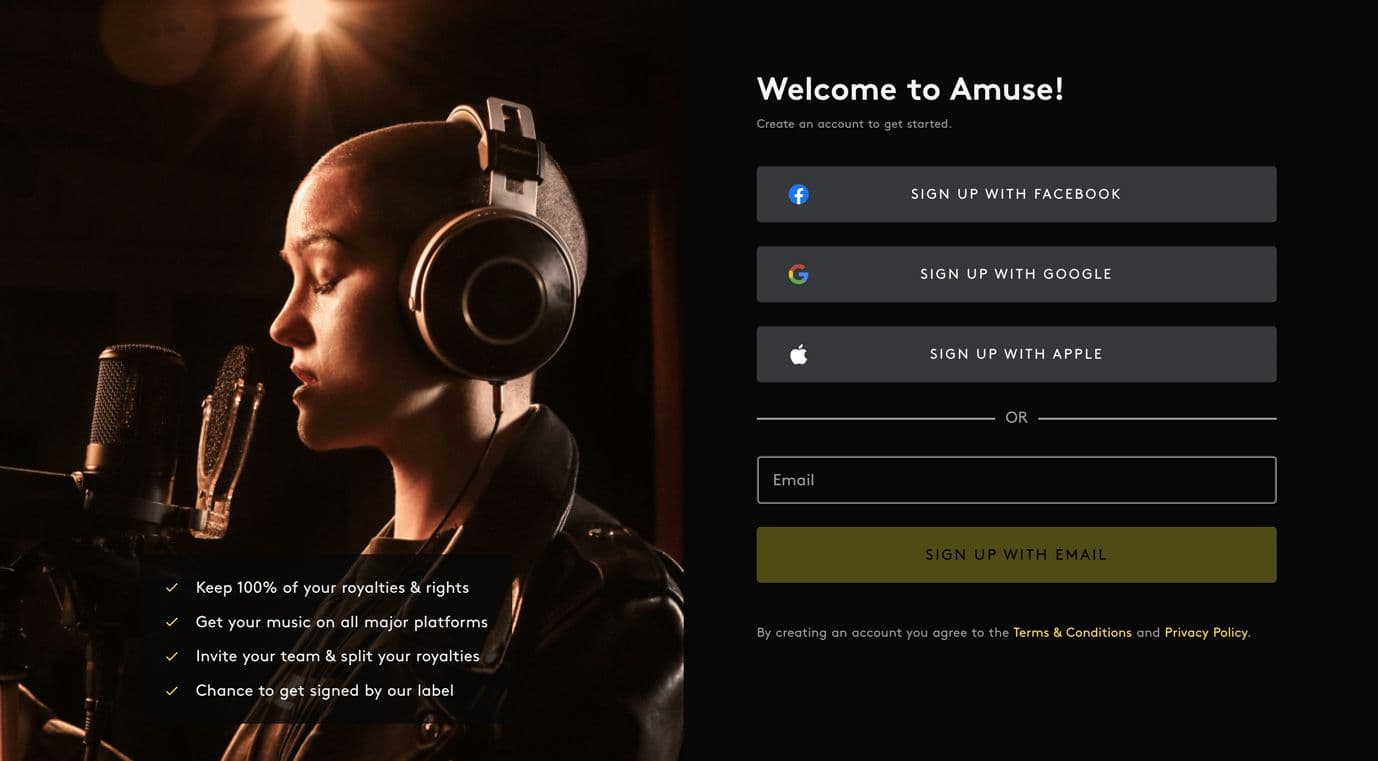 Why do I need a music distribution service? 
One might think that artists upload their music straight to individual streaming services preparing a release like you would upload a YouTube video or a song directly to SoundCloud. But since releasing music comes with some more complications - such as keeping track of streaming data and royalty payouts - all artists should go through a digital music distribution service like Amuse to get their music out in the right way. 
The digital music distribution service basically mirrors your sound file and its metadata (song title, cover art, songwriters, rights holders, etc) to the different streaming services, acting as a hub that collects streaming and royalty data. That means you can upload a single release and automatically submit it to all the stores you want to send it to in one go. A digital music distribution service also functions as a pipeline between services like Spotify and Apple Music and your own wallet.
When you create a release with amuse, we will automatically send your music to all the major digital music stores and streaming services, including Spotify, Apple Music, Amazon Music, Instagram, TikTok, and YouTube (plus many more).
Without a music distribution service, artists would have to submit a new release to each music store or streaming service individually (a LOT of work). 
Does music distribution cost anything? 
At Amuse, we offer free music distribution and always let artists keep 100% of their rights and royalties. Why? Our free distro service helps us discover new artists to sign to our record label.
For the pros who want to stay independent and level up their career, our Boost and Pro tiers let you distribute your music to Facebook, Instagram, and TikTok, with other features like Fastlane releases, VIP support, and automatic royalty splits.
Read more about our three tiers here to find one that fits you best.
Which are the most important music stores and streaming platforms? 
It's important to make sure that your music is available to be discovered where your potential fans are spending time. For most artists, a lot of streams are going to come from a few key players. 
Here is a full list of stores that your music will be available in when you distribute through Amuse.
How does music distribution with Amuse work?
Distributing your music with Amuse is super simple, you can do it in a few minutes via our desktop web builder or directly in the app (available on iOS and Android). We'll ask you to upload a few things (like artwork and audio files), choose a title and date for your release, name any contributors and select the stores and streaming platforms you'd like us to deliver to. 

Once the release has been submitted, our team will check your release and make sure everything looks good (we'll email you if any action is required), and then we'll send it to the stores. 
On the day of your release, we'll reach out with a link to your music in the stores for you to share with your fans.
How long does it take for my releases to reach stores?
Start users can choose release dates at least 28 days into the future. Boost and Pro users have access to Fast Lane Releases, meaning they can pick a release date 14 days into the future.
How do I get paid for my music? 
Music stores and streaming services like Spotify and Apple Music usually pay out royalties 2-3 months after the streams happen. So, if one of your tracks is streamed in February, this will show up as a royalty payment in April.
At Amuse, we process the incoming payments from the streaming platforms at the end of each month. Once you earn more than $10 in royalties, you'll be able to withdraw your earnings via the app. 
If you want to receive your royalties faster and skip the waiting period, you now can with Early Access! Early Access is our automatic data-calculated payout feature that allows you to have access to your royalties from weeks to months earlier than stores' payout based on artists' upcoming royalties. Once we're sure of the exact royalties you're due, we're able to provide you with an individually tailored offer to withdraw the money today.
Read more about Early Access and Fast Forward here.