How Bruno Mars And Anderson Paak Broke The Internet With Silk Sonic
Silk Sonic: How Bruno Mars & Anderson Paak Broke the Internet
Through a clever decision to collaborate, choosing the right name, and engaging in promotion on social media: Bruno Mars and Anderson Paak have given Silk Sonic the intro it deserves.
In Artist Deep-dive, we unpack the rise and success of notable artists in the music industry, specifically focusing on their marketing techniques and branding. This time we tackle Silk Sonic. 
It was only recently, in March this year (2021), that multi-talented Bruno Mars and Anderson Paak lit up the internet with their announcement of joining together in the next leg of their careers, calling their new band Silk Sonic. 
The duo has already made a mark on their stans and new fans, with their first release "Leave The Door Open" topping charts and introducing the "feel-good" funk/smooth soul sound that is Silk Sonic. The single is a vintage nod with a modern feel, taking only four weeks to reach number one on the "Adult R&B Songs" Billboard chart (becoming the fastest song to do so by any male artist): also topping the Global Hot 100 in the same swipe. 
But it's not only talent and musical finesse that has set the tone for Silk Sonic's debut: through a clever decision to collaborate, picking the right name and marketing strategy, the duo made sure they made a loud introduction.
Photo: Instagram @SilkSonic

The power of collaboration
There are several benefits to artists working collaboratively on a song, project, or in Mars and Paak's case, creating a new brand and experience as a duo. Collaborations can lead to exceptional pieces of work, and undoubtedly that's exactly what Silk Sonic set out to do.
Benefits of collaborations:
Help develop your musical knowledge 

Expand fanbase

Boost exposure

Open up new opportunities

Expand creative process

Find new inspiration
The origins of the project, the duo revealed, started back in 2017 when they began jamming together and (unknowingly) started "Leave The Door Open'', touring together on part of Mars' 24k Magic Tour (Paak opened for 24k Magic Tour). Paak's creative approach to song structure and masterful drumming, together with Mars' (silky) voice was a perfect combination for the self-dubbed "Setlist of Doom".
Mars and Paak's compatible deep friendship and compatibility radiates through the screen, in a recent interview with Apple Music, as they break down how, why, and when they decided to embark on a collaborative journey.
"There's a song on the album," Bruno Mars said,
"that we started in 2017, and it was just a little phrase that we had, joking around, going back and forth about. And when we got to the studio, I actually called [.Paak] on his birthday and I said, 'I think I figured out that little hook we had, come to the studio. He's like, 'It's my birthday' So he came drunk."
Mars continued, "That's what it was, it snowballed. It was like well, wanna come back tomorrow? We kept coming up with music and it felt like why you fall in love with music in the first place. Jamming with your buddy, there's no plan. Just working out the parts and trying to excite each other."
The duo describes how they started to get the feel of the album, but realized they needed to bring in the funk king, Bootsy Collins to bring it all together.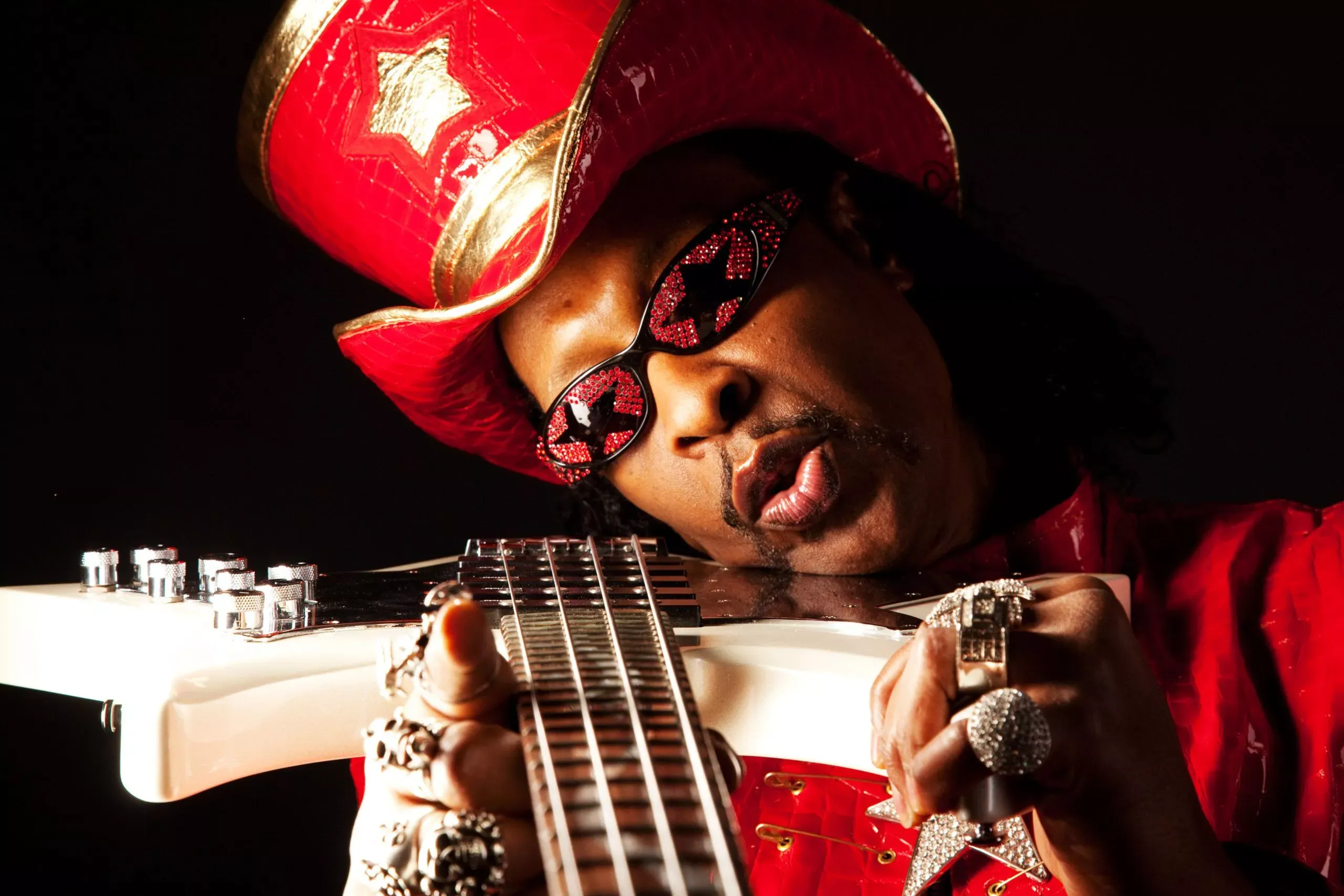 Photo: Bootsy Collins
Bootsy is a funk bassist, singer, and songwriter. He rose to prominence with James Brown in the late 1960s and with Parliament-Funkadelic in the '70s. Bootsy's driving bass guitar and genius, humoristic vocals made him a leading name in funk. To Mars and Paak, Bootsy was the last piece of the puzzle of Silk Sonic. 
Bootsy was another collaborator not only for the sound of the band but also the driver behind the band's name (more on that soon). Mars and Paak were able, through just jamming together, to realize the impressive potential of collaborating by combining their minds to craft Silk Sonic's unique sound.
Artist Tip(): If you want to expand your creativity, expand your fanbase or develop your musical finesse — collaborate! Teamwork is dream work. Read "7 Tools for Collaborating on Music Remotely" to get our tips for connecting with other creatives on future projects.
Choose the right name
The name of an artist or band is an important part of their identity and of how other people might (at a first glance) perceive them. Having a unique name that sticks out and intrigues those who hear it, will go a long way. An artist's name is their identifier, their branding. It should be catchy, have a certain ring to it, and should just work.
When Bruno and Paak were asked about how (in the world) they chose Silk Sonic, Paak explained, "Once we got the music, you know, we had a bunch of different names — RoboCop Funk, The Conquistadors, The Atlantic Stars. … Lava Lamps."
After describing Bootsy's name choice of singer Babyface and how that completely changed the audience's perception of the artist (as opposed to introducing him as Kenneth Edmonds): Mars and Paak took Silk Sonic as soon as Bootsy mentioned the idea.
Artist Tip(): When choosing a name, make sure to steer away from commonly used names or pre-existing names. Don't get lost with all the Lil Richies. Be original! Find something that plays on your real name or take inspiration from your life and the things around you. Ask your friends what they think of your chosen name. Does it have a ring to it? Does anyone else have the same name if you do a google search? Make sure it's unique, has a ring to it, and is memorable. If you need some extra help choosing an artist name that sticks, read "How to Choose the Best Artist Name". 
Build a concept & promotion strategy
Having a larger purpose or meaning behind an album can create a collective, memorable experience for your fans. For Silk Sonic, that experience is "An Evening With Silk Sonic" with Bootsy Collings as the special host. Set to release in January of 2022, the album will be an immersive experience to "bring people together" through a "feel-good" "Setlist of Doom". The album is set to bring a "sizzling retro throwback".
Their first teaser of the upcoming album "Leave The Door Open" paints the first strokes of what "An Evening With Silk Sonic" will look, sound, and feel like. In Paak's words, "That song was like our mission statement. It's the intro to the book, to set the tone and let you know the sound. There are different kinds of waves, but the whole album is wrapped around that." 
Leverage social media
Twitter: the personality
Since announcing the formation of Silk Sonic, both Mars and Paak have been really vocal on social media (especially Twitter) promoting their band and releases. Starting at "Leave The Door Open", the duo discussed why they were left out of the list of 2021 Grammys performing artists in a series of (hilarious) tweets at each other.
YO @BrunoMars WHAT THE FUCK?!? Did you see this?!?! Call me back!! pic.twitter.com/nS2brA54gK
— Big Tooth Bastard (@AndersonPaak)March 7, 2021
Bro it says CBS right at the top! It's legit. What the FUCK!!?! ANSWER YOUR PHONE!! https://t.co/RwsX2Swv0q

— Big Tooth Bastard (@AndersonPaak) March 7, 2021

And we're not on this either you PRICK!!! https://t.co/iPs1W4HUvh

— Big Tooth Bastard (@AndersonPaak) March 7, 2021

Do we need to get a hashtag going or something?? @BrunoMars

— Big Tooth Bastard (@AndersonPaak) March 7, 2021
Nah fuck that! I haven't seen my family in months!! I need this to work, You promised me!! Everybody join in!!! I need all of Twitter to help make this trend!! Come on @RecordingAcad #LetSilkSonicThrive https://t.co/uqiAyYzqTp

— Big Tooth Bastard (@AndersonPaak) March 7, 2021
This started a trending hashtag on Twitter, with #LetSilkSonicThrive being born in an attempt to get the duo up on stage at the Grammys. 'Leave The Door' open had already set the tone for what 'Silk Sonic' deserved, and seeing Mars and Paak's personalities shine online made their fans (and new fans) join forces to attempt to get them performing at this year's Grammys. But it was Mars's personal message to the Recording Academy that really set Twitter alight.
Silk Sonic was trending on Twitter and everyone jumped on the bandwagon to push the Grammys to add the band to their performance list.
Mars and Paak's publicly sharing their thoughts in a comedic way worked. The Grammys added Silk Sonic to the performance list and with short notice, the duo put together a captivating and memorable performance. An exciting introduction to what is to come from the duo.
Instagram: the aesthetic
Both Mars and Paak have also been very active on Instagram, creating Silk Sonic's very own account and sharing the '70s-inspired aesthetic of the band (it's a vibe).
Fortnite: the dance
The duo even pulled in new fans from the popular game Fortnite, making a limited edition dance in tune with the chorus from "Leave The Door Open". Fortnite players were quick to jump on the chance to purchase the dance and (apparently) the sound from the addicting chorus of the single played all over the Fortnite island pre-battle. If you don't know what this means: the dance and song were poppin' off.
TikTok: the fans
TikTok wasn't left close behind, letting fans take on "Leave The Door Open" with their own dances and relatable short-form video memes. This created not only hype around the song but also gave their audience an opportunity to make the catchy single memorable and connect with it personally.
Bruno Mars and Anderson Paak have been able to give Silk Sonic a personality, by being creative on social media, creating trends, and relatable comedy. The duo has unquestionably a strong friendship as a base and with this, have already been able to share their personalities in creative ways online — making their audience feel connected to not just them as artists but Silk Sonic as an experience.
Artist Tip(): Create authentic, relatable experiences for your audience on social media to share and create a buzz around your releases. Make sure you know the difference between the existing social media platforms out there, and how you can best use each one to your advantage when promoting your music. Need help with your social media strategy? Read "Artists' Guide to Nailing Social Media" for a full breakdown.
Not familiar with Silk Sonic? Check them out below!