Spotifys New Social Audio App Greenroom
Spotify Introduces Live Social Audio App "Greenroom"
Spotify launched their competitor to Clubhouse, setting foot in the social audio space with Greenroom. Here's our full report and everything you need to know about Spotify Greenroom.
Spotify is continuing its path to iterating and innovating the future formats of audio with a new extension of their app "Spotify Greenroom". Similar to Clubhouse, the social audio app operates as a platform for live conversations through channels called "rooms". Each room has a host, speakers, and listeners. Greenroom offers its unique touch, with its chat and recording features, giving users the chance to chat with each other while a conversation is ongoing and to record the conversations when hosting a room to be uploaded to a podcast.
Spotify has been working towards setting its foot into the social audio space for a while now. So it comes to no surprise that after acquiring Betty Labs back in March, Spotify revamped Locker Room, which was originally focused on sports teams, to Greenroom to "reflect its more inclusive focus."
Here's everything you need to know from signing up to growing your account on Spotify Greenroom.  
Spotify Greenroom offers
All users have the ability to host or participate in rooms.

New app branding (aka Greenroom) with a new overall look and feel.

A way to use Greenroom using your Spotify login.

A new onboarding experience that puts users' interests forward.

Recording capabilities so you can complement your on-demand content with live conversations.

Chat controls to ensure the best possible experience.
Let's talk ""
The rooms on Greenroom provide similar benefits as Clubhouse, with a focus on networking and impromptu discussions on different topics or current events. A bigger difference between the two is the gem feature on Greenroom.
Clubhouse user ranking is very set on the number of followers a user has, which will open up more rooms, groups, and opportunities on the platform. But on Greenroom, followers don't count. Instead, listeners can applaud people using so-called "gems". You can grant anyone gems in a room by double clicking on their profile icon and those gems will later show up on your home profile page. It is still undecided if there will be a monetary value to the gems, but that seems like the next step. 
Spotify Creator Fund
Spotify has also launched Creator Fund which rewards audio creators to be paid for their work. Not many details have been released regarding the specifics of how this works, but you can apply for the program here.

Photo: Spotify
Sign up for Spotify Greenroom
Once you've downloaded Greenroom from the app store — to create an account on Greenroom, Spotify users can sign into their existing profiles and link the two. You can also choose to sign up a different way if you don't have a Spotify account, just press "Create account". Anyone can download the app for free, and is not limited to Spotify Premium users. 
While Clubhouse helps its users connect with their contact book on the app, Spotify Greenroom right now only offers a search feature — so do your own research to find your friends and exciting figures within your niche to connect with on the platform. 
The sign-up process is very straightforward and you'll be required to fill in your full name, date of birth and profile picture.
As a new user, you'll then be asked to select your interests. This is Spotify's way of recommending what rooms you might be interested in to get you started.
During the sign-up process, you'll notice the push of popular interest groups that you can initially join, where NBA and NFL are in the lead (streaming from the remains of the sports-oriented Locker Room). Spotify could potentially treat their user's streaming and other data as a big help when developing their interests and finding the right rooms, but for the time being, selecting your interests through picking the right groups will set you up to find the right people on the app in your niche. 
What is a "group"
Think of a group as a channel. A group is reflective of the topic and category of the rooms hosted in the group. Being part of groups that fit in with your interests or niche, is one great way to start building your network on the app and finding people that might be interested in joining your rooms in the future.
What is a "room"
A room will have a topic below the room name so that you know what the room is about before you enter. There will always be at least one host, who most commonly is also the creator of the room. The host is the person that starts the room and moderates who gets to speak, similar to Clubhouse. Users who enter the room can request to speak via a button at the bottom of the screen. Listeners can also use the room's chat functionality to add to the discussion by clicking on the ongoing conversation text at the bottom of the screen. The host, however, has the ability to deactivate chat discussions, so not every room might have it active. 
Rooms can go live instantly or be scheduled through the app's calendar function. Anyone can create a room by hitting "Create a room." Then they can select the room's topic and group and set the room live.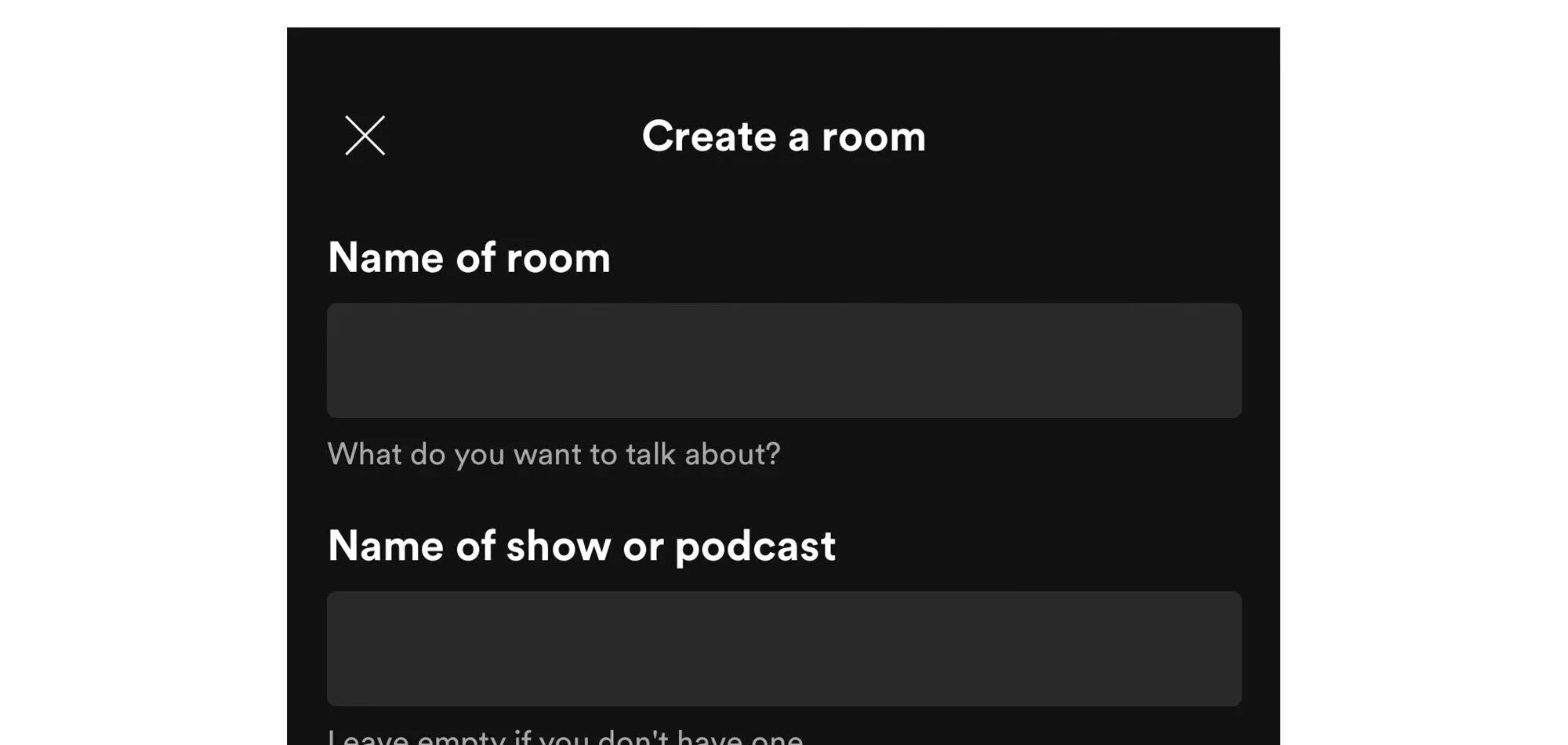 Artist Tip: Greenroom can be a great place to connect with other artists, creatives, and music industry folks. Need some ideas on how to get started on the platform? Here are some ways as an artist, to get your full use out of Greenroom: 
Talk about your latest release: Put yourself out there. Create and host a listening room or join one that exists. Example: type in "MusicDiscovery" in the search bar to find rooms in Spotify's official MusicDiscovery category.

Host an afterparty: Either you've attended a release party, hosted one, or performed at a concert. It could have been a virtual concert or live performance - either way, there should be an afterparty. That's where Greenroom steps in, connect with your fans, followers, or friends and talk about the experience, answer questions, or discuss current events.

Introduce your new crew: Growing as an artist means collaborations and teamwork. Share your work with your team from a distance and discuss your upcoming album in a private room. Then perform it live in a room with your band. Or just collaborate with a popular creator on the platform and find a way to grow your fanbase through collaboration. 

Take a deep dive into your discography: Don't stop searching for rooms after scrolling down just one page. Deep dive. Try to find new groups to join, interesting rooms where users are sharing their music, or perhaps a networking room filled with independent artists -- you never know what you might stumble upon if you really dig deep into your discography.

Chat with other creators: Join other discussions (rooms) and be part of the conversations. Even if that means chatting and connecting with other early creators on the platform, do it! Using the in-room chatting feature, you can send a message to anyone in the room while it is live. 
We'll be back with any updates on Greenroom, but in the meantime, start building your profile and explore the app to find out how you can make your mark.  
Ready to distribute your music? Release your music with Amuse here.