Independent Music Artists Guide To 2021
Independent Music Artists Guide to 2021
From marketing to distribution, here's our official guide for music artists who want to stay at the top of their game in 2021.
Written by Leni - January 7, 2021
2020. What a vibe, huh. 
It was a year of rebuilding foundations. Careers. Communities. For most artists, it was both personally and professionally very challenging. 
While 2020 gave us all a massive kick to the stomach, it's super important to take a moment to look back and recognise everything we got through together in the music industry — as partners, as collaborators, and as friends. That look back is very rewarding. 
Before we say say-o-fuckin-nara to 2020 for real, we wanted to take some time to reflect and plan for the year ahead. We've got a whole lotta hope that 2021 is going to be bigger than ever, fam. 
From marketing to distribution, here's our official guide for independent music artists who want to stay at the top of their game in 2021. 
Let's do this 👊🏾
Marketing
From communicating about events to artists' management and marketing, the music industry has reinvented itself around new technologies. Artists have adopted new social platforms and pivoted their strategy to reach new fans. The outcome? One thing's for sure: nailing your marketing in 2021 is all about strategizing beyond "this year" or "this release".
Personalization:
Artists must focus on providing a personalized experience to fans in 2021. How can you make smarter use of your marketing tools to include personal touches in fan communications (like using a fan's name in the subject/body of an email)? How can you serve your fans ads with personalised merch? 
Alternate platforms:
As the biggest social networks like Facebook and Instagram get more crowded with ads and content, what alternate platforms can you explore for your marketing? Take inspiration from Travis Scott, who has one of the strongest artist brands out there. He broke fresh ground in the music industry by performing in Fortnite, with almost 28 million users tuning in.
Merchandise 
With most gigs and tours cancelled or put on hold throughout 2020, selling merch became a way for artists to maintain an income stream and keep up their relationship with fans. 2021 will only see this focus on merch and alternate revenue streams accelerate. Here's our tips for nailing your merch strategy in 2021: 
Customise your product to your community:
Who follows you? Who are your super fans? Where do they live? What do they care about? 2021 is not just about slapping your logo on a tee and pushing it out on Instagram. Fans expect personalised experiences, and the same goes for merch. Lady Gaga is selling a jockstrap. The Jonas Brothers have a wine tote. It's important to remember just how wide-ranging, inventive, and strategic your approach to merch can be.
Get culturally relevant:
What do your fans care about most right now? What is going on in the context of their world? In 2021, artists will be using their merch to stand for something. Either using their merch to raise money and donating the proceeds, or creating products specifically for causes they think are important. You can check out James Morrison's Live at Dingwalls t-shirt and Social Distortion's "Social Distancing" shirt for inspiration.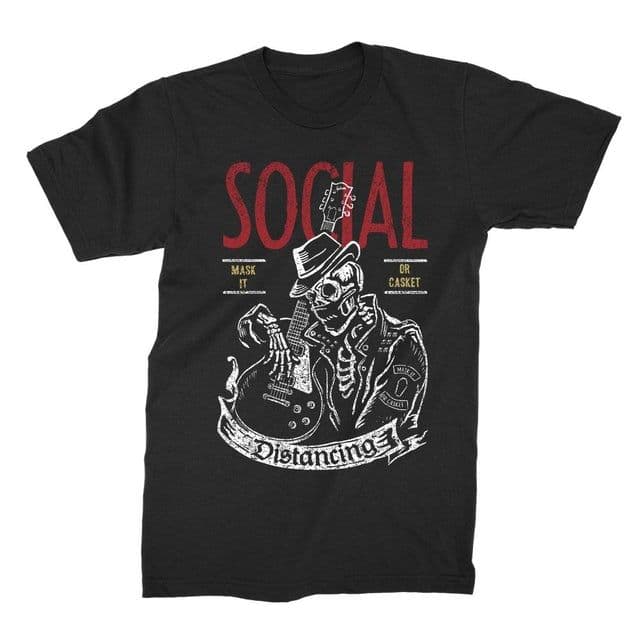 Social Media 
Solid music promo on social media takes skill and ingenuity to move the needle for artists.
And it's only getting harder as social media platforms become even more crowded with ads, collaborations, and social media stunts. 
To meet fan expectations over the next year, you'll need to level up your storytelling techniques and strategies that engage your fans in personalized, entertaining ways. Here's some things to consider for your 2021 social media strategy. 
Augmented reality:
Augmented reality technology will help artists take their social media to another level over the next year, with face filters, interactive merch design and live AR performances all making an appearance. Have you thought about engaging a designer to create a face filter for your fans on Instagram? Is there an interactive merch design that acts as a "QR code" for a social media activation? 
Gamification:
How can you get more creative with your "wheelhouse" content like music videos and email marketing to make it more interactive for your fans? Think about setting "Points" or "Rewards" systems for fans listening to or sharing your content (the rewards could be merch, gig tickets, or even a meet-and-greet post-covid). 
Music Distribution 
Without the help of a solid music distribution service ( ahem… ), you can miss out on your music being streamed on the biggest social media and digital music platforms, getting featured on playlists, or being bought and downloaded from stores like Apple Music. 
If you are serious about getting your music out into the world, sign up to a free music distribution service like Amuse, we release and distribute your music to all major music services, give you the chance to get discovered by our record label and help you boost your independent career by giving you access to advanced tools on Amuse Pro.
Collaborations 
It's hard to overstate the importance of collaborations in the music industry. Collaborations between songwriters, producers, singers, instrumentalists, and engineers. Missing the serendipitous moments that happen in the industry (at gigs, after parties, festivals etc) was one of the hardest things about 2020. 
Thankfully, a few of our friends spent lockdown building new digital universes for us to play in, helping us build connections with other musicians online instead. Treble is a professional network and career platform for people in the music industry, they're currently in private beta but you can sign up for early access here. 
Spotify also just launched their Songwriters Hub — a new place on Spotify for artists to find Written By playlists from both established and emerging songwriters, listen to podcasts about the craft of songwriting, and discover a rotating cast of featured songwriters each month. 
If the collab trends we're seeing now continue into 2021, we'll see a lot more camaraderie between artists over the next year, including co-tours, collaborative studio sessions, and less barriers for collaborating across countries. 
Want more expert advice to level up your independent music career? Download our Digital Career Guide with 48-pages of must-know tips from the world's leading music managers, publicists, sound engineers, lawyers and marketers.